Simple Online Bookkeeping
Simplify your taxes. No more spreadsheets, data entry and piles of paper.
Outright integrates with your online sales channels PLUS, thousands of
banks and credit cards.
Plans & Pricing

How it Works

Security

Tax Help

Features

FAQs
While you manage your business, Outright® manages your finances.
Just link your bank and credit card accounts to Outright and every transaction is entered and categorized automatically — no more data entry. And when you need to see your profit and loss, monthly expenses or even a list of your best customers, Outright can create easy-to-read reports† in a snap. Don't waste any more time hunting down receipts and organizing expenses for tax time time. Get Outright's online bookkeeping software and get back to business.
Keep your data safe.We use the same industry-standard security as the world's biggest online banks.
Trusted by over 250,000 users. Outright is one of the fastest-growing online bookkeeping services.
Setup is fast and easy. There's no software to install or receipts to gather. Just link to your accounts and go!
Outright Plus Also Includes
Tax worksheets and reports Outright organizes your data all year long and creates ready-to-print worksheets for Schedule C, estimated taxes and more.
Set it up once and we'll do your data entry forever.
With Outright, there's no software to install, no complicated setup process and no need to track down every receipt from the dawn of time. Instead, we use our secure online accounting connection to download data directly from your financial institutions and retail accounts, such as:
Your banks, credit card accounts, and even PayPal®
Popular Web stores such as eBay®, Etsy® and Amazon®
Other companies like FreshBooks, Harvest and Shoeboxed
Once you've linked your accounts, Outright starts importing your transaction history and continues to update your data every night so you always have an accurate, up-to-date view of your finances — without the data entry hassle of other desktop accounting software.
Outright does not have the authority to deposit, withdraw or move money — only to download your transaction history — so your finances are always secure.
Need help at tax time? Outright Plus is for you.
Outright Plus is thinking about tax time all year long. While it's downloading your transactions, it's automatically organizing them according to your Schedule C, as well as other forms like estimated tax, sales tax and even an annual summary. When the time comes, just print off the relevant worksheets and hand them over to your accountant. It doesn't get much easier.
Online accounting that's as safe as Fort Knox.
When it comes to your data, we know security is at the top of your list. That's why we use the same 256-bit SSL encryption that major financial institutions use to protect their data. Plus, we stop hackers and viruses in their tracks with McAfee, one of the most trusted names in online security. Rest assured that we'll never sell, trade, share or publish any information you enter into Outright.
You stay in control
Don't worry. When you sign up for Outright, you're not giving us free reign over your accounts. We will NOT have the ability to deposit, withdraw or transfer money — only to download your transaction history, so you'll always have an accurate, up-to-date view of your finances.
Safer than your computer
If all your data is stored on your computer, what happens when your hard drive crashes or you get a virus? Yep, you lose everything. But not with Outright. With our accounting and budgeting software, your data is stored online in our secure data center, so it will survive even if your computer doesn't.
Export with one click
Anytime you want a copy of your entire transaction history, you can download it as a spreadsheet with just one click. It's your data — you should have full access to it, 24/7.
Tax Help with Outright Plus… for less than $10 per month
Take the stress out of tax time.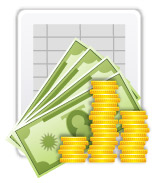 Outright is like having an accountant on staff all year long. It doesn't just download your transactions; it automatically categorizes them by Schedule C tax line. So when tax season arrives, your competitors will be stuck in the back office searching for receipts from last May — and you'll be taking care of their customers.
One and done
Since Outright is gathering and organizing your information all year long, everything is already filled out when tax time rolls around. Just print the worksheet for your Schedule C, hand it to your accountant and get on with your day.
Know where you stand
Everyone loves surprises, except when it comes to taxes. Outright helps keep track of Annual and Quarterly Estimated Taxes throughout the year by monitoring your sales and expenses. It even tracks sales tax collected from customers and the amount you'll need to pay to the state.
Decipher your 1099-K
See your business like you never have before.
Any small business accounting software can give you a profit and loss statement — Outright gives you a whole new way to see your business, with a wide variety of reports† that you can actually understand. The bottom line is important, but a clear picture of where you're money is going and where it's coming in can take your business to the next level.
Easy-to-read reports†
We know you don't have time to pour over reports trying to find the data that really matters. We listened to our users and designed reports based on their feedback, so you can find what you need fast.
Up-to-the-minute data
Your financial accounts are constantly changing — new sales coming in, new expenses going out. Outright understands this and updates automatically any time there's a new transaction so your reports are always spot on.
What's the difference between Outright and Outright Plus?
What is Outright?
Outright is online accounting software for small businesses. Outright automatically imports your sales and expense transactions from your online accounts each night through a secure, read-only connection and categorizes your transactions into IRS-approved categories. It gives you easy-to-read reports, a profit-and-loss statement†, and other important metrics for your business, so that you can see how you're doing.
How do I setup Outright?
After signing up, you're prompted to connect your online accounts to Outright through a secure, read-only connection. Outright then downloads your transaction history, categorizes your transactions, and shows you how your business is performing. That's it! Best of all, Outright will continue to import your transactions on a nightly basis so that you're always up-to-date and on top of your business.
Which of my online accounts will Outright integrate with?
Outright integrates with thousands of banks and credit cards. Outright also integrates with PayPal, eBay, Amazon, Etsy, FreshBooks, and many others.
What about cash transactions and mileage? Can I enter those into Outright?
Yes! Outright lets you manually enter both cash transactions and mileage, so you can track them in the same place as everything else. Our free iPhone app lets you enter these transactions on the go, and it automatically syncs with your online accounts.
Is Outright secure?
Absolutely. At Go Daddy, we take security seriously. We use 256-bit SSL encryption to secure your connection when you're working in your Outright account, and McAfee blocks hackers and viruses from reaching your data. We adhere to TRUSTe standards to keep your information private.
Also, we link to your accounts using a read-only connection. This means that Outright cannot make changes to your accounts.
How much data entry is required to use Outright?
Not much! Outright automatically downloads and categorizes transactions for you. Changing a transaction's category is easy, and Outright learns from your changes so it correctly categorizes future downloads.
How is Outright different than QuickBooks?
Great question! Outright is very different from QuickBooks accounting software. Whereas QuickBooks is a full double-entry accounting program that requires work and effort to use, Outright is easy to use and quick to set up. We only give you the basics you need to run and manage your business--no feature bloat here! Outright is designed with the sole proprietor and LLC business in mind. If you're a corporation or larger small business with multiple employees, you might consider a system like QuickBooks. But if you're a smaller business wanting to see where your finances stand and be ready for taxes, you're in the right place with Outright.
Does Outright have a mobile application?
Yes! Outright's iPhone app lets you enter transactions on the go, and it automatically syncs with your online accounts.
Only with Outright Plus

How does Outright help me prepare for tax time?
Outright is designed with the sole proprietor or LLC in mind. It automatically categorizes your transactions into the appropriate tax categories, so that you have a Schedule C worksheet ready to go at tax time – just hand it to your accountant or plug the numbers into your favorite tax software and you'll be good to go!
Outright also tracks your estimated tax payments due and sales tax collected. Our handy 1099-K tool helps you figure out how to understand that form, if you are one of the millions of small businesses who received one from your credit card processor.
Support
Receive support and exchange ideas. Join the product group of your choice on Go Daddy Support to:
Get direct access to info and news that interests you
Interact with other members
Gain access to new features
Check out beta releases
Find discount codes
Participate in polls and much more
Our expert sales and support staff are available 24/7.
Third-party logos and marks are registered trademarks of their respective owners. All rights reserved.