10 takeaways from #BlogHer15 in NYC
When thousands of bloggers descend on Midtown Manhattan, there's bound to be the best kind of trouble. Pointed questions. Ceaseless selfies. Socializing under the influence. Swag frenzy. Torrents of tweets. #BlogHer15 in NYC lived up to those expectations — but far exceeded my hopes for titillating takeaways.
This year's theme was "Experts Among Us" — and they were. From bloggers who've translated their love of writing into a booming business model to brands that are breaking down destructive gender norms, #BlogHer15 bubbled over with knowledge and inspiration.
In addition to a bunch of new friends and a 3-inch tall Statue of Liberty, here's what I took home from the conference:
1. Courage and candor resonate with readers.
Always a highlight at BlogHer, "Voices of the Year" celebrates the cream of the blogging crop. These are published works that make you laugh out loud or reach for the tissues, that spur you to action, challenge your beliefs, or spark a sense of solidarity. Voices of the Year honorees and other #BlogHer15 standouts are fearless storytellers.
Stories that pack emotional punch are told with courage and candor.
Here are just a few of the fearless storytellers who left a lasting impression on me:
James Oliver, Jr. voiced his anger and despair at the apparent lack of value a black man's life holds in our society, in "After Eric Garner, what am I supposed to tell my son?"
Author and actor Daisy Egan railed against a culture that allows any excuse for rape in her poignantly penned piece, "Ben Brantley Is Asking for It."
Imani Nicole Miller, a 16-year-old writer and filmmaker, created "Perfection" to shed light on the body image issues that plague so many young people. "Should we dedicate our lives to trying to be someone else," she asked, "or should we love ourselves?"

Elizabeth Blackney, media and communications director for the Panzi Foundation, shared her story of surviving a brutal sexual assault as a teenager. Her message? Love heals. "It's about conquering your own fear," she said, "and finding a place of love for yourself."
I left the Voices of the Year reception with runny mascara and a renewed commitment to write with my heart as much as my head — whether I'm authoring an article about building a website or mending a broken relationship. Readers need to feel the story to remember it.
2. Girls rule.
 "We're one family, and if we only know each other for one day, we're still sisters in the movement." ~ Anna Maria Chavez
She's still a teenager, but Monique Tinglin of Brooklyn already has distinguished herself as an advocate for victims of sex trafficking in the U.S. and Kenya. Her younger sister, Lauren, is working to bring cleaner water to third-world countries. They found a voice for their social activism through Girl Scouts.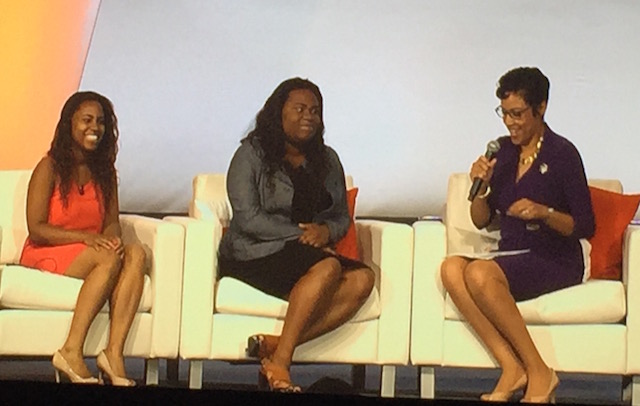 "Girls can have an impact at age 12," said Anna Maria Chavez, CEO of Girls Scouts of the USA. She left a successful career as an attorney to lead the organization because she believes in its power to change girls' lives. From nurturing young entrepreneurs via cookie sales to promoting STEM programming, Anna Maria said, Girl Scouts "is about empowering girls to understand the power of their voice."
And we can all help.
"We're not doing enough in this country to support girls," Anna Maria stressed. "It is time that we put girls at the top of the public policy agendas and take them off the discount rack."
3. Social entrepreneurism is hot.
#BlogHer15 brimmed with entrepreneurs devoted to making the world a better place — from Majora Carter's StartUp Box initiative to create tech jobs in low-status communities to supermodel-turned-social entrepreneur Christy Turlington Burns's efforts to make pregnancy and childbirth safer for every mother. The founder of Every Mother Counts, Christy prepped us to "prepare to be surprised" before sharing a moving excerpt from her organization's new documentary, "Giving Birth in America." For a first-world country, we've got a long way to go for expectant moms. It's the work of social entrepreneurs like Christy — who was named one of Time's 100 Most Influential People in 2014 — that will get us there.
Informed, articulate and committed to her cause, Christy Turlington Burns crowned a conference that celebrated social entrepreneurism at its best.
4. S-T-R-E-T-C-H out of your comfort zone.
"I truly believe that defining moments are at our fingertips on a day-to-day basis, but our willingness to stretch is what makes those moments defining." ~ Teneshia Jackson Warner
Life is full of moments that might define us. Reaching our full potential hinges on our willingness to stretch — to do what it takes to bridge the distance between our comfort zone and our dreams, said Teneshia Jackson Warner.
She has been stretching since she convinced hip-hop mogul Russell Simmons to take a chance on a persistent but inexperienced college grad. After rising quickly under his tutelage to general manager of Rush Communications, she left her comfort zone to embark on her own entrepreneurial path and launch the multicultural marketing company, Egami Group.
Here's what Teneshia said it takes to S-T-R-E-T-C-H:
Seek your truth.
Test and learn.
Run towards your dreams.
Expand your thinking.
Take risks.
Commit to your success.
Help people.
Teneshia's motto is worth remembering: "It's not enough to follow your dreams, we must chase them."
5. Take what you want, on your terms.
Though she had a solid career as a film marketer and publicist, Ava DuVernay aspired to make movies that "amplify the complexities of black lives." Undaunted by naysayers and the abysmal stats of women of color in the entertainment industry, Ava set out to break down some of those barriers. "We've been really indoctrinated in this culture of permission — but that time has passed," she said.
A writer and director, Ava's most recent film, "Selma," was nominated for two Academy Awards. The film's critical and commercial success might've opened a few new doors, but Ava still won't accept a new project unless she knows she can remain true to her vision.
6. Advertising can transcend sales.
Advertising can be a powerful medium for challenging gender stereotypes, as illustrated by the "Femvertising" Award honorees at #BlogHer15. Companies including Dove, Always, Ram Trucks and Sport England prove that thoughtful ad campaigns can both elevate their brands and empower viewers.
7. Social media matters more than ever.
"Want to Periscope?" If I got a dollar for every time I heard that at the conference, I could've spent an extra night in the Big Apple. Bloggers and other small business owners are expected to embrace multiple forms of social media. Twitter is a given. Pinterest, probably. Video-based social networks? They look to emerge as standards for marketing and engagement.
8. Celebs go to the office, too.
And I thought they just hung in the Hamptons. Wrong! Oscar-winning actor and Goop founder Gwyneth Paltrow said she takes her kids to school and then heads into the office, where she oversees all creative elements of the Goop brand: "It's like an actual real job."
She's been pulling together a top-notch team to incorporate a more diverse set of viewpoints. "I don't want the brand to be inextricably linked to me," Gwyneth explained. "I would love it to be its own brand, so I work towards that end."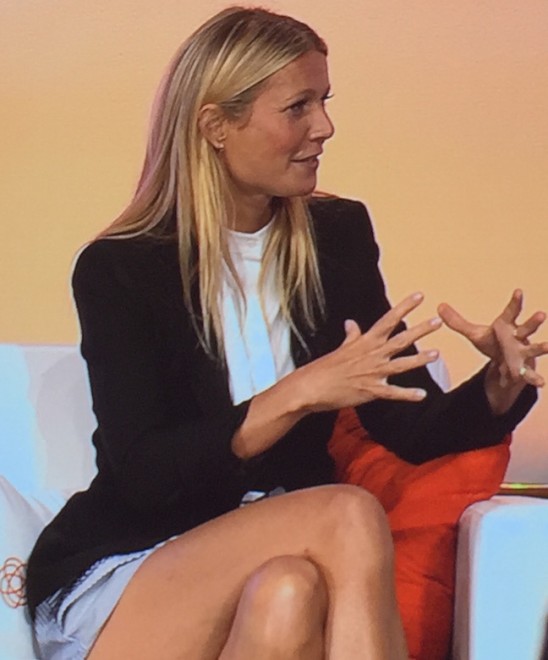 9. Brands love bloggers.
The best bloggers are savvy business owners. They're influencers with loyal online communities who listen to what they have to say — which is why companies large and small love to work with them. Some of the world's best-known brands were on-hand to romance attendees at #BlogHer15. Heck, McDonald's sponsored the closing party.
10. Writers love to party.
You might call this final takeaway, "Bloggers, Burgers, Beer & Boyz II Men." Those were the key elements at the party that closed #BlogHer15 — but the celebrating started way before then. Maybe it's all the solitary time we spend behind our keyboards. Perhaps it's an energy that's created when thousands of like minds converge. Whatever the reason, we found plenty of opportunities to clink glasses, break bread, and shake our booties throughout the conference.
Full disclosure: GoDaddy was a #BlogHer15 sponsor, with a booth set up to educate attendees about GoDaddy Managed WordPress and to promote some of our small business customers' products and services. While it's always fun to give away company-branded swag, I felt especially proud to support the SMB customers who make what we do so worthwhile.
It was icing on the #BlogHer15 cake.