2014 WordPress Year in Review
2014 will go on record as one of the biggest years for WordPress with respect to growth, innovation and platform awareness. As we close out the year, let's take one final look back at some of the most notable events in WordPress in 2014.
Expansion as a disruptive app development platform
In early 2014, WordPress expanded its capabilities into the app development arena. Tools like AppPresser and Reactor provide WordPress sites with the ability to output a standalone app in the iTunes store. This represents a major shift in where WordPress-related content is propagated.
If you can make a WordPress site, you can create your own app.
Look for these kinds of tools to expand their development capabilities even further in 2015. We may even see a new player in this space — leapfrogging over the limitations of the existing plugins and their reliance on PhoneGap to create apps.
Self-installing security updates
This year, WordPress introduced client-friendly security updates that automatically install themselves. This advancement in self-upgrading isn't perfect, but it's an excellent method to protect sites from sudden WordPress security vulnerabilities. There were anticipated concerns over automation and things breaking after an update. These were quickly addressed with specific update control factors put in place, allowing the administrator the ability to filter which updates were allowed to occur.
WordPress podcasts hit their stride
There are now more than 20 WordPress podcasts being produced on a regular basis. Many of the top shows, such as Your Website Engineer and WordPress Plugins A-Z, surpassed their 200th episodes, with productions like WordPress Weekly soon to follow suit in episode count. This is a testimonial to the dedication and consistency of the top WordPress podcasters.

One of the best sources for learning about new WordPress podcasts is WordPress Radio. Not only does the site archive all of the latest among WP podcasts, but the site also features a live, 24/7 streaming audio station that replays the best shows and episodes.
Google officially removes Google Authorship

Google Authorship was a great advancement in Google search, providing an attributable author to corresponding posted content. Simply put, it was the Google "name tag" that you wore while creating your posts. Google would recognize you in search results, integrating content results from your Google+ friends list.
However, just when we all bought into the wonders of Google Authorship within WordPress, Google pulled the technology.
When Google pulled the plug, more than 40 different plugins related to Google Authorship were rendered obsolete overnight.
While Google has its own reasons for removing their technology, the search giant might have further fanned the flames of backlash within the WordPress community. There have been far fewer Google related plugins in development since the authorship functionality was abandoned.
New-look 'app-style' plugin images
The WordPress Plugin Repository had a bit of a makeover in 2014. New plugin "avatars" were introduced as a means of identifying a plugin with just a glance at their icon. While this is a good start, I would personally like to see the repository develop into a stylized directory similar to the iTunes store. (For example, it would be possible to display charts of the top plugins downloaded each day, week or month.) These graphics could be the breadcrumb that leads to a newly designed plugin discovery mechanism.
WordCamp San Francisco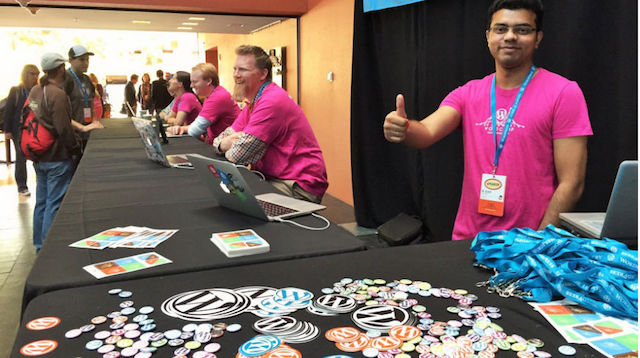 Matt Mullenweg is known as "Mr. October," but not simply for his canny knack of scheduling WordCamp during the same weekend that the San Francisco Giants are in the World Series. In October, WordCamp San Francisco featured a groundbreaking "State of the Word" speech. Matt stated that WordPress now is used across 23 percent of the Internet and, for the first time, non-English language WordPress downloads surpassed English language downloads.
This is a major shift in the platform that will become even more evident when universal language packs are utilized in WordPress themes, plugins and the overall administrative interface.
WordCamp San Francisco also ended its run as the "main" annual WordCamp. In the future, "WordCamp US" will be the new name, with a yet-to-be-announced location and a rotating list of cities to host the annual gathering.
More WordPress releases than ever before
December 2014 marked the release of WordPress 4.1, marking the 7th version release of WordPress in the year 2014. This makes 2014 the most consistent, fruitful year for new version releases. In keeping with the "model year" philosophy, the new Twenty-Fifteen Theme is also bundled into 4.1. In addition, the new version features a "suggested plugins" repository tie-in, an improved "distraction free" writing mode, inline image editing, language packs installed from the admin area, and improvements to the Customizer API on the development front.
Community-driven crowdfunding
Crowdfunding is finally starting to gain a foothold within the WordPress community. In 2014, long-time developer and community favorite John James Jacoby (@jjj) launched an IndieGoGo fundraising campaign. In it, he hoped to raise $50,000 to fund his work on BuddyPress, GlotPress and bbPress for six months. The community responded favorably, exceeding JJJ's funding goal. We're excited to see what develops as a result of his work in 2015, and look forward to more of this type of developer crowdfunding in the coming year.
As you can see, 2014 was an amazing year for WordPress. If you are an enthusiast of the platform as much as I am, you share my eager anticipation to see what 2015 has in store for WordPress!
Image by: d-illusion via Compfight cc