Celebrate soccer and the 2018 FIFA World Cup with these marketing ideas
It's a good time to be in sports — and especially the sporting goods industry. Not only do U.S. sporting goods sales top out at more than $45 billion a year, but the upcoming 2018 FIFA World Cup is bound to inspire even more interest in sports retail.
That was certainly the case during the 2014 World Cup, which re-engaged casual soccer fans and generated significant increases in soccer merchandise sales. If that year's sporting goods sales are any indication, this year's World Cup is likely to make everything from Major League Soccer (MLS)-branded apparel to basic cleats and soccer balls fair game.
Celebrate the 2018 FIFA World Cup with these 6 marketing tactics
Looking to cash in on the buzz generated by the 2018 FIFA World Cup? Then get to work on any or all of these stellar marketing ideas, which are designed to promote soccer-related sales before, during and after this year's World Cup.
Coordinate a 2018 FIFA World Cup bracket.

Run a flash sale.

Partner with local bars for viewing nights.

Run a social media contest.

Make yourself a go-to for World Cup information.

Create a rewards program.
Ready to score a goal with your business? Then keep reading.
1. Coordinate a 2018 FIFA World Cup bracket
Everyone from rabid soccer fans to casual World Cup viewers can derive enjoyment from participating in a bracket — which helps explain why brackets remain so popular year after year.
Capitalize on this popularity by coordinating a 2018 FIFA World Cup-style bracket that's run and branded by your business.
This can be a great way to engage your customers, create a sense of community, grow your following, and build positive associations with your brand. What's more, brackets are relatively cheap and simple to coordinate.
Pro tip: Up the ante by offering select gear from your shop as a prize to the bracket winner. This will further generate interest in your business, thereby increasing your chances of making additional sales.
2. Run a flash sale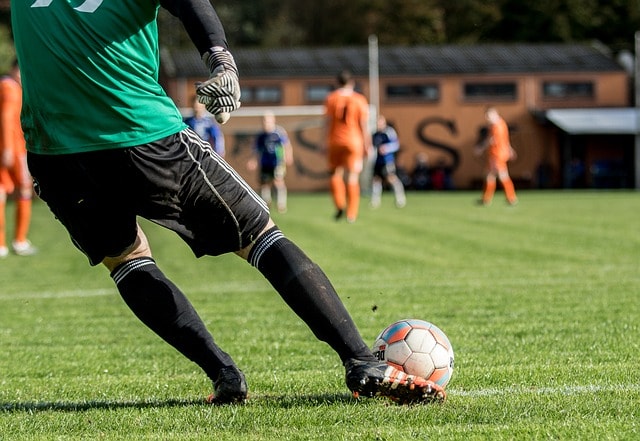 The 2018 FIFA World Cup provides a great opportunity to leverage heightened interest in sporting goods and sports-related promotions via a flash sale.
You could approach this sale in several ways: For example, you might offer a discount on everything in the store or only discount soccer gear; you could offer different discounts for online versus in-store purchases or make the discount consistent across platforms; and so on.
Be strategic about what will work best for your business.
No matter how you organize your flash sale, make sure to promote it across as many channels as possible. That means putting up signs in your store, adding the info to your website, and advertising the sale on social media platforms.
3. Partner with local bars for viewing nights
One of the most popular ways to view 2018 FIFA World Cup matches is out at the bar with a group of friends. So why not meet sports fanatics where they are by partnering with local restaurants and bars for World Cup viewing nights?
By co-sponsoring the viewing nights, you'll earn the opportunity to market your store to bar patrons. You might also consider handing out free prizes or coupons during half-time to further increase your brand recognition and provide incentives for folks to check out your store.
4. Run a social media contest
Running a 2018 FIFA World Cup-themed social media contest is a great way to increase your social following and attract interest in your brand. This contest could take one of several possible forms:
If you know your followers will be highly engaged in the 2018 FIFA World Cup, have people guess the winner of each match and offer different prizes for each one. (If you think your followers will be less engaged, you might just ask people to guess the winner and then offer smaller prizes to anyone who guesses right.)
You could ask folks to submit pictures showing how they go all-out to support their team, and then award prizes to the most impressive get-ups. You might run this contest once or multiple times throughout 2018 FIFA World Cup competition.
Get people to show off their ideas for the cleverest World Cup- and soccer-related hashtags (either for each match or for the 2018 FIFA World Cup as a whole).
You could ask followers to submit videos of their biggest #GoalFails. This can be a great way to counteract one of the pitfalls of social media, which is that people may feel like they can't participate in competitions if they don't have content that presents their soccer skills in a good light. By inviting their worst content, you'll make the competition more inclusive and might encourage participation from a broader pool.
You could ask your followers to submit videos of their best goal celebrations and award prizes to the top videos in the contest. As with the photo contest, you could run this once or multiple times depending on engagement.
If you opt for a photo, hashtag or video contest, you drive even more engagement by asking followers to vote on the winners. Invite followers to use a brand-specific hashtag to further expand your social reach.
5. Make yourself a go-to for World Cup information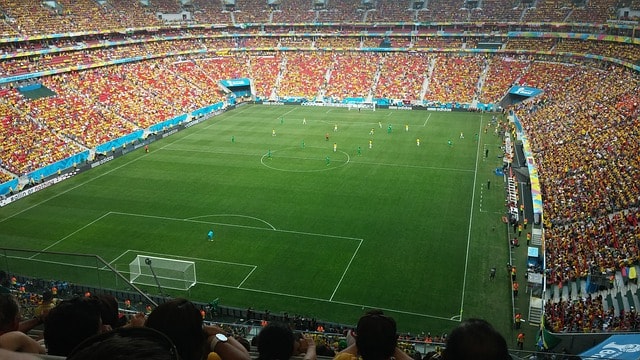 By establishing your brand as a valuable information hub leading up to and during the 2018 FIFA World Cup, you'll increase the chances that potential customers will look to your brand as an authority in the sporting world moving forward.
To accomplish this, consider devoting in-store flyers, part of your website, and social media posts to providing the latest 2018 FIFA World Cup information. Give people all the information they might need in the form of game times, lineups, match results, other stats, match highlights, and relevant hashtags.
One caveat: Make sure you avoid using official marks, logos and photos unless you're an official sponsor. Otherwise, you'll put your brand at risk of legal action from FIFA.
6. Create a rewards program
A customer rewards program is a great way to continue gaining traction with potential customers even after the 2018 FIFA World Cup is complete.
Start by coming up with a system that enables customers to earn points for interacting with your brand. For example, someone might get points for making a purchase in-store or online, sharing your brand's social media posts, using your brand's hashtags, and so on.
Then, enable followers to redeem these points for discounts on gear or other rewards. You might also consider offering grand prizes to the customers who rack up the most points during a designated time period.
Your business is a game-changer
By implementing these strategies before, during, and after the 2018 FIFA World Cup, you'll enable your brand to capitalize on all the soccer-related excitement and grow its customer base for greater sales moving forward.