3 church outreach ideas to bring in young families
Young families are the lifeblood of your church. And not just because they bring energy and excitement to the Sunday service and community service efforts of the church. They also bring their children, which enables the church to teach and train the future generation of Christians. In this post, we'll discuss a few church outreach ideas to keep your church vital and growing.
3 church outreach ideas to try
There are three basic steps to bringing more young families into your church and encouraging them to stay so that they can grow and develop as God wants.
Help young families find you.

Give them purpose.

Keep them connected.
Ready to bring more young families into your church? Try these ideas.
1. Help young families find you
Young families are going through a lot of transitions. Along with new children, they might also be facing issues of new jobs, new homes and new locations. As a result of these changes, many have spiritual questions and want to make sure they have help in properly raising their children. Therefore, many young families seek a good local church to attend.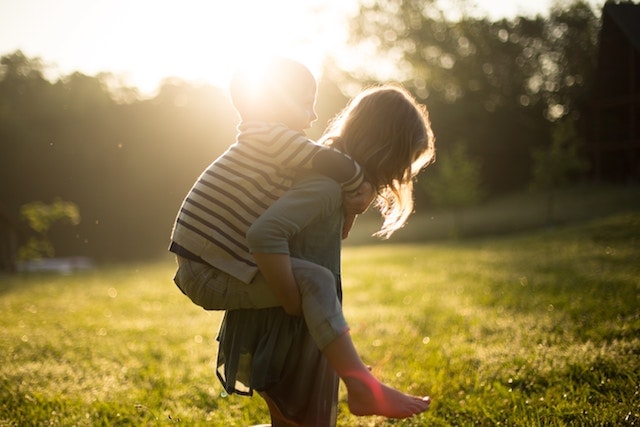 But young families don't drive around randomly looking for a church. Instead, they turn to the one source of information that they always turn to whenever they have questions: the internet.
When young families are looking for a church, they use search engines such as Google and Bing. This means that if you want to invite young families to your church, you must absolutely have a strong internet presence. This can begin by making sure your church gets listed in online directories like Google My Business.
Another great way to connect with those looking for guidance online? Through a Christian blog. Learn how here.
Furthermore, since most young parents (and even their children) spend a lot of time on their smartphones and tablets, your church website should be mobile-responsive and mobile-friendly. This means that it looks good, loads fast and works well on all mobile devices. Various web hosting companies will be able to provide you with the resources for this type of website.
Along with a good website, churches should also make sure they have a strong social media presence with accounts on one or more of these platforms:
If a young parent finds your church on a Google listing, they will likely turn to one of these social media sites to learn more about what you offer and what type of people attend there.
Having this sort of presence online will allow young families to find your church and will, by default, invite them to check you out on Sunday morning. But you don't just want to get young families in the door. You want to go further than that — by giving them purpose.
2. Give them purpose
Young families do not want to simply warm a pew on Sunday morning. While they enjoy good music, relevant sermons and creative children's programs, what they are really looking for is purpose and significance in life.
Young families are looking for a sense of purpose.
This means that if a church wants to "wow" young families, they need to provide practical, low-barrier avenues for them to get involved and serve their community. They want to grow and develop together as a family in a meaningful and tangible way and feel like they are making a difference in the world.
Look here for some creative and practical church outreach ideas that will allow your Sunday morning church service to actually become the service to the community. The book 101 Ways to Reach Your Community by Steve Sjogren also provides some great ideas about how to reach into your community. Many of them can be done with families or in small groups.
Yet having these service opportunities is typically not enough to get young families showing up. The reason is young families are quite busy. They rarely have open time slots for the ministry requirements that are placed upon them by the church.
The solution is to free up some time during the week so that young families can find a sense of purpose and significance by serving in the community together.
The simplest solution is one I present in my book Put Service Back into the Church Service. In order to help young families get involved, churches should consider "canceling" the Sunday morning church service once per month so that the church can actually go serve in the community during that time instead. This requires no extra time involvement from the families, while allowing them to meet practical needs in the community as a family, along with other young families in the church.
3. Keep them through connection
One of the main things that keep young families at your church is helping them connect in meaningful and relational ways to other young families. This should not be done in the church building itself. With some creative thinking about where young families go and what they do, the church can stop asking young families to "come to church" and will instead start taking the church to them.
Most young families prefer to spend less time in the church building itself.
For example, a church could host a movie night at a local theater, where the church buys out a theater for a night and then gives away (or sells at a discount) the tickets to the young families. Something similar could be done with:
Local sporting events
A weekend camping trip
An afternoon water-ski trip at the lake
Church doesn't only occur in a building on Sunday morning. By inviting families to engage outside of the building, you bind them to each other.
One other way a church can attract young families while also helping out a local business is by "adopting" a local coffee shop or pub and then inviting church families to informally meet at the coffee shop or pub at certain times during the week. This time is not for a service or study, but simply for young families to meet other young families and connect with each other to build friendships. More than any type of music, sermon or program, it is these friendships that will keep young families involved in your church.
Church outreach ideas to grow on
By using these church outreach ideas, you will be better positioned to find attract and retain young families. This will not only allow your church to grow numerically but will also (and more importantly) allow the people in your church to grow spiritually and relationally as they follow Jesus into the world. This, after all, is what church is all about.
Image by: Johnragai-Moment Catcher / CC BY