5 apps for business to keep you on point
In this day and age, the number of apps available to us seems practically infinite — and it's growing every day. With that many choices, it's easy to get overwhelmed, especially when you're trying to do what's best for your business. Let us help you get started by introducing you to a few of our favorite apps for business to keep you on point!
Trello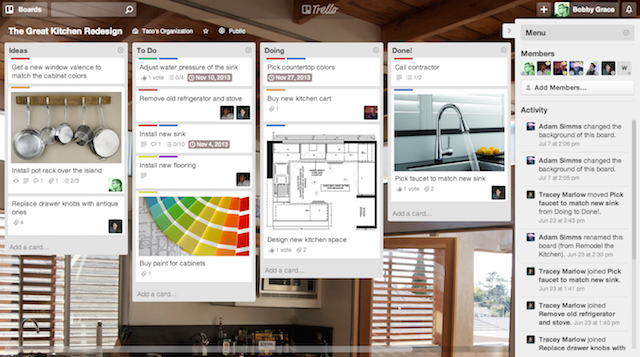 Trello is the ultimate project management tool, perfect for any businessperson who knows how tough staying on top of tasks can be. With an easy-to-use interface and various features like task assignment, ability to add attachments and deadlines, Trello's main goal is to keep you interconnected. Have a big deadline coming up? Use Trello to break down all your tasks into manageable chunks. Have a group project on the horizon? Keep everyone in your business on the same page by divvying up tasks and seeing all recent activity.
CamScanner
Scanning documents is a necessary evil for every business owner. Relying on big, bulky scanners seems a bit outdated (not to mention, tedious), so let CamScanner put all the same scanning power into something as accessible as your smartphone. The app utilizes your phone's camera to capture any document, and enhances the photo's contrast, angle and clarity to make it practically identical to an old-fashioned scanned image.
Scan on the go with CamScanner.
Having your document database on your phone is another great perk, allowing you to keep your business essentials where they belong (at your fingertips). As the business world grows more and more mobile, staying on the same page is only going to put you and your business further ahead of the curve.
Insightly
If you're looking for a way to ensure you're effectively managing all aspects of your interactions with customers, Insightly takes the cake for versatility. It can be a headache keeping track of all of your tasks, contacts and projects, but this CRM software does it all and more.
Insightly is a wonderful resource for keeping all of your business data in one place, especially when it comes to maintaining relationships with past contacts and organizations.
If you ever want to follow up with a past collaborator for a future project, all of your correspondence with that contact is on hand, letting you pick up exactly where you left off.
Expensify
Staying organized is the name of the game, and can ultimately lead your business to be more efficient and successful. As a business owner, money might be the area where you need the most oversight — and Expensify will enable you to stay on top of your finances like a pro.
Expensify takes the struggle out of managing expenses with its handy tools to make recording your transactions practically mindless. Link a credit or debit card to the app and allow it to create an automatic expense report for your purchases. You can also take photos of your receipts to have those expenses added to the same report! If your business conducts any online transactions, use Expensify to create receipts for those sales. This app also makes way for versatility, permitting users to export reports to keep your other platforms updated.
TripIt
From managing itineraries to keeping track of all your travel documents, business trips have a tendency to produce stress instead of relieve it. TripIt brings business travel into the modern world by syncing your itineraries to the mobile calendars on each of your devices. Its auto-import feature takes travel data from your email and gathers it into the app so no detail is left in the cobwebs of your memory.
Plus, TripIt enables you to keep all your important traveler info consolidated to one profile along with a list of your critical contacts. No need to worry about forgetting your passport or babysitter's phone number. All you have to do is remember is your luggage!
What apps for business can't you live without? Please share in the comments!