5 ideas for Pinterest winter holiday pins
There are a few key pin topics and types that you will want to consider using when planning your Pinterest strategy for winter. In actuality, ideas for holiday pins aren't much different than non-holiday pinning. Often, you can use the exact same kinds of pins as you would for spring or summer — just switch up the scenery and graphics or colors and fonts to give them holiday appeal. However, I've found that there are five basic pin categories that are perfectly suited to winter holidays like Christmas and Hanukkah.
Related: Holiday marketing checklist: 5 steps to prep your marketing for the holidays
5 categories to explore for winter holiday pins
While you can cover just about anything for winter holiday pins, these five will likely be the most useful.
Food.

Decor.

Clothing.

Gifts.

Sales.
You can drill down even deeper into these categories for dozens more creative designs. But if you limit your Pinterest strategy to some (or all) of these five topics, you are off to a good start. I've broken down each of these into a curated list of potential image resources. This will save you tons of time as you start digging into creating your holiday pins this year.
Related: Pinterest design tips for eCommerce shops
1. Food
This category of holiday pins is relevant if you sell food, cookbooks, are an expert in nutrition, plan parties, are a parent, or have a restaurant of some kind.
This example shows an abbreviated version of a tutorial pin.
A tutorial pin shows the steps you take to accomplish a task as images, text or a combination of the two. This image would also work as a recipe pin if it was taller and had more information such as ingredients and all the steps of making these sugar cookies.
If you want to make some pins that are food related, start with photos of your own products of course, but you can also find a ton of great images online to work with. These can augment your current photos and be used in many creative ways.
Let's look at some of my recommended resources for food-based pins.
Images for Christmas holiday foods:
Images for Hanukkah holiday foods:
Related: Tips for styling pictures on Pinterest
2. Decor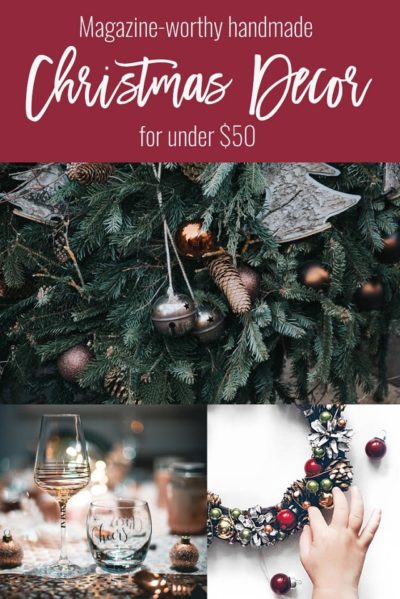 The decor category of holiday pins is perfect if you sell custom decor or drinkware, or you're a party planner or have a lifestyle blog.
It's the ideal pin subject if you have a store specializing in many types of decorations or even just one single kind of decoration, like wine glasses. You can show a variety of accompanying decor items and include your own product alongside those so customers can get an entire look by buying all the products. You could showcase these items as a single photo, a grid of photos, a tutorial pin, or a fun wish/gift list. And you can make these pins look seasonal by what's pictured in the image, colors, and with fonts.
In the example above, there's an array of a few holiday-themed photos showing decor. Over top of the pin is a header area with a backdrop pulling in a nice Christmas red, and of course the wording "Christmas Decor" makes it crystal clear what topic this pin is about.
Let's check out a few resources you might like if you're looking for stock photos of holiday decor to add to your pins.
Stock photo resources for holiday decor:
Related: How to use a stock photo 8 different ways
3. Clothing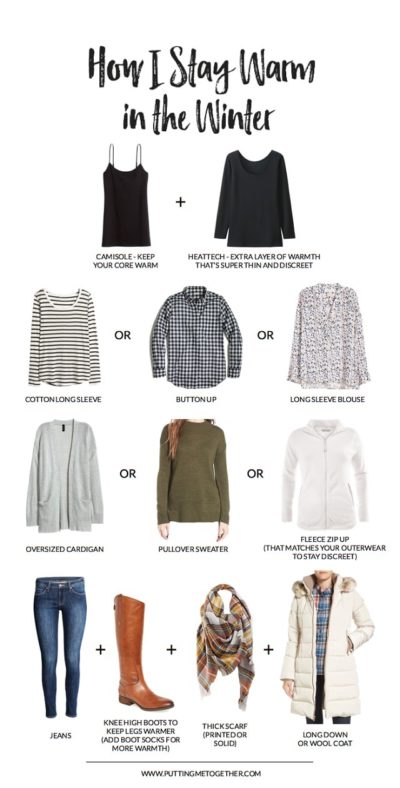 If you sell clothing, you will never be at a loss with holiday pins because people need clothes year-round. So the approach for winter holidays is to show clothing that's appropriate for the weather changes — plus clothing for parties. And don't forget accessories! This topic is also great for stylists or people who provide a styling service and create lookbooks and guides.
Above is a classic example of a clothing pin, from Putting Me Together. If a customer is planning for the switch from warm weather to cold weather, they don't want to buy a hundred new outfits. They want a few pieces that they can mix and match that look stylish, and keep them warm.
Instead of displaying these outfits on people wearing them in a scene, they're shown as single items on a white background. That makes it really easy to show how each piece layers together with the next and what substitutions can be made.
There are myriad other holiday pins that work for clothing, such as single photos, a grid of photos, or even an infographic with symbols to represent each clothing type (blouse, skirt, etc). As with the other pins we've looked at in this article, you can create a cohesive holiday theme by incorporating appropriate wording, colors and fonts into your design.
Typically, if you're a stylist, you're probably going to want to link to real pieces of clothing that someone can buy. Or if you sell clothing you want to link to your actual product. But you might find that for your website, guides or infographic style pins, you need icons and drawings to represent different types of clothing. So below are generic clothing photos and icon resources that you can start with for you clothing related pins.
Image resources for stylists:
Related: Why you need to create a social media strategy now for the holidays
4. Gifts
These holiday pins couldn't be any more perfect for winter. From exchanging gifts at home with family and friends, to bringing items to parties you attend, or even just treating yourself, they're everywhere!
You can also play with the Christmas list idea and create a Santa "naughty or nice" list on a fun parchment paper graphic or someone in a Santa suit holding the list. You can even get very simple with a colorful background or photo and a text list overlaid on top. Just bring in the holiday theme with fonts, colors or graphics.
You can create a long list of holiday pins like this in its entirety plus a shortened version. In the short version you can cut off the view of the bottom of the image to build some suspense. Then readers are intrigued and want to see the entire list so they click through to your post and ultimately to your product links.
Mockups for drinkware pins
If you sell cut files for drinkware or custom mugs then these mockups will be perfect for you to use in your gift list pins:
Images and graphics for wishlist pins
If you're making a "wish list" or "Santa's Naughty and Nice" list then you might want to use a parchment or scroll graphic as your background:
Related: How to use Canva to create branded images in less than an hour
5. Sales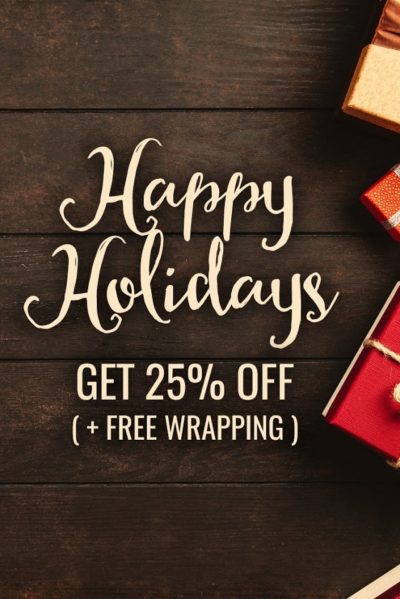 Sometimes you just want to promote your holiday sales with holiday pins. You might not even have a product photo to show and that's OK. You can make your holiday sale stand out with background photos, colors, graphics and fonts themed to the season.
This example could work for any company that sells items. No need to picture the product. If a customer is following this company because they love them, they'll notice this ad for 25 percent off and free gift wrapping, and click right through to get in on that deal. You'll often see this style as a promoted pin.
It's easy to make sales and promotion pins like this with the right background photos, fonts, and graphics. Here are a few you can start with.
Holiday sale graphics and background images
Holiday-style fonts
I hope you found some inspiration in this list for your Pinterest strategy this winter.
Editor's note: If you don't have enough time to focus on social media, let GoDaddy help! The experts at GoDaddy Social not only manage your presence on your social networks, but also can help turn an online interaction into a lifelong customer.
Image by: freestocks.org on Unsplash