5 reasons real estate agents must prioritize online privacy, and how to get started
In today's world, every kind of business with assets on the web faces online privacy and security risks. And this is especially true for industries that deal with personal and financial information, like the real estate industry.
Working in real estate today requires using technology like apps, databases and websites, as well as properly managing your client's sensitive information, like their email address, phone number, financial information, home address and more. To protect your own reputation and data, while keeping your clients safe, online privacy is something you'll need to take seriously. Below, we'll cover why it's so critical, and provide steps that'll help you get moving in the right direction.
Related: How to keep tabs on your brand reputation
5 reasons to prioritize online privacy and data security
As a real estate agent, your client relationships are everything, and those relationships extend into the digital sphere when you're responsible for your client's data.
Today there's a wealth of online portals real estate agents can use to help improve their business. And while they can help to simplify things, using multiple online services also exposes you (and your clients) to more risk.
For example, Equifax recently spoke about their massive data breach of over 143 million users. If you were a real estate agent using their service to help qualify leads not only would you be exposed, but so would all of your clients.
Here are five reasons you need to prioritize your own online privacy and data security and how it can help improve your business.
To keep your clients' sensitive data safe.

To prevent financial theft.

To maintain your trustworthy reputation.

To keep up with encroaching technology.

To avoid GDPR fines.
Ready to secure your data? Read on for more information.
1. To keep your clients' sensitive data safe
Your clients are not only trusting you to help them find their dream home, but they're trusting you with their personal information as well. As a real estate agent, you're going to be dealing with sensitive financial and personal information.
Imagine if you have a security breach on your website, or your inbox is hacked, and all that information is now compromised.
That would be a nightmare for your clients and could lead to them leaving to find another agent.
Related: What is the cybersecurity skills gap and what does it mean for your business?
2. To prevent financial theft
Handling sensitive financial information was easier before the age of technology. Most of it would exist in printed form, filed away in a storage cabinet. But today, many of our financial transactions take place online.
Whether you're signing escrow documents, accepting payments or emailing back and forth with a client, you'll want to ensure all of this information and documentation is kept safe by taking steps to secure your digital footprint, including having strong passwords and password protection, implementing two-factor authentication and other digital privacy best practices (more on this below).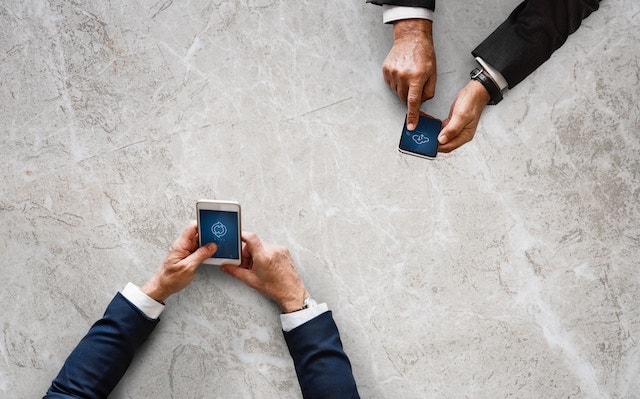 3. To maintain your trustworthy reputation
Your success as a real estate agent depends on your relationships with your clients. You always have their best interests in mind, whether that's in looking for a house, selling their home or telling them about new property investment opportunities. And this extends to the online space. You are your client's ally — their trusted advisor — and as a result, you want to keep them and their information safe.
Having their information stolen could end up tarnishing your reputation.
But the right online privacy practices can ensure that your clients stay protected, and their trust will never waver.
Related: Protect online privacy with these 6 tools and tricks
4. To keep up with encroaching technology
Technology will invade an industry and the proper security practices will arrive later — usually only after security loopholes have been exposed. The increasing use of technology has made transactions must faster and easier while simplifying the home buying process, but it's also created more risk.
In real estate, there are multiple new technologies converging at once, including IoT-connected buildings, home search apps, online escrow transactions and much more.
And while many of us think that when hacking occurs it's due to a lone wolf hacking away in a basement somewhere, it's often done through phishing scams where people accidentally click on a dangerous link.
5. To avoid GDPR fines
Finally, you'll want to ensure that your online practices are in alignment with the latest General Data Protection Regulation (GDPR) legislation.
Failure to comply with these new data collection and privacy protocols can result in huge fines.
Yes, implementing GDPR will change how you do things, but since the overarching goal is to give your users more control over the use and privacy surrounding their data, it's a critical step in the right direction.
How to prioritize online privacy — for you and your clients
Now that you know why you should focus on online privacy and data security, it's time to jump into a few steps that'll help you get started, and there's a lot you can do to protect yourself and your clients. However, most of it comes down to securing your platforms in alignment with the latest security practices and implementing more secure measures for doing business online.
Here's how you can get started:
1. Secure your website
Your website is your virtual home. Depending on how your real estate business is set up, it might be the first point of contact with potential clients. For this reason, you'll want to ensure any data exchanged is secure.
One of the easiest things you can do is install an SSL certificate on your site. This will help to secure any data that's exchanged between the user and your server. So, if you're asking for any personal information, you can be assured it won't be intercepted.
As mentioned above, you'll also need your data collection methods to be in alignment with the latest GDPR legislation. This post will tell you everything you need to know.
2. Implement personal security practices
Most of the things we do every single day on the internet are incredibly insecure. We use weak passwords, share personal information in insecure environments, forget to back up our work and more.
Here are a few simple things you can do to greatly elevate your levels of security in your work and your personal life:
The steps above will go a long way toward elevating your online security.
3. Thoroughly vet any third-party software
You're only as strong as your weakest link. Whenever you're considering using a new app or piece of software make sure you thoroughly vet its security protocols. Like the Equifax hack mentioned above, no platform is truly safe.
But, you can decrease the negative impact a breach like that will have by following the best practices in the previous steps.
Also, whenever using a third-party solution, be sure that you back up any data and try not to store any personal information that might be detrimental if compromised.
Hopefully, you now have a better understanding of why online privacy needs to be a priority as a real estate agent, and how you can get started today.