Starting a business in Ontario? Here are 5 resources you should know about.
Passionate, visionary, self-motivated, innovative, leader. These are just a handful of traits successful entrepreneurs have in common. However, there are also negative traits common amongst entrepreneurs, including:
Lack of focus. Entrepreneurs can be multitasking workaholics to the detriment of proper business planning.
"Superhero Syndrome." Entrepreneurs tend to be so inspired that they fail to delegate tasks and ask for help. This leaves them to learn almost exclusively from their own failures.
I'm lucky enough to have both of these traits.
When I started my first business in 2004 I was a young, insecure college student with a good idea. Why was I selling my like-new $120 marketing textbook back to the college for $20, so they could turn around and resell it for $80? There had to be a better way! So, I fine-tuned my idea, Googled some business startup basics, and launched Textbookexchange.ca with the help of another first-year programming student.
There are a number of reasons this business never reached the level of success I had expected, but I've come to realize the two previously mentioned negative traits of entrepreneurs were major contributors to its shortcomings. If only I'd known then what I know now — there are great resources available for up-and-coming entrepreneurs in Ontario that can help you conquer those negative tendencies.
5 amazing small business resources in Ontario
While the following programs' funding options obviously are appealing, I personally love them because they connect you with experts in your field to help you explore the merit behind your business idea and make a plan. Steve Pellarin, executive director of the London Small Business Centre, agrees:
"In recent years we have seen a real proliferation in the number of government sponsored entrepreneurial support programs, and that is because if done correctly, they work!

The financial assistance component of these programs is often the draw and carrot, but most participants agree it is the structure of coaching, training and ongoing support that is the key success factor. The entrepreneur needs to do the heavy lifting to reap the rewards, but a well-designed program can be a great asset to a motivated individual. I like to use the analogy of a health club: Anyone can buy access to the equipment, but it is those who follow a workout plan and from time to time seek guidance from a trainer, who tend to have the best results."
Ontario Self Employment Benefit Program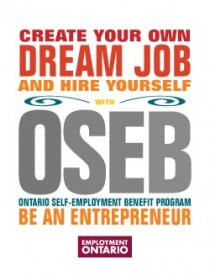 If you have involuntarily lost work and have collected Employment Insurance (EI) benefits in the last three years, or if you left work and collected maternity or paternity benefits in the last five years, the Ontario Self Employment Benefit Program (OSEB) might be the right fit for you. If approved for the program, you attend a series of classes and seminars which ultimately guide you in creating an effective business plan. You also receive income support during your enrollment in the program.
Ontario Works Self Employment Benefit Program
If you're collecting Ontario Works and want to start a business or take one over, this is a great free training program. Similar to the previously mentioned OSEB program, the Ontario Works Self Employment Benefit Program (OWSEB) offers training and support to explore the merit of your business and create a plan to give it the best chance of success. There are additional OW-related benefits available to those who participate in this program.

Starter Company Program
If you are between the ages of 18 and 29 and are not attending school full time, you might be eligible for the Starter Company program. This program provides guidance from experts, business mentorship, and access to workshops so you can learn what you need to know to successfully launch your business. You might also be eligible for a $5,000 grant made available through the program.
Futurepreneur Canada Program

Are you between the ages of 18 and 39 and need funding to start or grow a new business? Check out Futurepreneur Canada.  Approval for this loan program focuses more on your personal character and business plan than on your credit score. First, you receive guidance on how to create a business plan that will help increase the chance of your being approved for the program. If approved, the program provides you with up to $15,000 of initial funding, with additional funding available through the Business Development Bank of Canada. The program also includes a business mentor for two years, which can be an invaluable resource for new business owners.
Summer Company Program
Why work a job in the summer when you can be your own boss? Ontario students between the ages of 15 and 29 might be eligible for the Summer Company Program, which teaches you what it takes to run and manage a business. You'll receive business coaching and help with creating a business plan. Plus, successful candidates are eligible for up to $1,500 in startup funding.
These programs work. Just ask Brian Kliza.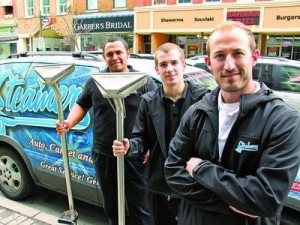 London native Brian Kliza reaped the benefits of participation in the Futurpreneur and Summer Company programs to successfully start Steamers Cleaning Services. He was a 20-year-old business student at the University of Western Ontario in 2003 when the idea for his steam cleaning business was born. Brian said his previous employment at a carpet cleaning company inspired him to do it better. He recalls:
"This company was always pretty good about getting business, but I was never really happy with the way the company was managed or treated their customers and employees. At the same time I knew there was a lot of demand for this business and that companies like this were still going to do well as long as there was an overwhelming demand.   I learned very quickly how the business was operated, and most importantly how I wanted to provide clients with quality professional service. And that got me thinking – why not go into business for myself and be able to offer clients a truly high-end and professional steam cleaning service?"
But where would a kid fresh out of high school get startup funding and guidance? Brian turned to the small business centre in his hometown, which connected him with the Futurpreneur and Summer Company programs. It was a game-changer, he says:
"I was able to read lots of material and get a ton of information on how to start a company. Most importantly, I learned about the different programs and business plan competitions that they offered for students who want to explore and live out their dream of starting their own business.

The startup funding that I received from these business programs and awards helped me to finance all of my essential startup costs, including purchase of my first machine, advertising and all the little things that needed to be done to get my business off the ground."
Today, Steamers has built a strong reputation for the same qualities Brian envisioned as a first-year college student with a big dream but no clear direction on how to achieve it — until he found the programs targeted at helping entrepreneurs like him succeed.
What's your next step?
Taking Brian's lead, I recommend giving your local Small Business Enterprise Centre a call when you're thinking about starting a business in Ontario. Program availability varies by community, and your local centre can connect you with available resources. It's a good opportunity to get a step up on your entrepreneurial journey — and a great way to avoid making some of the same mistakes I did when starting my first business a decade ago.