5 things to include on your life insurance website to begin attracting clients immediately
The life insurance industry is changing, and one of the most influential assets an insurance agent can possess is a life insurance website. I started my first life insurance website in 2004. Since then, we have brought in more than 20,000 life insurance clients directly through our site.
5 things to include on your life insurance website
To create a website that attracts and converts visitors into clients, you need to provide social proof and build trust. Below are five things you can do to turn your website into a lead-generating machine.
Use professional headshots.

Post reviews on your life insurance website.

Get an SSL certificate.

Give something away.

Include a call-to-action.
With these five features implemented into your life insurance website, you're bound to see new leads. Keep reading to get a closer look at how each one works.
1. Use a professional headshots
Purchasing insurance is a personal experience. It is essential that the buyer is comfortable with his or her decision, because life insurance is a contract that lasts several decades. I find that including professional headshots of everyone at our agency on our site helps build the trust necessary for customers to buy from us.
My accountant asked me to take a look at his website. There was not a photo of him anywhere on the site. I made some small modifications and added his headshot to the homepage.
He went from bringing in zero clients from his website to attracting several new clients each month.
When including headshots on your life insurance website, it's critical that they are professionally done. It pains me when people use photos of themselves with another person cropped out.
Pro tip: When I need to get a professional headshot, I post a project with Thumbtack, and photographers bid on the job, giving me the opportunity to review them before making a decision. I post a project for $150 for one to five professional headshots, and have the photographer come to my location for the shoot.
2. Post reviews on your life insurance website
Showing proof of previously satisfied clients displays experience and creates a sense of trust for potential clients. We prominently display reviews on every page of our website.
Reviews act as social proof. They show you care about customer satisfaction.
I think reviews offer evidence of accountability to customers. If a disagreement arises, the client knows she or he has a way to fight back.
When collecting reviews, it is essential to use a standard system that includes:
1- to 5-star ratings
Comments
Date of the review
Reviewer's name
Location of the client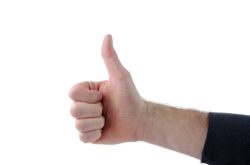 I hate it when I see testimonials on a website without a date or stars. I also recommend you build up reviews on third-party review websites, such as Yelp and Google. These sites help build your credibility and have the added benefit of showing up in local searches.
Editor's note: Want to appear on directories like Google and Yelp, but don't want to deal with the hassle of managing multiple listings? Checkout GoDaddy's Local Business Listings. Enter your business information from our convenient dashboard, and we'll push it out to directories for you.
3. Get an SSL certificate
Security, or SSL, certificates are no longer just for eCommerce websites. SSL stands for Secure Sockets Layer. What this certificate does is encrypt the content of your website so hackers can't steal information. As of January 2017, Google displays whether a site is non-secure in its Chrome browser. This warning shows in search results as well as on your website.
The last thing you want is a warning popup right before a potential client enters their contact information.
To make your site secure, I recommend getting an SSL from GoDaddy. Place the SSL seal on every page of your site. These security seals have been proven to increase conversion rates.
4. Give something away
There is a great book called Influence in which the author, Robert Cialdini, explains all the tactics used to influence people into making a purchase. One of most influential strategies in the book is the theory of reciprocity.
To invoke the reciprocity theory, we offer something for free. What you offer does not need to be big or expensive. It can be something small.
On our website, we offer visitors the ability to view side-by-side rate comparisons of life insurance policies. Unlike most of our competitors, we do not require personal contact information to run a quote.
Other options to offer on your life insurance website are:
Free consultation
Downloadable guide
Video guide
Calculator
Free trial
Valuable information
Invoking the reciprocity theory is a surefire way to increase the effectiveness of your life insurance website.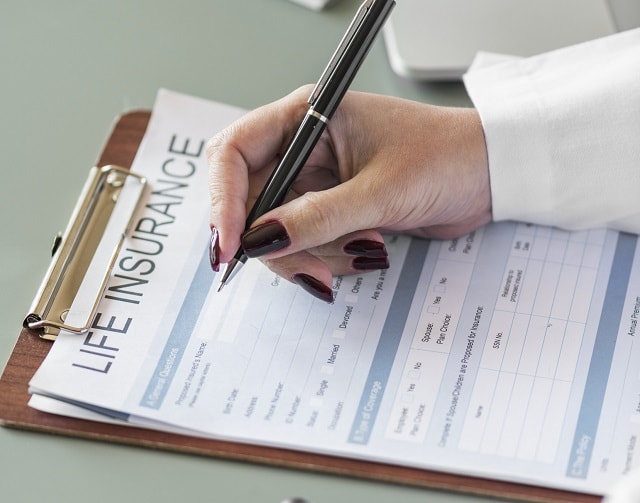 5. Include a call-to-action
Your website is not just a business card or resume. When used correctly, your site is a lead-generating machine attracting new customers daily. To take full advantage of your life insurance website, a call-to-action is required.
The best calls-to-action are prominent and result in potential clients entering your sales funnel.
We use several calls-to-action on our life insurance website with a goal of either getting the visitor's email address or encouraging them to contact us directly. Direct contacts are incoming phone calls, contact request forms, appointment requests, and application requests.
When you collect an email address, you have the opportunity to let email marketing software automation take over for you (like we do) to send a series of emails to potential customers. After the series of automated emails are complete, we either move the potential customer into a direct contact request, or we run them into our newsletter mailing list. Our website brings in 99 percent of all our customers, and, using this system, yours can, too.
Editor's note: Need an email marketing platform to send automated campaigns? No problem. Check out GoDaddy Email Marketing, and create beautiful, branded emails in no time.
In conclusion
One of the best things about a life insurance website is that it is a tool that works for you 24/7. Make sure to build your site as a positive reflection of both you and your company. Include the above recommendations and have your site bring in potential customers while you sleep.