5 tips to help service providers get great website photos
The vast majority of my ghostwriting and web copy clients are service providers: Coaches, trainers, wedding photographers, consultants, designers and the like. As a freelance service provider myself, I love crafting blog posts and sales copy that reflects my customers' diverse voices and values. But I've found that some of them are reluctant to reinforce those warm words with website photos that show their lovely faces.
And I get it. As a service provider, you want to sell your talents and skills, not your smiling mug. Especially if you live in fear of the camera lens, creating a brand presence for yourself that is totally devoid of personal photos can be awfully tempting.
But here's the thing: If your business centers on YOU as a teacher, practitioner, coach, or whatever service you provide, your website needs to include attractive professional photos of you.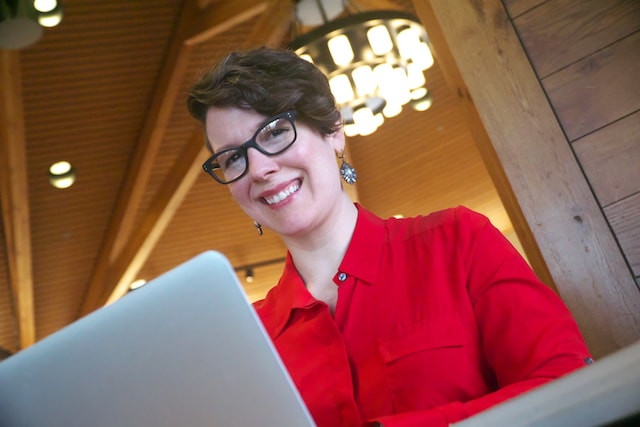 And not just headshots, people, action shots, too! Even if you perform your services remotely and never meet face-to-face with your clients and customers, they will want to know what you look like. Why? Because they are human beings and brimming with instinctive curiosity.
Being vulnerable enough to show people how you look builds instant trust. 
Plus, incorporating inviting photos of yourself gives you more control over your brand story. The words and design elements lay the groundwork, but images of you in action complete the puzzle.
But just how do you get GOOD photos, especially if your work isn't something that's exciting to watch? Take it from someone who sits at a laptop writing words all day, it IS possible. And here's how:
Nail down your color scheme first, then stage accordingly
You and your designer put gobs of time and energy into picking your website colors, right? Don't undo it all by taking website photos that include big swaths of clashing tones! You can pull in your theme colors through locale, clothing and prop selection.
You needn't make everything overtly matchy, but weaving your website's colors into your photos creates instant visual cohesion.
My site's colors are dark red, gray, and white, so we shot at a restaurant with dark red booths, and did a separate set of photos in which I wore a red silk blouse.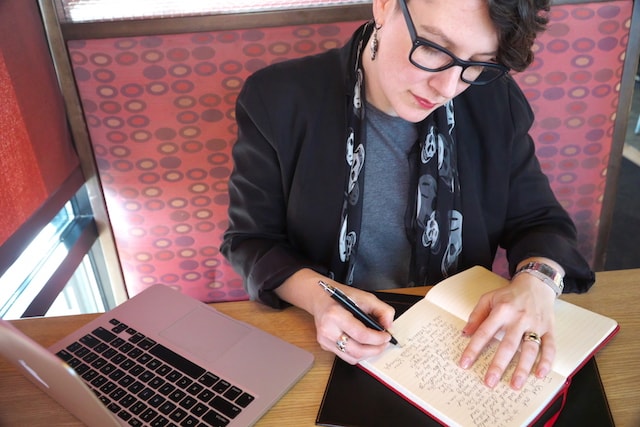 Study stock website photos for angle and composition ideas
Head over to your favorite royalty-free photo site, and search for your profession.
How have skilled photographers chosen to frame and compose images of other folks doing similar work?
Do they tend to shoot personal chefs from above, so colorful ingredients are in clear view?
Are health professionals lit from behind so they seem to glow a bit?
Track down 10 to 20 images that resonate with you, and share them with your photographer. Don't attempt to recreate them down to the very last detail, just use them as inspiration for your own shots.
Dress in a way that reflects your personality as a service provider
I've seen countless authors, speakers and coaches who look deeply uncomfortable in the outfits they've chosen to wear for their professional website photos. And I've met several service providers who are dressed formally in their website images, but quite literally never wear suits or heels in real life.
Pick clothing and accessories that feel authentic to you and to your brand.
And when you stage action shots, wear your actual working clothes. No one will believe that you give facials to your clients while wearing a sheath dress and blazer anyway. If possible, add a wearable element that's meaningful to you. I chose my Alexander McQueen skull scarf because it's edgy, but subtly so.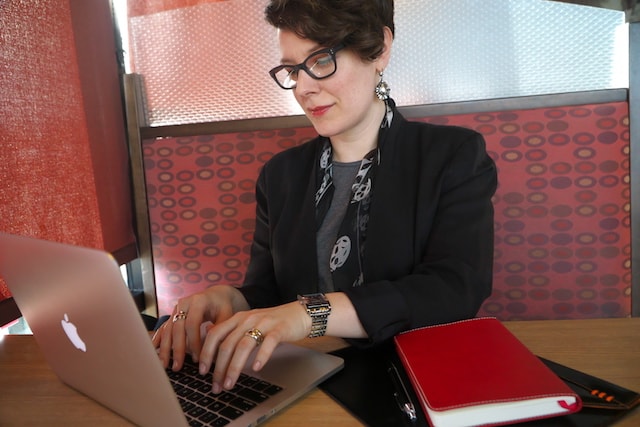 Embrace cliches, but put a twist on them
Notice how I, a writer, am actually, physically writing in the main photo on my home page? See my laptop? My books? My fancy pens? If none of these extremely trite symbols of writing were present, my website photos would make far less sense to my site visitors.
There's nothing wrong with employing a few visual cliches to get your point across, especially if your work is something totally intangible like composing movie scores or devising marketing plans.
Every hairstylist's website will have images of hands holding scissors, and every architect's website will have images of people leaning pensively over design drawings. This is fine. If possible, add a personal twist to any banal photos. On my own contact page you see a photo of me at my laptop, but the main focus in the frame is my cat , who's leaning over my shoulder. Still writerly, but also quirky!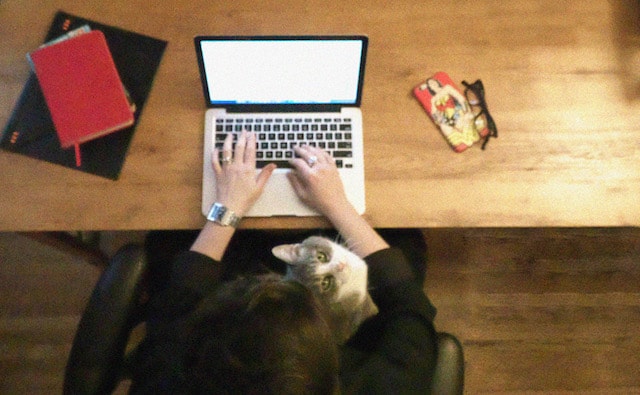 Shoot in a variety of settings (not just your workplace)
If you're a yoga instructor, by all means get some shots in your studio. And if you're a graphic designer, including a few images of your Pantone swatches and messy desk will undoubtedly charm potential clients. But all of your website photos show you in a single, indoor location, it creates a weirdly claustrophobic vibe. Like you live, work, eat, and sleep all in a single room.
Get outside. Head to the library or a favorite local cafe. Make sure you keep your color scheme in mind, but shoot in multiple settings so your website photos feel expansive and diverse.
Still not convinced that you need to include photos of yourself on your business website?
Imagine you're hoping to hire an interior designer. You visit two professional websites, both with equally stunning portfolio images. One includes a handful of fun photos of the designer in her office, working on-site, straightening books on a coffee table. The other just has text and photos of home interiors. Which one are you more likely to call? This person is going to partner with you, collaborate with you, work side-by-side with you. Don't you want to know what she or he looks like?
Of course you do. And your clients want the same from you. So sink some cash into a professional photo session, and show your potential customers who you really are.
Image by: Jamie Street on Unsplash