5 WordPress photography themes to supercharge your portfolio
Creating a photography portfolio is not as simple as it first appears. On the surface, a portfolio is just a directory of your work. However, making yours stand out is key for generating leads, as well as eventual sales. To create an effective portfolio, you'll need to evaluate the best WordPress photography themes.
There are many WordPress photography themes available, and each has its own set of features.
Creating a unique WordPress site that matches your personality and work is as simple as deciding on the functionality you need, and then going shopping.
In this post, we'll round up five WordPress photography themes that can provide a hassle-free way to showcase your work and generate income. Let's get started!
What to look for in WordPress photography themes
When it comes to choosing WordPress photography themes, there are two schools of thought:
Multipurpose themes offer the most flexibility, and usually provide a wealth of features and functionality. However, this comes at the expense of specialization.
Niche themes are tailored to the direct needs of the user. While they can lack some flexibility and features, they're often much more suited to the task at hand.
Both types of themes are worth checking out when deciding how to display your photography portfolio. In either case, there are a few key elements you should look for:
A range of gallery layouts to match the differing themes of your work.
An uncluttered default design, or the ability to create one.
Dedicated functionality for creating contact and signup forms.
There's much more you could add to your wishlist of features, but these tick the boxes you'll initially need to consider. Fortunately, there are plenty of WordPress photography themes that meet all three criteria.
5 WordPress photography themes to supercharge your portfolio
While you'll find many WordPress themes that cater to photography portfolios, these five are standout options that should be at the very top of your shortlist. Let's look at each one in turn.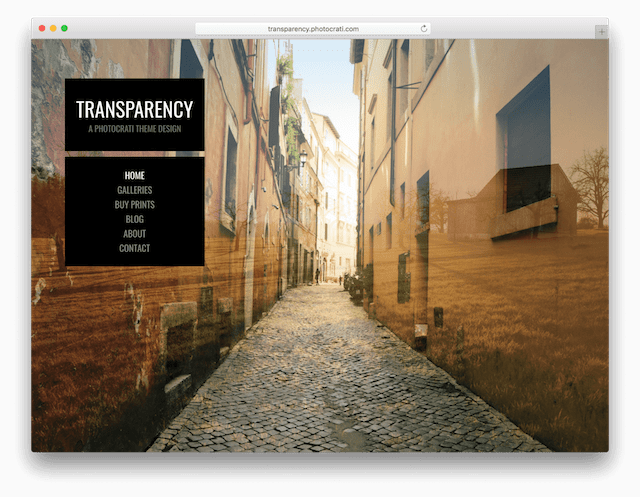 First up is Photocrati, a dedicated WordPress photography theme, which includes over 60 demo templates to choose from.
The developers have packed in a number of key features to help you display your work, and you'll get access to practically everything you'll need to create your website.
For example, there are a number of gallery options to choose from, including film strips, standard blog-style galleries, and thumbnail displays. Each image can be viewed in a stylish lightbox, and there are an abundance of design customizations to help you create a totally unique website.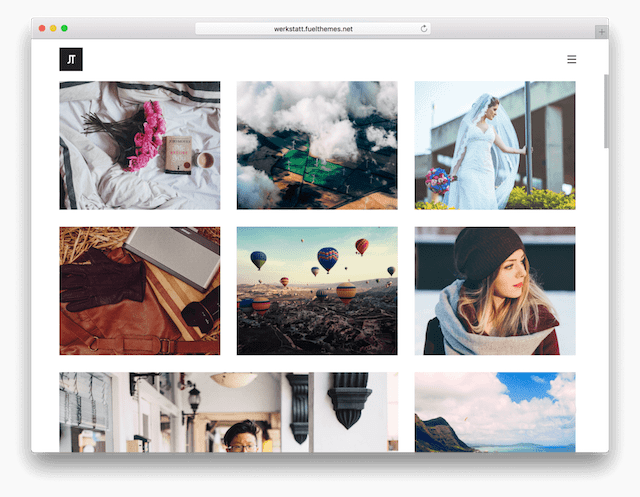 Werkstatt is one of the more reasonably priced premium WordPress photography themes, and offers top-drawer functionality and features.
It's actually focused on portfolios more than photography, although there are pre-built layouts that cater to both niches.
The layouts themselves are built using the bundled Visual Composer page builder, and there are lots of other options for tweaking your site to perfection. For example, there is a selection of hover effects for each image thumbnail, plenty of choice when designing navigation menus, and literally thousands of fonts so you can tailor your site to fit your brand.
Next up is the only free example on our list of WordPress photography themes. However, this doesn't mean it's been hamstrung by a lack of features. In fact, Fotografie is perfect for those who want to blog about their work, as well as display it.
This theme is simple and straightforward, and enables you to display your portfolio as the primary element of your website.
There are also options to include "hero content" (such as a featured image), and a handy in-navigation search feature means your readers will easily be able to find the work they're looking for.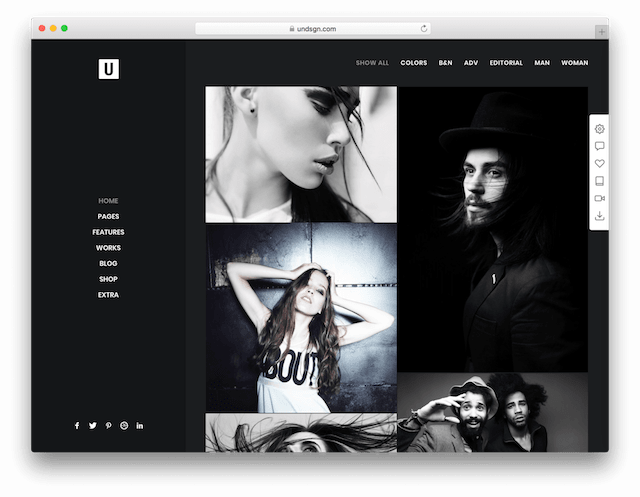 Uncode is probably the most complex entry on our list of WordPress photography themes. It enables you to create a completely unique website — for a reasonable price. While this is a multipurpose theme, it includes demo layouts (called 'concepts') that cater to photography portfolios.
Uncode is built using a tailored version of the Visual Composer plugin, enabling you to use content "blocks" to piece your layout together.
There are so many options at your disposal in this theme that we'd need several of articles to cover everything. What's most important is that Uncode includes features such as an advanced grid system and adaptive images, which make it a solid option for your portfolio website.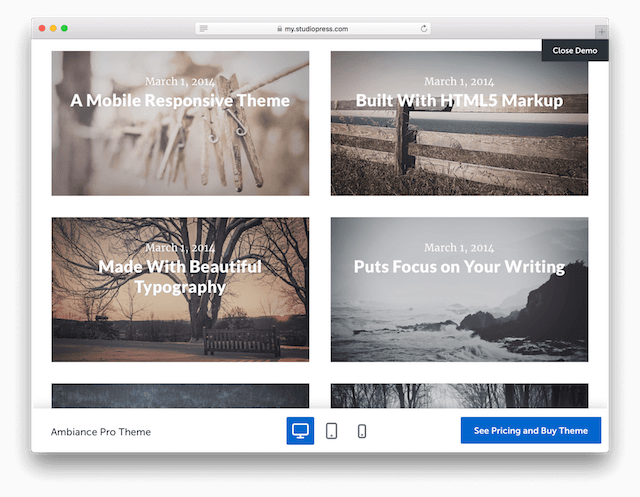 Our final theme Ambiance Pro is built on the Genesis Framework. For just under $100, you get the child theme and the framework — an excellent deal as far as we're concerned.
This theme is image-heavy, and prominently displays your work on the home page.
Much like Fotografie, it's most suited to photographers who want to discuss their work rather than simply display it. Also, thanks to the simple-to-grasp Genesis Framework, it's ideal for those who want to get up and running straight away.
Conclusion
Showcasing your photography portfolio online is not a task you should cut corners with. In order to create a website that matches the quality of your work, and reflects the image you want to portray, you'll need to hunt for WordPress photography themes that can deliver the goods.
In this post, we've looked at five WordPress photography themes that are suitable for showcasing your photography portfolio. Let's recap them quickly:
Have fun exploring these WordPress photography themes, and choosing a theme that best enables you to showcase your portfolio online.