6 types of WooCommerce sites that don't need product inventory
There's a reason why WooCommerce + WordPress make for a winning combination — getting your online shop up and running only requires you to pick a hosting platform, set up the plugin and get started.
It therefore comes as no surprise that WooCommerce is one of the major platforms when it comes to shopping carts, powering a staggering eight percent of eCommerce websites.
It's popular for a number of reasons:
Its ease of use and getting started.
Its price (free).
The incredible support and community behind it.
But WooCommerce is not just a platform for setting up an online version of a physical shop.
Yes, you can build WooCommerce sites even if you don't have any products.
There are plenty of other possibilities that make this platform much more versatile than you might think.
Related: How to sell stuff online — A comprehensive guide for eCommerce success 
6 types of WooCommerce sites that don't require product inventory
We want you to start thinking of new possibilities to expand the reach of your business — your next big idea! Not only that, we want to get you thinking about setting up your online business, even if you don't have any physical product to sell. Here are 6 ways to use WooCommerce sites to that end:
Create a membership site.

Create a subscription box business.

Schedule appointments and bookings for service-based businesses.

Use Fulfillment by Amazon with WooCommerce.

Dropship with WooCommerce.

Launch an Amazon affiliate site.
Related: How to start an online business in 4 easy steps 
1. Create a membership site
Most of us have a hobby, a passion, or an interest outside of our day-to-day job or business. Maybe you're a member in a club or organization, or you've got expertise that you'd like to exploit.
Creating a membership site is a great way to monetize your expertise and help other people.
A membership site (or a section of your website) is a great way to monetize your expertise (or boost the income of the club or organization you're a member of). Whatever your situation, a membership site can be used both to help other people and monetize as you do so.
Such membership sites work by charging recurring fees (monthly, annually, etc.) for access to your content, which is locked away behind a paywall.
Even if you already run a business, it's a great idea to actually create a low-cost (or free) VIP section of your website, with exclusive discounts, pre-sales and special offers. This works in your favor in two ways:
You keep people coming back to your site (getting a chance to get more eyeballs on your most recent offers and products).
You have the go-ahead to pitch your products directly to the people who are already your customers, already trust you and are ready to do business with you.
So how does WooCommerce fit in with all of this?
WooCommerce has an add-on for creating memberships that allows you to set different prices for different tiers of access. You can set up recurring payments, determine how long a membership lasts, send out customized emails when someone joins, renewal reminders if you aren't using recurring payments, and plenty of other options.
To reduce complexity, it allows integration with common payment gateways such as PayPal, Stripe and many others.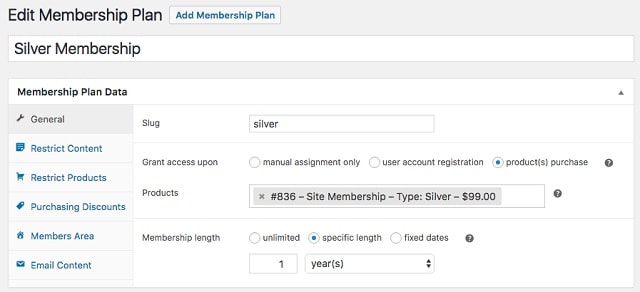 Related: How to start a membership site to give your following a home online 
2. Create a subscription box business
Speaking of recurring revenue, you might know that today, the companies which are worth the most are those who operate under a subscription model.
Subscription-based businesses are typically valued at around 10 times their annual revenue, whilst businesses based around one-off sales are valued at about three times their annual revenue.
It's a no-brainer that subscriptions and recurring revenues are the way forward.
Now, it's hard to actually charge a subscription for tools or "products" which are not actually services, unless you opt to create a subscription box business.
The concept of a subscription box has been around for a while, with thousands of options catering to almost every niche available — they are particularly strong in the health and beauty niche. In general, the idea is that you offer customers a package which is sent out at regular intervals (typically monthly, but can take the form also of weekly or even quarterly), against a recurring payment plan. Most boxes offer monthly plans, with discounts if you opt for longer periods of time such as quarters, bi-annual or annual subscriptions.
The core of this business is to send a selection of products that your customers are interested in, at a very reduced cost.
The beauty of this is that you don't have to have your products to sell.
As the company offering the subscription box is buying items in bulk, you can leverage this to get better margins and discounts from suppliers, which will help to scale up the business.
Once you build a loyal audience and good customer base, you can turn the concept around on its head and actually ask vendors for money to be included in your box. This is because your box becomes a means of introducing new products to an interested customer base, and suppliers will be very keen to get their product in front of your audience. It's a different form of marketing and market development.
The job of the subscription box vendor is to increase the customer base and choose and source the different products, and deal with the shipping logistics.
Related: How to set up subscription products to charge for your services 
Getting back to WooCommerce, the WooCommerce Subscriptions plugin helps with the billing and the creation of trial periods. It also allows your existing customers to manage their existing subscription(s).
In terms of growing your existing customer base, this plugin also has the option to send targeted emails to your customers with special offers/discounts, in addition to reminders to renew their subscription.
Besides that, the WooCommerce Subscriptions plugin provides a detailed sales analysis of your state of business at the end of each month.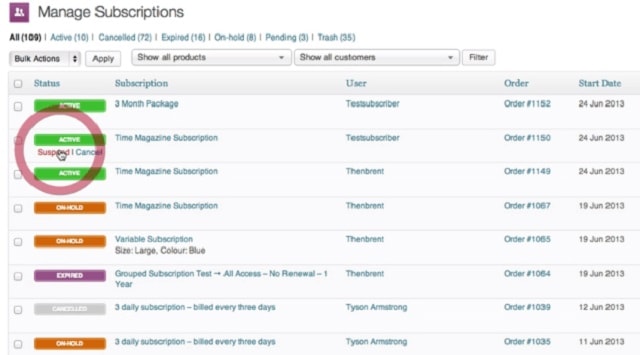 Of course, there is quite a bit of logistical work involved in this type of business, but as discussed before, the value of such companies and the business model is huge. The goal is to keep a low customer churn rate, and the growth and profit of your business will get very significant very quickly.
3. Schedule appointments and bookings for service-based businesses
One of the underused, but significant ways of boosting revenue and reducing costs with WooCommerce, applies mostly to service-based businesses. For those who provide a service (dentists, hairdressers, beauty parlours, physicians and other services that require booking a session), it is possible (and recommended) to use WooCommerce to allow visitors to your site to schedule appointments and bookings.
There are two benefits to doing this:
You allow your customers to book at their leisure (and find a suitable time-slot for them).
You reduce costs associated with booking (time spent organizing bookings).
This can be done using the WooCommerce Bookings and Appointments or similar plugins. With these plugins, you can offer time slots and a calendar as a booking resource. You can set different prices depending on the day of the week (maybe your weekends are more expensive), time of day, resource to use (more experienced resources could cost you more) and other parameters related to the booking. You can allow appointments of differing duration and even have options for selling multiple services as part of a bundle.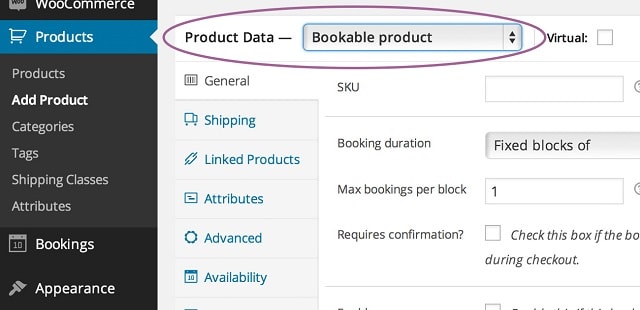 The WooCommerce Bookings plugin and similar products typically integrate directly with your Google Calendar, allowing a two-way sync. This helps you ensure that even if you are taking bookings manually, you don't get any double bookings. Customers are able to reschedule their slots if they need to, and all the logistics are catered for automatically.
We do believe this is one use of WooCommerce which needs to be given more attention, because it could be a really nice boost to small businesses.
Related: Standout Tools — GoDaddy GoCentral's Online Appointment Scheduling
4. Use Fulfillment By Amazon with WooCommerce
This is one of those beautiful business models which is great for those who are interested in getting into the eCommerce industry, without having to figure out all the logistics associated with shipping physical products.
Fulfillment by Amazon (or FBA) allows you to leverage Amazon's massive order fulfillment network to remove the logistical and product headaches associated with selling online.
The idea behind FBA is the this: You handle the marketing, sales process and order-taking. You also need to source the products and create an inventory, but you don't need to store it or source a warehouse. Amazon actually stores your products in their fulfillment centers and handles the actual fulfillment (i.e. delivery of the goods). You are responsible for finding the customers for a product. Amazon will take care of inventory, packing, shipping and the tracking of orders for you.
This allows you to focus on the more important and less mundane aspects of running an FBA business, such as product selection, marketing and profiting!
This is especially beautiful for those who either have an expertise in a certain niche and would like to exploit this through online marketing and selling. It is also a great idea for those who already have a niche audience ready to consider their recommended products.
By using WooCommerce plugin for your FBA business, you can automatically fulfill orders through your website, and from then onwards shift the responsibility to Amazon to deal with any issues which may arise from the sale.
The great thing is that your customers will automatically benefit from the normal Amazon shipping options, including fast delivery times for Prime members, and other benefits of buying from Amazon.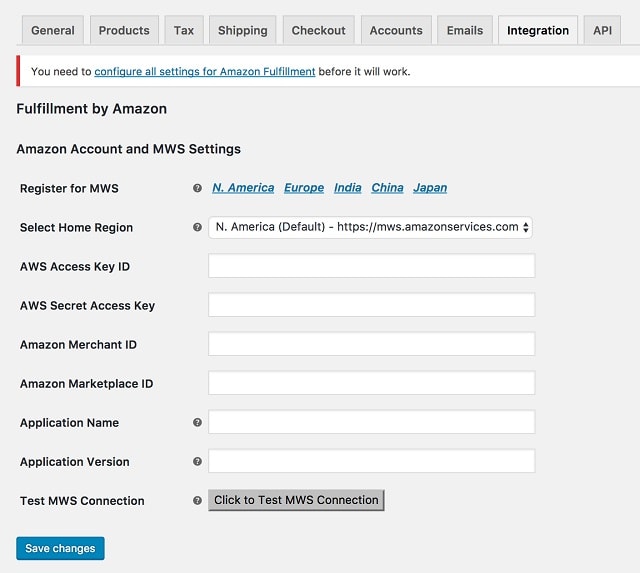 Both you and your customers will receive email notifications when products are ordered and shipped, and your stock levels will automatically be synced with Amazon's as items are sold. Customers who have made an order can track their shipping status through an order page, in a similar fashion to what the Amazon website would provide.
For those looking to start a business, but are worried about the logistics, this is a full online store, without the need to be concerned about sourcing, stocking, storage, shipping and handling.
Related: Everything you need to know about Fulfillment by Amazon 
5. Dropship with WooCommerce
Fulfillment by Amazon is great, yet it still has inherent risk associated with it. You still need to source and buy your inventory, even if you don't have to handle the logistics of storing, handling and shipping.
But there is an option if you want to keep your hands completely off the actual products.
This is dropshipping using WooCommerce.
It's similar in concept to FBA, with the difference being that rather than using your own inventory stored at Amazon's fulfillment centers, you outsource the shipping and handling process completely to a supplier.
Essentially, as part of your setup, you'll need to source a supplier for your products, typically a nationwide distributor. Once again, you then populate your WooCommerce shop with the products which can be provided by the supplier and you become an order taker.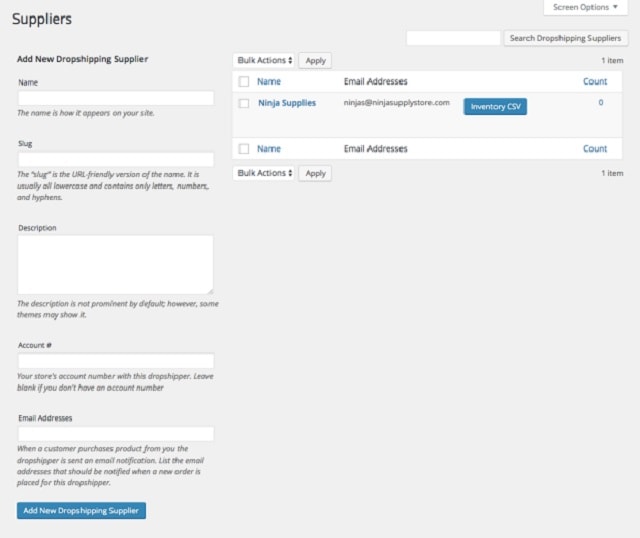 While the risk is lower in this case (you don't need to store inventory), the profit margin is slightly less than if you were doing FBA. You're also at the mercy of the distributor, so ideally you work with stepped contracts, which increase your profit margin as your scale improves.
Related: Tips and tricks that make shipping easy for small eCommerce businesses 
6. Launch an Amazon affiliate site
Our final recommendation for alternative usage of WooCommerce is the easiest to actually get started. All you need is a domain, a WooCommerce setup and a plugin to import products into your store.
Of course, there is the aspect of getting eyeballs (and clicks) on your content and affiliate links, but that's another discussion for another time.
Earnings in the Amazon's affiliate program vary depending on the product categories you are promoting (and can be changed at Amazon's discretion) but you can typically earn from 3 percent when linking to toys, and up to 8 and even 10 percent for furniture sales and tech. You even get a commission if your visitor buys something from Amazon (even if it is not your recommended product).
As an Amazon affiliate, using WooCommerce and an appropriate plugin can make things easier for you by doing all of the hard work of integrating with Amazon products.
There are WooCommerce Amazon affiliate plugins that make adding Amazon products to your website both simple and fast. Such plugins will automatically add descriptions, the current price and whether this is currently available. All you need to do is search for a relevant product or product, and populate your site with these products.
You can then either use a shortcode to add the product to a page, or create a product category display, as if these were your own products on WooCommerce. The only difference is that when your visitor clicks the Buy or More Info button, they will be redirected to Amazon (using your affiliate link).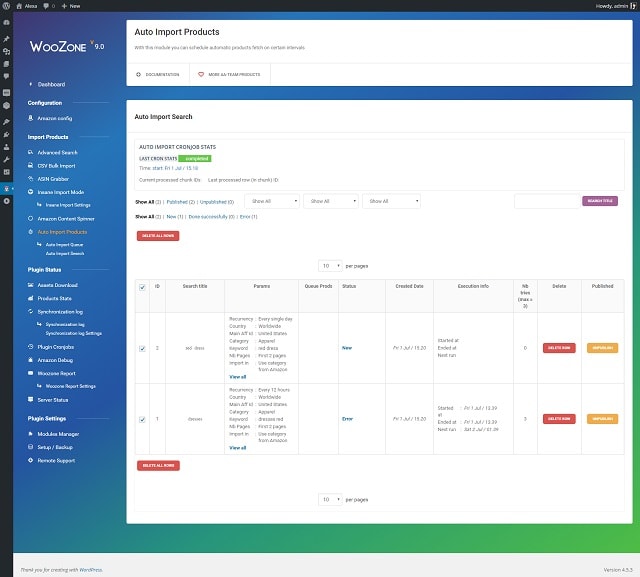 Besides the standard information of shipping, delivery times and inventory for multiple countries, as well as the prices in different currencies, you also have the option to show such offers as "Frequently Bought Together" and other product upsell options. This is all done automatically without requiring any intervention on your end.
Truth be told, this is a great way to dip your fingers in the eCommerce industry without having to get your hands dirty.
Once you've come to grips with that, you can move on to other more profitable ways of doing business, such as FBA or dropshipping.
The drawback of using Amazon affiliates is that you are at the mercy of the Amazon affiliate commission rates (which are bound to change at Amazon's will). You'll either have to find products which are quite expensive, or scale the number of sales to generate a lot of transactions to make a good amount.
In spite of the latter, there are thousands of people making good money from affiliate sites. These sites typically flip for about 30 times their monthly revenue, which is a significantly good ROI.
Related: How to use affiliate statements on your website and social posts 
Use WooCommerce for more than just selling your own products
As we've discussed in this article, using specialized WooCommerce add-ons and plugins, you'll find that the WooCommerce platform is much more than just a shopping cart for your own products.
These are only six of the possibilities of extending the scope of this platform. Other notable WooCommerce plugin options include auctions, designing your own product, and job listings — so there's plenty of room for pushing the envelope with WooCommerce.
Image by: newkemall on Visualhunt