7 best memes of 2016 — gifs, images and moments to remember
I love the internet. It's an endless source of entertainment and knowledge (mostly entertainment). From Imgur to YouTube and everything in between, the vastness of the internet is comedy gold. We've seen cats on Roombas, sneezing pandas, Take-My-Money Fry from Futurama and countless other meme-able moments. And this past year was no exception.
In the spirit of starting off the year with a little laugh, let's take a break from the daily grind to dive into the seven best memes of 2016.
7 best memes of 2016
While we'll never forget "Hey Girl" Ryan Gosling or Grumpy Cat, the internet still moved forward with some killer memes and moments in 2016.
1. Damn Daniel
You knew it was coming — damn Daniel. Two friends just goofing off resulted in one of the biggest viral moments of 2016. Josh, the voice behind the damn Daniel sensation, tells it best in this Ellen interview:
And then the internet exploded. Now, "damn Daniel" is a slogan for awe and appreciation. What started off as a simple Snapchat Story became a daily routine. Memes appeared, fans stopped them on the streets, interview opportunities cropped up, and Josh received a custom surfboard while Daniel got a lifetime supply of Vans. It's safe to say that these two teenagers certainly made an impact.
2. Good Kermit vs. Evil Kermit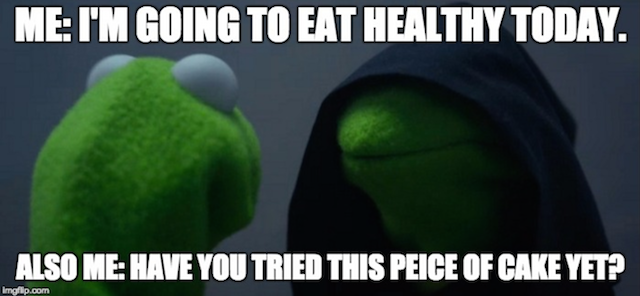 I won't try to deny it — I frequently argue with myself. So when Good Kermit vs. Evil Kermit cropped up, I couldn't help but laugh. It's just soooo relatable! Trying to eat healthy? Brain conjures up images of decadent, icing-clad cake. Working to meet a deadline? Brain decides that it's imperative to browse through emails. Now. Evil subconscious is evil.
3. Sad Ben Affleck
I never saw Batman v. Superman: Dawn of Justice, but based off the memes and general bad-mouthing I heard after the movie's debut, it seems like I didn't miss much. Thankfully, though, it wasn't a total flop. We did end up with this comically depressing clip:

Nothing captures Ben's expression better than Simon and Garfunkel's "Sound of Silence." Queue the slow motion zoom in.
4. Biden and Obama
Biden: I'm gonna throw his wig into the fireplace
Obama: Joe don't
Biden: One Horcrux down, 6 to go pic.twitter.com/YJt4gXYFfq

— Hogwarts Logic (@HogwartsLogic) November 16, 2016
A lot happened in 2016 — some good, some bad. Regardless, we can't help but laugh at the Biden/Obama memes that found life late last year. Internet users everywhere took it upon themselves to caption images of the two men together, and the results were hilarious. The phenomenon exploded to a point where there are now pages dedicated to the best memes of 2016 solely surrounding Joe Biden and Barack Obama.
5. Chewbacca Mom
What probably started out as a simple reveal to her friends turned into a moment of pure gold as a stay-at-home mom uploaded a video of her recent Kohl's purchase to Facebook.

There's just something so genuine about her reaction to a simple Star Wars mask. And with more than 165 million views, the general population agrees. Candace Payne, now deemed Chewbacca Mom, became a sensation overnight.
6. Michael Phelps stank face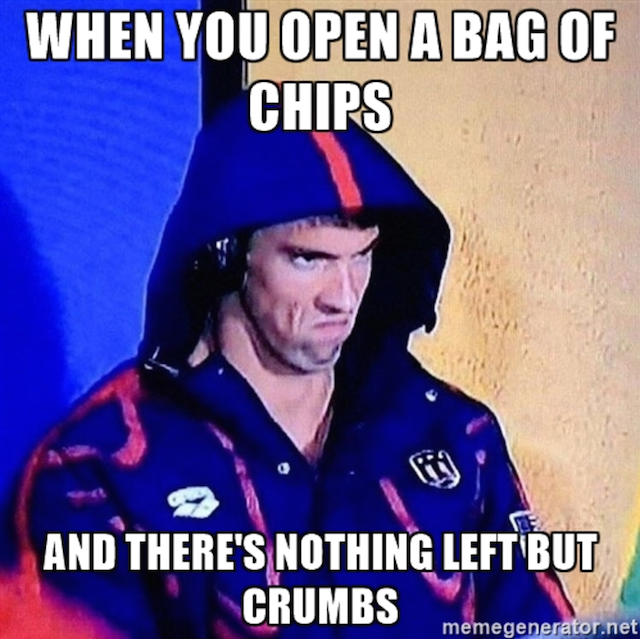 Thirty-nine world records. 23 gold medals. 4 silver medals. 2 bronze medals. And one insanely memorable, meme-able moment during the 2016 Rio Olympics. As a former competitive swimmer, this moment will forever live in infamy in my mind. Like any sport, prepping for the big moment is as much a mental game as it is physical preparation. We were just fortunate enough to catch it live.
7. Bottle flipping
To be honest, I'm not entirely certain what started the bottle flipping fad. But I do know one thing — watching these women flip a bottle and then appropriately dab is life. So the next time you're experiencing a major win, share this gif with your friends.
Memes, gifs and moments abound
By no means does this list encompass all of the best memes of 2016. There were so many moments to choose from. But you know who's really on top of trends? This guy.
Image by: wackyvorlon via Visual Hunt / CC BY