7 proven ways your local law firm can optimize its website for more leads
With 75 percent of clients turning to online research at some point during their searches for an attorney, a  website is critical for local law firms interested in generating leads. Even if you've built your firm's success through word of mouth, notable settlements and a strong local reputation, you could miss out on new clients — if your website isn't set up for maximum efficiency.
According to Search Engine Land, legal websites in the top 10 percent industry wide, convert about 6.5 percent of their site visitors to clients. The median legal conversion rate is just over 2 percent. That means even if your law firm's website is average, you still might be losing potential business from almost every visitor to your site.
Even the best websites for law firms can fall short of converting all the leads they should.
7 website optimization tips for local law firms
If you want to increase leads and business for your local law firm, these seven proven tips will help you better optimize your website.
Use exit popups.

Connect through remarketing.

Strengthen calls-to-action.

Deliver social proof.

Get personal.

Use real photos.

Keep contact forms to a minimum.
Let's look at each strategy in more detail.
1. Use exit popups
An exit popup is a message you receive when you attempt to leave a website. It can be anything from a contact form to a phone number.
The key to a successful exit popup is the incentive.
You know the visitor is about to leave your website. You need to make one last effort to turn them into a lead.
One of the best lead-generating incentives a law firm can use is a free consultation. It might sound simple. But when done correctly, it can vastly improve your website conversion rate. Why? People contacting a law firm are lost. They need initial guidance to understand what to do next and what their options are. By offering guidance free of charge (no strings attached) you can build their trust. And just as importantly, now that you have their contact information, you can follow up with them.
2. Connect through remarketing
Not every conversion takes place on the first visit, especially when it comes to looking for a lawyer. People scour the web reading law firm websites, review sites and testimonials before making initial contact. It's important to stay top-of-mind so your local law firm doesn't get lost in the sea of other options they're considering.
That's where remarketing can help.
Remarketing uses targeted pay-per-click technology to reach previous visitors and encourage another visit. Studies have shown that conversion rates increase with exposure — visitors who see an ad six times are twice as likely to convert than those who view it once. This can make remarketing one of the best tools in your digital marketing toolbelt.
You can target visitors based on their previous behavior. You can determine the criteria. Remarketing technology then uses cookies to serve up specific ads via the Google Display Network or even via the Facebook Ad Network. This is great for enticing visitors who might not need an attorney immediately (like someone looking for an estate planning attorney) as well as those who are mulling options and prefer a thorough research process.
On the whole, remarketing is an inexpensive — yet highly effective — way to build brand awareness and bring back targeted visitors.
3. Strengthen calls-to-action
In the online world, you have about 15 seconds to grab someone's attention. How does your firm's website do it? If it is like the thousands of other law firm sites on the web — one that starts with a lengthy description of your firm, complete with an extraordinarily detailed history and timeline — your call-to-action is likely buried at the bottom of the page.
Just like it sounds, a call-to-action is a powerful, action-oriented statement encouraging visitors to take action — and become a lead.
In a few words, how can you describe your services and encourage someone to contact you? Use strong action verbs, powerful visuals, short sentences, and let clients know the value of contacting you. Then, make that easy with clickable phone numbers and email addresses. Your calls-to-action should be the main focus of each page.
When creating a new page, always think, "How can I funnel people to the call-to-action?" Here are some examples your law firm might be able to use:
Schedule Your Free Consultation
Click To Call
Let's Get Started
4. Deliver social proof
Think of it as positive peer pressure — social proof takes advantage of the fact that people genuinely care about what others are thinking, seeing and doing. Social proof is when someone relies on the actions of opinions of others to help them make a decision. Since nearly 80 percent of consumers trust online reviews as much as they do personal reviews, it pays to offer social proof as part of your firm's online reputation management plan.
Fortunately, it is relatively easy to deliver social proof. Your site can have pages dedicated to testimonials and official reviews from satisfied clients, case studies detailing success stories, icons that proudly display your awards and certifications — and more. Social connections that highlight your social media followers, noteworthy data, before-and-after screen shots and a list of key clients (when you have their permission) can show visitors that your firm has the right experience for their needs.
5. Don't be afraid to get personal
While credentials matter, so too does a strong emotional connection. You want to preserve the reputation of your law firm, but an uninspiring website is not going to enhance your business or your reputation. Share some personal details and stories, information about your family, passions, or even pro bono work. Be sure to explain your "why" — why you do what you do and why you love it.
Do not use generic content that could be easily transposed to any other firm's website.
Even better, avoid legalese. When you use language your visitors can understand — and avoid legal jargon — you will connect on a more personal level. Most people make decisions based on their gut instinct. For this reason, you want your website to portray you as approachable, personable and experienced. Sharing insights from your local law firm on a law blog is an effective way to add personality to your website.
6. Use real photos
Using stock photos on your firm's website is easy. However, generic photos will not help to tell your story or build your brand. Stock images have their place, but original  photography creates a stronger and more personal connection. Showing your face builds trust and helps to establish that connection. Highlight your staff and their skills, personalities and interests, as well. When you marry strong design with outstanding photography, your website visuals will draw people, keep them longer, and help convert them to leads.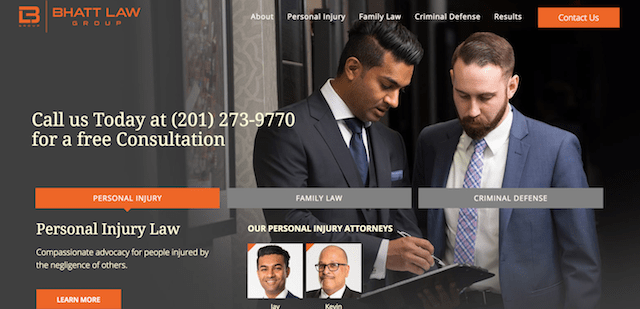 7. Keep contact forms to a minimum
Many law firms get a little greedy and include an absurd number of required fields in contact forms. This can have a detrimental effect on conversion rates. When the web development firm Imaginary Landscape reduced the number of fields in its contact form from 11 to four, it enjoyed a whopping 160-percent increase in form submissions.
The key takeaway here is to only ask for the essentials in your contact form — name, email and phone number are a must. Everything else is optional.
Image by: mauro mora on Unsplash