7 things to include on your pool cleaning service website
You've started a pool cleaning service business, and you're looking for ways to get customers. Not just one, but swarms of them. You've done your education and certification. You've invested in all the necessary equipment.
Now it's time to get to work.
Getting new leads for your business with offline marketing methods can be effective. But, what if you could have a way to generate leads around the clock, without you having to physically be present?
A website can do this for you. But, a pool cleaning service website needs certain things in place if you want it to work for you.
Why your pool cleaning service business needs a website
Offline marketing methods have the potential to bring you new clients. Doing things like passing out fliers and networking with pool supply companies, pool construction companies and property managers should bring in a handful of leads.
But what if those same leads could come to you?
Every day, your ideal customers are using the internet to search for businesses like yours. If your website comes up in their search, they'll check it out and maybe decide to hire you.
One thing is for certain — if you don't have a website, you're basically invisible.
A well-constructed website will help you rank higher in search engines, attract more leads, and build trust with your potential customers.
How to build a website
Before you begin creating your website's pages, uploading photos, and crafting content, you need a tool to help you build your website. There are dozens of tools out there to help with this process, but one of the easiest to use is the GoDaddy GoCentral Website Builder.
This tool will help you quickly build the website of your dreams — with no previous development experience required.
Plus, it's equipped with more than 15 different pool cleaner website templates to make designing your site even easier.
7 things to include on your pool cleaning service website
Your website is the virtual representation of your company. Here are seven things you'll want to include on your website to make sure it's actually working for your business.
A compelling home page.

Accessible contact information.

A helpful blog.

A breakdown of your services.

An About Us page.

Testimonials and case studies.

A way to collect leads.
Want to dive into success? Then keep reading to see how you can apply these tips to your pool cleaning service site.
1. A compelling home page
Your home page is the first things visitors will see when landing on your website. With decreasing attention spans, you only have a couple of seconds to capture their attention.
Think about what makes your company unique. Do you have a passion for pools? Is yours a multi-generation, family-run business? Have you cleaned any celebrities' pools? Do you offer a unique pricing plan or guarantee?
Your home page needs to convey your unique selling point and your expertise as quickly as possible, so your visitors will know that they're in the right place.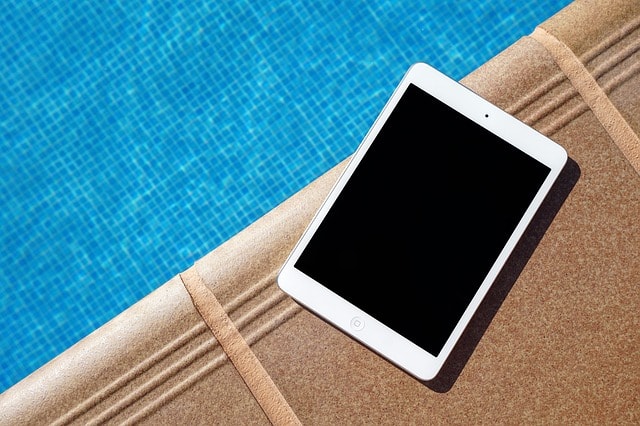 2. Accessible contact information
Your contact information needs to be incredibly easy for visitors to find. No matter which page they're visiting on your site, they should be able to see how to contact you and what your business hours are.
Proper contact information should include your business name, address and phone number.
This information is referred to as your NAP, or "name, address and phone number." Including this information accurately and consistently across your website and any local directories will help improve your search engine rankings.
You also might want to include a list of the local areas you serve, including community names. This will help with rankings for specific local regions and will let your visitors know if they fall within your range of service.
Editor's note: Want to target local customers? Check out GoDaddy's Local Business Listings to put your pool clean service on the map. Get your business info listed on multiple directories, all from one easy-to-manage dashboard.
3. A helpful blog
A blog can be a powerful tool to provides value to your visitors before they ever decide to work with you. In addition to educating potential customers about the process of cleaning pools, you also can begin to establish yourself as a local authority.
Running a blog with a solid content strategy can help improve your search engine traffic. That means more leads for your business and a quicker path to becoming a valued authority in your local space.
4. A breakdown of your services
When you're just starting our, you might only be offering pool cleaning services. As your business grows, you'll naturally uncover more services you can offer your clients based upon the demand in your local area. Your service list will probably expand into areas such as:
Pool repair
Hot tub cleaning and repair
Pool winterizing
Fixing a green pool
Fixing pool electrical issues
Make sure you have a dedicated page that outlines your services in depth and shows your clients the benefits they'll receive from working with you.
5. An About Us page
Your About Us page gives you a chance to showcase your understanding of your customers' problems while highlighting your unique expertise and passion for pools.
A lot of business owners use their About Us page to brag about their accomplishments. But, instead of making it all about "you," you should make it about your customers. After all, that's why you're in business: to serve your customers.
Pro tip: Focus on your understanding of your customers' needs, and tell them how you're uniquely qualified to meet those needs.
6. Testimonials and case studies
Client testimonials are worth their weight in gold. When you're just starting out, you might not have any client testimonials you can feature. But as you build your business, make sure collecting and showcasing your customer testimonials is part of your marketing process.
Your testimonials will help to build trust with your visitors, which will make the selling process that much easier.
You can even take your testimonials a step further by creating customer case studies. A case study is essentially an in-depth customer testimonial that dives deeper into your customer's story, the ins and outs of the project, and how you were able to develop a successful solution.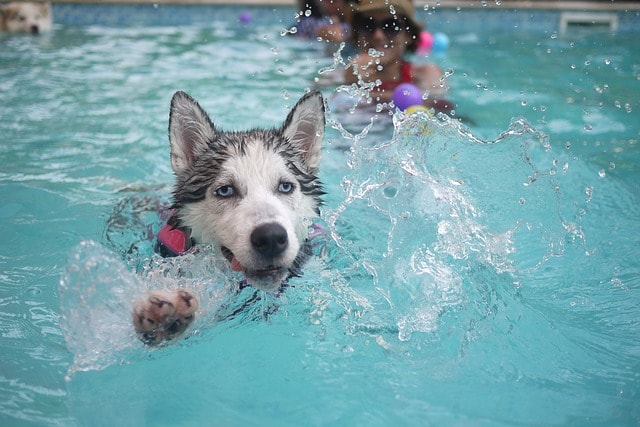 For example, let's say you had a pool cleaning client whose pool seemed beyond repair, but you were able to transform it back to pristine condition. Your case study could include before-and-after pictures, as well as clips from a customer interview that showcase just how far you'll go to serve your customers.
7. A way to collect leads
Sure, you'll want to give your customers a way to call you, stop by your office, or send you an email. But, it's also important to start building an email list so you can send information to them.
By adding an opt-in box to your site and encouraging visitors to sign up to receive emails, you'll have an endless list of leads you can reach out to when you have a spot open in your service schedule. You can send your list emails with tips on basic pool maintenance, links to your recent blog posts or subscriber-only coupons for discount service.
Pro tip: Sharing content with your email list gives you a way to create an intimate connection with your audience and to form a deeper bond than you might be able to get via other means.
Use your website to build business
With your website set up, it's time to start marketing your business. You'll have a lot of different options at your disposal, including:
Creating a local content strategy, optimizing your site for local SEO
Conducting email marketing campaigns
Building a following on social media
Overall, you should experiment with various methods until you find one that gives you the largest return-on-investment for you time, money and energy spent. You're now equipped with a roadmap to help you build a pool cleaning service website that actually benefits your business.