7 tips from the best fitness blogs
Whether you work with clients one on one, teach exercise classes or write books about fitness, you've trained hard to develop the expertise you need to help others look and feel their best. The process of designing safe and effective fitness programs and motivating your clients to reach their goals is rewarding. Still, why not get even more results from your efforts by building a fitness blog — and ultimately — a brand? Here's some advice from the best fitness blogs on the web.
The best fitness blogs have 7 things in common
A personal story.

Gorgeous photos, videos and graphics.

A variety of topics.

A unique angle.

Something new all the time.

A few things that never get old.

Special-interest content.
Let's look at why blogging matters before we get to the features all the best fitness blogs share.
Why blogging is worth your time
Trainers, coaches, gym owners — fitness pros of all kinds blog to get the word out. Why? Because people looking for information read blogs to get it. Whether you're promoting your fitness book, gym, classes or personal training service, a blog can turn casual readers into book buyers, clientele and loyal fans who can spread the word about you.
Like a good workout, the best fitness blogs are transformative.
Through articles and pictures, checklists, videos and recipes, blogs inspire readers to become their best selves. In your blog, you can chronicle your personal journey to a healthier life, track your progress online so readers can imitate your results, and share your philosophy with fitness-lovers everywhere. You can also demonstrate fitness moves and routines, coach others virtually and share your tools and tricks to empower readers to become their best selves.
Just think — while you're training for an Ironman triathlon or resting up between personal training sessions, your fitness blog could be moving you closer to your goals.
7 things to include in your fitness blog
Online fitness content attracts millions of readers each week, but the fitness blog category is more crowded than a stadium at the Super Bowl. If your blog doesn't stand out, you won't get much attention online. The good news? You don't have to start from scratch. You can borrow successful strategies from the best fitness blogs to come up with your version of a blog that gets results.
1. A personal story.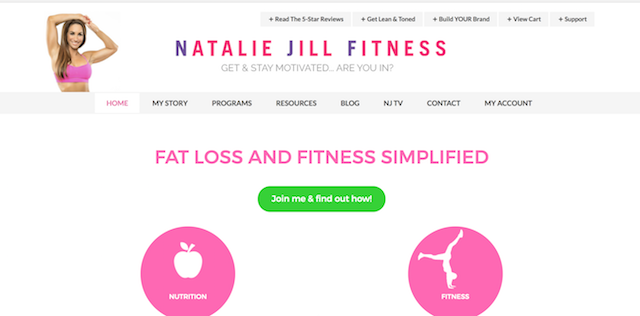 The best fitness blogs engage readers by telling personal stories. On Natalie Jill Fitness, blogger Natalie Jill tells the story of how she lost everything and how fitness helped her turn her life around. The hidden message? If she can do it, so can you!
What's your story? Tell readers about your fitness philosophy, how you began in the industry, your credentials, how your fitness routine influences your gym, your training approach and your life. Sharing something memorable about you can help set your blog apart. Include your photo, too, so readers can see who you are.
Think of your readers as good friends you're trying to motivate to do something — whether it's work out themselves or sign up for your personal training sessions. With a blog, you can be casual and develop your own writing style. Be funny and relatable in your posts like Charlotte Anderson is in her blog, The Great Fitness Experiment.
2. Gorgeous photos, videos and graphics.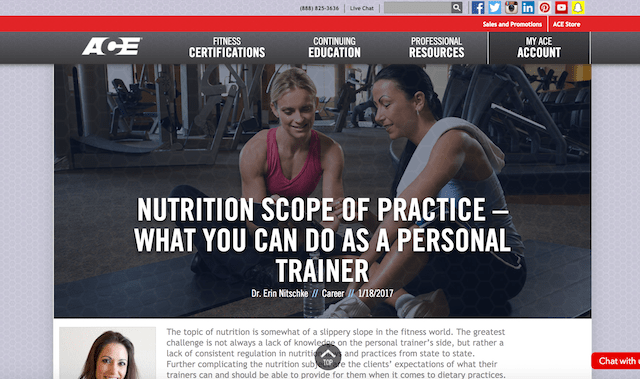 Your blog's visual elements make an enormous difference in how it's perceived. The blog for the American Council on Exercise uses photos to capture fitness from a variety of perspectives — how fitness impacts the community, a personal trainer working with a client and specific fitness moves.
Visual variety keeps things interesting and adds another dimension to your content.
Photos are especially important for fitness blogs. When you're describing a fitness move, such as a walking lunge, a photo can help everything make sense so your readers know exactly what to do.
Pro tip: Use stock exercise photos and upload photos and videos from your phone to inspire and instruct.
Have others take photos of you working with a client (with your client's permission, of course) — readers will see themselves in your client's place. And be sure to have a call-to-action at the end of each post, such as "Sign up today for your free fitness consultation."
3. A variety of topics.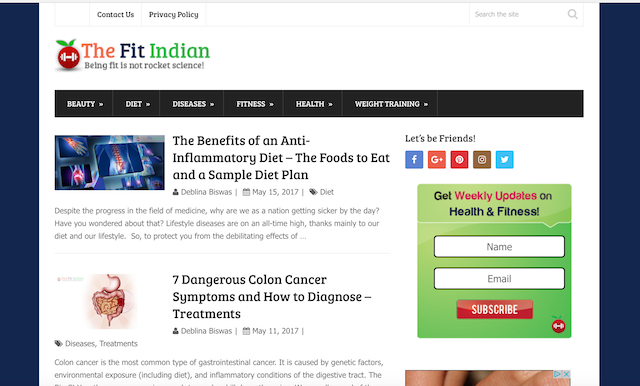 The best fitness blogs discuss fitness, but also cover other subjects that matter to readers. In the The Fit Indian, readers can learn about exercise as well as diet, beauty, nutrition, weight loss and disease prevention — with wellness being the overall focus of the blog. While you want to make fitness the core of your content, including related topics can draw in a broader range of readers.
4. A unique angle.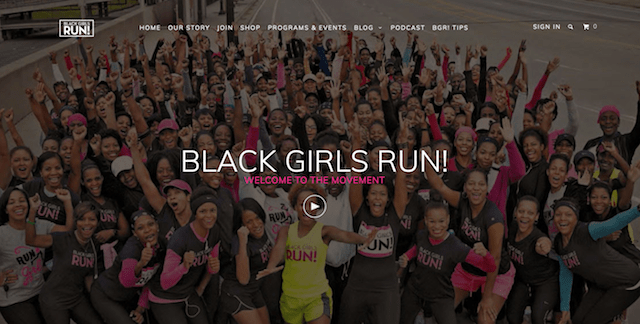 Conversely, the some of the best fitness blogs cater to a niche. For example, Black Girls Run! focuses on running — specifically running in groups in almost all 50 states, with the mission of reducing the obesity epidemic in the African-American community.
There's lots of competition among fitness blogs — claim a niche to stand out.
Black Girls Run! also features product reviews and motivating interviews with women whose lives changed after they took up running. Because there's lots of competition in the fitness blogging arena, a niche within your fitness blog can help, especially if it's a topic or audience that's underserved.
5. Something new all the time.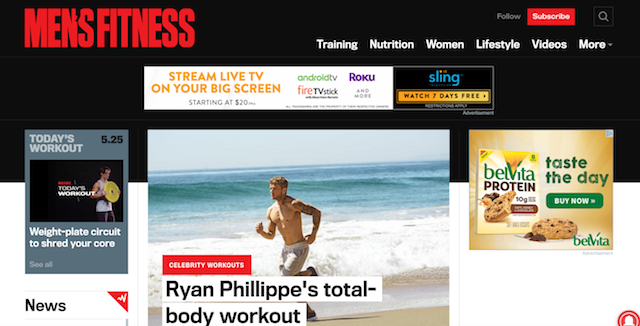 Publishing often and consistently, such as daily or weekly, is the key to your blog's success. Once they've gotten used to your posting schedule, readers will come to expect — and look forward to — posts from you.
Find a publishing cadence that works for your schedule.
The Men's Fitness blog publishes a different blog post 16 times every week. You don't have to post that often or that much, but try to post at least once a week. Write posts in batches and schedule them on social media and/or on an online marketing calendar service, such as Hootsuite.
6. A few things that never get old.
Evergreen content — articles that are not time-dependent and stay fresh indefinitely — is key to running a successful fitness blog. Go ahead and spice it up from time to time with something trendy or seasonal. But to stay relevant without the constant pressure of having to produce new posts, make sure some of your content has a healthy shelf life.
7. Special-interest content.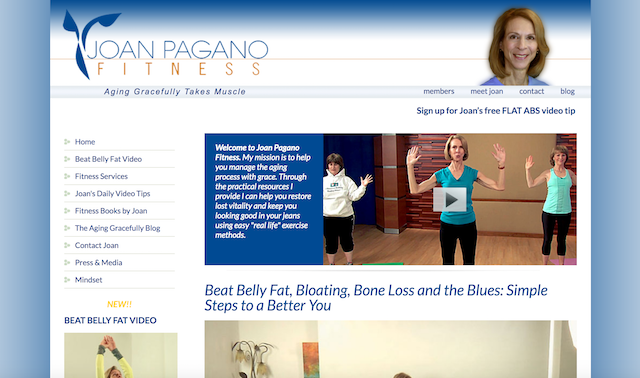 Create content with deeper ideas and a range of articles. Joan Pagano's Aging Gracefully blog is part of a larger site, Joan Pagano Fitness, which features Pagano's fitness videos and books, daily video exercise tips and links to her fitness services. Like Joan, you can use your blog to draw readers to a website full of fitness products and services for purchase.
Like a fitness challenge, blogging pays off
Like a well-rounded workout, there are a lot of elements that go into a vibrant fitness blog. The best fitness blogs know that blogging is a marathon, not a sprint. If you put in the time and effort to get into blogging shape, your content can ultimately pay off by becoming a robust extension of your brand and business.
Ready to flex your blogging muscles? Establish a blog today with GoDaddy's Managed WordPress. Enjoy a quick setup so you can get back to your clients in no time.