8 luscious tips from the best baking blogs
If you're a talented baker or chef who wants to create a baking blog, you're going to need a recipe to get you started. To give you some inspiration for a blog filled with cakes, cookies, pastries and sweet stuff, I sifted through the best baking blogs on the web. Here's what I found.
Follow these 8 rules to craft an irresistible baking blog
Find a way to stand out.

Pair each recipe with beautiful photography.

Use seasonal flavors to keep it fresh.

Have fun with food holidays.

Encourage recipe sharing.

Use Pinterest to pull in readers.

Start and grow an email list.

Make your recipes easy to find.
Now let's take a closer look at each delicious, nutritious tip.
1. The best baking blogs find a way to stand out
The primary ingredient of the best baking blogs is an interesting angle, unique topic or fresh voice. There are a lot of blogs out there, so you need to do something different if you want to stand out. As you start your baking blog, consider how you can drill down and focus in on one aspect of cooking (such as organic food, cake baking, cupcakes, etc.) or find a unique approach to your posts (such as always baking with your child, pairing recipes with wine, etc.).
Blogger Inspiration: 100 Cookies started with a laser-focused primary niche, which you may be able to guess from the name. The blog is all about baking 100 different types of cookies.
2. Pair each recipe with beautiful photography
Just as plating is important to food presentation, photography is a vital element of food blogging. To compete with the best baking blogs, you need to pair your posts with extremely high-quality photos. When you shoot and post your photos, keep the following tips in mind.
Document the entire process. Don't wait for the finished product to start taking photos. Shoot the entire baking process from start to finish.
Try different angles. Different foods will look better from different angles. So shoot from a variety of angles (side angle, from above, straight on, close up, etc.) to find the best way to depict your creations.
Style the photos. While the main subject of food photography is important, so is everything else around it. Style photos by adding details (drinks, silverware, side dishes, etc.) around the plate and garnishes to the dish.
Take photos when and where there is a lot of natural light. When taking photos, use as much natural light as you can. But avoid direct sunlight as that can cause your subject to look washed out.
Invest in a bounce card. If you struggle with getting enough natural light, trying using a bounce card, which is a white surface that bounces natural light back onto an object.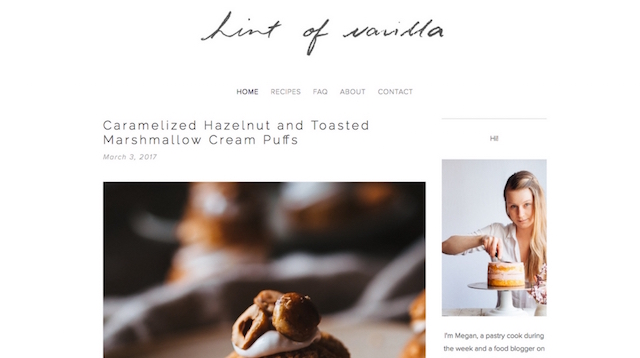 Blogger Inspiration: Check out how Hint of Vanilla uses beautiful photography to document every step of her baking process.
3. Use seasonal flavors to keep it fresh
The best baking blogs pay attention to the changing seasons and reflect those trends and tastes through the recipes they choose. When the seasons change, create baked goods that match the flavors of the time of the year. A few suggestions include:
Spring: carrot, honey, coconut, vanilla
Summer: lemon, orange, lime, blueberry
Autumn: pumpkin, maple, apple, caramel, pecan
Winter: cinnamon, ginger, chocolate, butterscotch, marshmallow
Blogger Inspiration: Love and Lemons creates seasonal recipes and categorizes them on her site so readers can easily browse her collections.
4. Have fun with food holidays
To add variety to your baking blog, don't just focus on national holidays. Also, pull inspiration from food holidays. Use this list to find fun and unusual food holidays — like National Carrot Cake Day, National Cherry Pie Day and National Strawberry Day — that can serve as inspiration for your posts.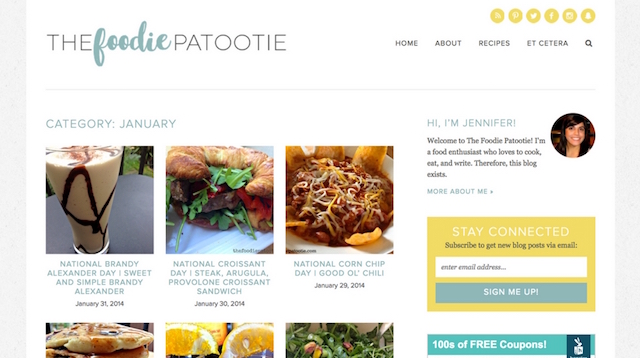 Blogger Inspiration: The Foodie Patootie used food challenge inspiration to fill her blog for a full year. Every day, she wrote a post about that day's food holiday.
5. Encourage recipe sharing
What makes many of the best baking blogs so successful is that they have strong social media influence that helps attract new audiences, build deeper relationships with readers and drive traffic. As you create your blog, always keep social sharing in mind.
Add social buttons that make it easy for readers to share your posts on social networks.
Create custom images for each post that are designed to perform well on specific social media platforms (i.e. create vertical images for Pinterest, horizontal graphics for Facebook, etc.).
Develop content that people want to share. Take a unique approach to a recipe or provide an extremely valuable resource to incite social sharing.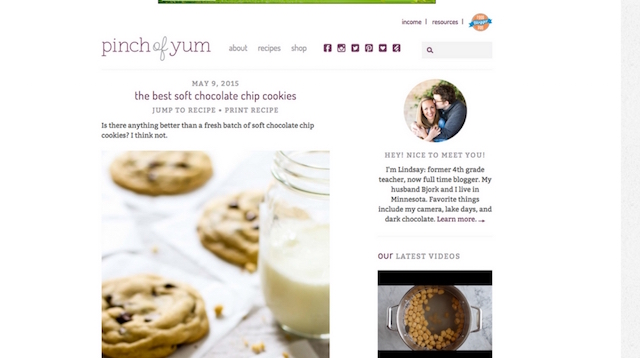 Blogger Inspiration: Look at how Pinch of Yum uses multiple images per post that are designed specifically for Pinterest (i.e. tall and narrow).
6. Use Pinterest to pull in readers
You simply can't aspire to be one of the best baking blogs without having a strong presence on Pinterest. The visually-driven social media platform is an insanely popular site for audiences looking for recipes and beautiful food photography. So as you build your blog, put just as much of an emphasis on building your Pinterest profile and presence.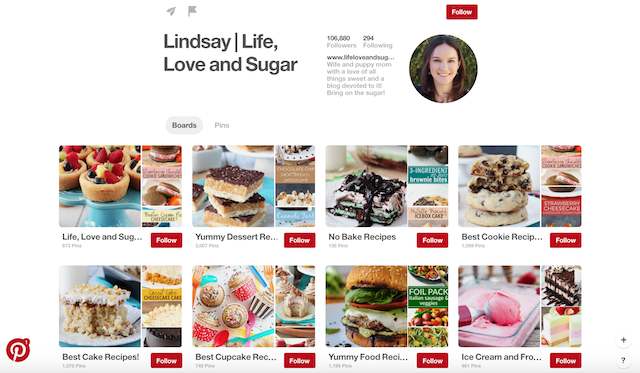 Blogger Inspiration: Life, Love and Sugar tries to catch attention on Pinterest by creating stunning photos of her concoctions.
7. Start and grow an email list
The secret sauce of truly great bloggers is their email lists. An email list is a direct communication line with your readers. It allows you stay in touch with your fans, share new content with them the minute it's posted — even promote products and services if you decide to use your blog as an income generator.
Blogger Inspiration: Culinary Hill offers readers a free eBook of recipes in exchange for their email addresses.
8. Make your recipes easy to find
Our last best practice is one of the most important because it has to do with the heart of a great food blog — recipes. The best baking blogs prepare recipes so that both search engines and readers are drawn to them.
Attract search engines using schema markup
Schema markup is information that you add to the metadata of a webpage to help search engines understand the content. You can add schema markup for recipes so search engines classify the information and deliver it as a recipe snippet (like the one above) on search engine results pages.
Lure readers with recipe cards
A recipe card is a page element you can add to your blog to display nicely formatted ingredient lists and instructions. Bakers love recipe card formatting because they're easy to read, download, print and save.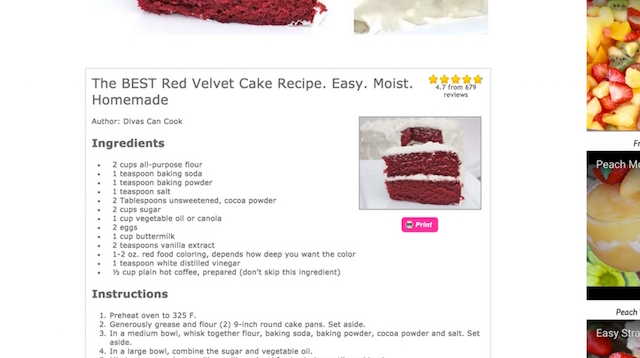 Blogger Inspiration: Look at how Divas Can Cook optimizes her recipes so they show up on search results and display nicely in her blog posts.
Now that you have the recipe to create a website that can compete with the best baking blogs, it's time to get started. Pull together your favorite home recipes and then use this guide to help you launch your site.
[advertisement id="17440″]