8 style secrets from the best fashion blogs
They may have begun as modest creative outlets for closeted fashionistas, but today's best fashion blogs are big business. Women's Wear Daily reports that the heavy-hitters can pull in $25,000 for a single sponsored Instagram post, and that several established fashion bloggers make millions per year. Of course, those are the exceptions to the rule. Most style and fashion bloggers will never make it into the fiscal stratosphere.
Pay-per-view ads, affiliate marketing and sponsorships allow style mavens the world over to blog for a living.
But every dedicated fashion blogger can make money! By installing ads that pay based on page views, using affiliate marketing when linking to products, and securing sponsorships for posts, style mavens the world over are able to make blogging their full-time jobs. Some earn enough to support their entire families, while others use their earnings as supplemental income. All use a variety of income streams to ensure their blogs are consistently profitable, a wise practice that any aspiring newbie should consider adopting.
And speaking of helpful lessons for would-be bloggers, there is much to be gleaned from studying the best fashion blogs in the blogosphere. Here's what you can learn from the pros.
What you can learn from the best fashion blogs
How to offer freebies in a non-tacky way.

The benefits of variety.

Everyone loves expert advice.

How to get creative with styling.

The importance of quality photography.

Good writing can be supremely entertaining.

Be true to your own sense of style.

Don't be afraid to defy convention.
Let's see what we can learn from each of them.
How to offer freebies in a non-tacky way
With Extra Petite, blogger Jean Wang has done a magnificent job of showcasing her laid-back, upbeat personality through honest, accessible writing and fab photos. She collaborates frequently with brands, showcasing free merchandise in virtually every outfit post, yet never seems like she's sold her soul to The Man.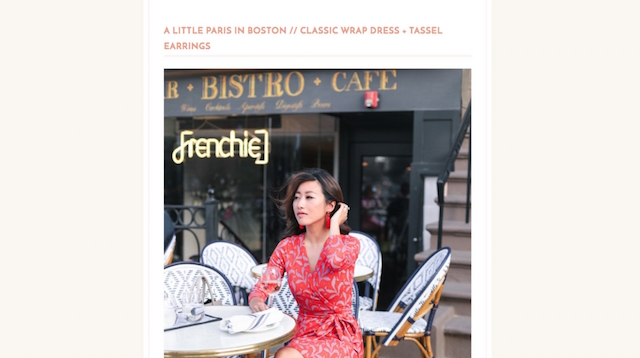 She is, as her blog title implies, extremely petite and focuses on fashion for the small-of-frame. But aspiring bloggers of all sizes can learn how to seamlessly showcase gifted goods by following Jean's example.
The benefits of variety
For many years, Tanesha Awasthi's blog focused mainly on outfit posts, but in recent years Girl With Curves has become one of the best fashion blogs for variety of content. There's still plenty of outfit inspiration, but you'll also find product reviews, tutorials, trend input, makeup and beauty advice — even fashion-related app recommendations. Diverse post formats keep readers' interest, so consider Tanesha's diverse mix a great thing to copy.
Everyone loves expert advice
Scores of fashion blogs offer tutorials and opinions, but if you want bona-fide fashion advice from a seasoned expert, visit Angie at You Look Fab. She's worked as a professional stylist at Nordstrom and independently for decades, and knows virtually everything about proportion, figure flattery, layering, accessorizing, color pairing and how various garments should fit.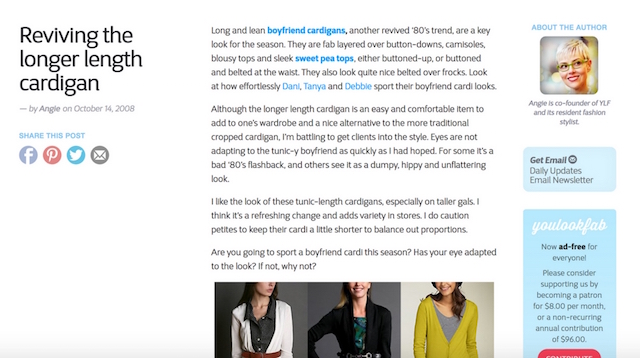 She also has a fantastic eye for trends with staying power. Her advice is gentle but firm — never scolding or judgmental — and she does a great job of being inclusive of specialty size wearers. If you want to know how to offer your two cents on style without alienating your readers, take a page from Angie's book.
How to get creative with styling
It's true, Kellie Brown is a fashion insider. She contributes to Refinery 29 and has worked in style-centric PR for more than a decade. But her posts are engaging and candid, and her vibe is one of welcoming, conspiratorial girlfriendship. Her home base, And I Get Dressed, is one of the best fashion blogs to stalk for creative styling inspiration because she uses garments and settings equally well.
She's based in New York, so many photos rely on the urban edge of the Big Apple, but Kellie travels often and never misses the chance to stage shoots in Sonoma or Montana, beaches or villas. She is fearless with color, creating daring combinations well worth stealing, and an absolute genius with layers. Although she has a an enviable wardrobe, Kellie doesn't fall back on design. She taps her own creativity to craft an endless stream of impeccable outfits.
The importance of quality photography
It could be said that Wendy Nguyen does rely on the brilliance of high-end designers to create amazing looks, but she's got plenty of creativity to back up her good taste. Wendy's Lookbook is a feast for the eyes, and one of the best fashion blogs to study if you're looking for photography tips.
Wendy varies her poses, settings, facial expressions, hairstyles and makeup, never allowing her images to appear repetitive or stale. She incorporates movement and emotion into her poses, and offers a variety of full-body shots as well as great details in each photo-laden post. She sits, she stands, she uses the occasional prop and she always looks radiant and delighted to be in front of the camera. Crib some photo tips from Wendy's Lookbook.
[advertisement id="17440″]
Good writing can be supremely entertaining
Many fashion blogs have moved away from words and toward image-heavy posts. Considering Instagram's dominance of the social media universe, this makes sense. But a few holdouts continue to share insights and musings on all elements of style, and do so with a candor and chumminess you won't find in any glossy fashion magazine.
Man Repeller is the brainchild of Leandra Medine, and it is one of the best fashion blogs around for amusing, provocative and entertaining writing.
Medine employs a fleet of contributors, most of whom are fully on board with her quirky, tongue-in-cheek outlook. You'll find everything from comparisons of five T-shirt brands to treatises on how to be a "maximalist" to haikus about boobs. If you're looking for proof that fashion blogs needn't be photo streams with captions, spend some time with Man Repeller.
Be true to your own sense of style
Yep, she's a model. She's got the come-hither look and the power poses down pat. But Nadia is also a relentless rule-breaker and an inspiring convention-flouter. She wears long shirts as dresses, leggings as pants and crop tops in the dead of winter.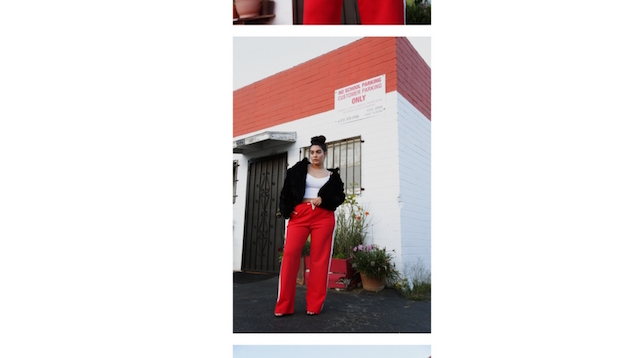 She adores her abundant curves and lives in body-con clothes, her sexy sensibilities shining through in every beautifully composed photo. Nadia Aboulhosn is one of the best fashion blogs for anyone who needs a reminder that there ARE no style rules.
Don't be afraid to defy convention
A relative newcomer to the fashion blogging game, Caroline Joy Rector quickly became a blog-reader favorite for her conversational tone and focus on living with less. Un-Fancy began as a capsule wardrobe experiment, and continues to focus on remixing challenges and elegantly simple outfit posts. Although Caroline uses affiliate links to generate income from her blog, she shies away from buying, wearing and posting a constant stream of new, trendy garments and urging her readers to do the same.
If you want to create a fashion blog that doesn't scream "rampant consumerism," Un-Fancy can show you how.
Whether you decide to go the minimalist route, or prefer a little more razzle dazzle, I hope this sampling of the best fashion blogs inspires your own venture!
Get a blog address that turns heads. Check out .fashion, .buzz and .shop.
Image by: Visual hunt