Advancing the next generation of women leaders — Watermark Conference takeaways
"To go fast, go alone. To go far, go together."
This African proverb quoted by Indra Nooyi, former chairman and CEO of PepsiCo, couldn't have rung truer for the 6500 women listening to her keynote address at the Watermark Conference for Women held on February 12, 2020, in San Jose, CA.
Indra Nooyi called on those present to build a sisterhood that is persistent and passionate if we truly wanted to accelerate our quest for gender parity and advance the next generation of women leaders. The exceptional executive that she is, she had a clear and concise plan for how we could leverage "the power of us," with ample examples of policies that she implemented successfully at Pepsi:
Eliminate all forms of bias
Make workplaces more family-friendly
Build a return ramp to work
Unless we do so, the percentage of women in leadership positions, despite modest gains, will continue to remain as abysmal as it is today, she implored.
The Watermark Conference for Women was packed with rousing calls to action from senior executives like Indra Nooyi and management gurus like Seth Godin. There was real talk from successful entrepreneurs like Danielle Weisberg and Carly Zakin, co-founders and co-CEOs of theSkimm, who shared lessons they learned while building their company.
There were multiple breakout sessions that ranged from teaching you how to build your personal brand, to wielding the power of language, to board readiness. Among this head-spinning array of sessions and workshops, my favorite speaker of the day was Megan Rapinoe, U.S. Women's National Soccer Team star and one of the foremost gender equity advocates of our times!
Megan came across as someone who is well aware of her star power and fully embraces leveraging it for a cause she passionately believes in. She admitted that the fight for pay parity initially concerned only her soccer team.
But as the popularity of the sport soared last year in the US in the run-up to the World Cup, she realized that they represented a cause much larger than their team. Megan wowed the audience with not just her conviction behind what she stood for, but also the clarity with which she spoke about her personal journey to become the face of many social justice movements, which included public tiffs with the President of the United States!
I heard many folks in the room later comment on how Megan Rapinoe is their new hero. Mine too, I gleefully replied.
"I really enjoyed the luncheon keynote with Megan Rapinoe.  She's very inspiring and I love how confident she is in what she stands for." -Amber Christensen, Software Engineer and Co-President of GoDaddy Fitness in Technology
The breakout sessions allowed the conference attendees to customize their day so they could focus on topics they care about the most – be it workplace equity, personal finance, entrepreneurship, health or work/life balance. As a mom of two little kids, I knew I wanted to attend the session on 'Raising Successful People' by renowned educator, Esther Wojcicki.
Her secret to raising three uber-successful children, including two tech CEOs and a medical professor, is encapsulated in the mantra T.R.I.C.K., which stands for Trust, Respect, Independence, Collaboration, Kindness. Her standing-room-only audience nodded along when she said that we all want to be treated this way – be it our children, our spouse or our colleagues.
Between the keynotes and breakout sessions, conference attendees buzzed around the Exhibit Hall, where companies showcased their latest offerings and tried to woo the smart women who are always thinking of their next career move.
At the GoDaddy booth, we showcased our newest Websites + Marketing offerings, which make creating websites a breeze, and had a wildly popular photo booth for headshots! As if that was not enough, the conference also organized Small Business Roundtables, where our very own Laura Messerschmitt, VP of Customer Experience, demo-ed our latest W+M product.
"Most women who I spoke with at the conference were GoDaddy customers. Many had questions about building a site and it's clear that the perception that a website is difficult to create was pervasive, even though most of the women I met were very happy GoDaddy customers." -Laura Messerschmitt, VP of Customer Experience, GoDaddy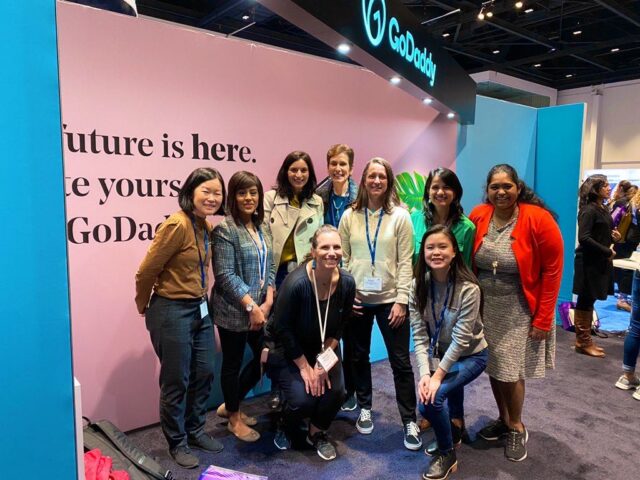 From inspiring keynotes, to resume review workshops, to forging new connections, there is something for all emerging and senior women executives at The Watermark Conference for Women. For those who cannot attend the annual conference in person, live streaming is an option too. At a minimum, I would recommend checking out the conference website and subscribing to their newsletter to serve as a useful resource for you on your own journey of personal and professional development.
"Attending the Watermark conference was an enriching experience both as an attendee and a GoDaddy Marketer. Our brand showed up positively and the high engagement at the booth was a testament to the fact that we are making a positive impact in the life of our customers. As an attendee, I was really inspired to be in the company of amazing women who are paving their own way and working to create a better tomorrow for our future generations." – Smita Wadhawan, Senior Director, Marketing, GoDaddy