All you need to know to sell electronics online
Back in the day, people only sold old tape players and deceased Tamagotchis, the value of which capped out at about $30. With people relying on technology more now than ever, electronics make up a huge part of our monthly expenditures. In order to stay up on new technology, we need to recoup as much of the cost as possible when we resell our electronics. Online marketplaces like eBay are the best option to sell electronics online, as it only takes a few minutes to post your stuff and your goods will be visible the widest range of buyers possible.
Find shoppers in online marketplaces
Whether you're selling a computer you built by hand, or just unloading last year's iPhone, selling electronics is a great way to supplement your income. If you have CDs, DVDs, games or other electronics to sell, you may have the most success with online marketplaces. The main reason?
Customers love comparison shopping — online marketplaces allow them to compare the goods and prices of different sellers.
But online shopping doesn't exclude physical retail: Customers also use web marketplaces for "showrooming." This is when a shopper at a brick-and-mortar store goes online to check prices, ultimately buying the product online.
Choosing an outlet
Before you can start selling your stuff, you'll need to pick a marketplace. All marketplaces are not created equal when you're trying to sell electronics online. While marketplaces such as Etsy focus on handmade goods, other sites focus on disposable items and apparel. What site you use all depends on what you're selling. To sell DVDs online, you'll want to go with an online site like eBay that's focused on reselling used goods. Whereas if you're selling your own products, you'll want to create your own website or opt for an internet supergiant like Amazon.
Here are three of the most popular marketplaces to sell electronics online and why sellers choose them.
eBay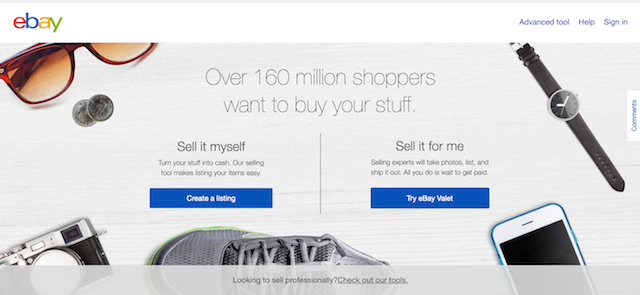 Second in sales only to Amazon, eBay is the most popular option for sellers who want to resell used goods. eBay might seem like a bit of a wildcard with its auction format, but the site allows you to set limits on the lowest price you're willing to accept for your item.
eBay offers a price guarantee for certain tech items, making it a great option for sellers looking to sell electronics online.
However, eBay takes a hefty chunk of your profits in "seller's fees," so before you decide to sell with eBay you'll want to review your options to make sure eBay is your best bet.
Facebook Marketplace
Facebook Marketplace is a great outlet to sell electronics online within or around your local community. Facebook Marketplace is theoretically safer than Craigslist, since you can see a person's photo, online profile and friend group before agreeing to meet up for a sale. Think of it like an online rummage sale, where you can sell a wide range of items either individually or in bulk.
If you want to sell DVDs online, for instance, you can take a picture of the batch of DVDs you're trying to sell and buyers can offer to purchase the DVDs individually, or buy the whole batch.
Letgo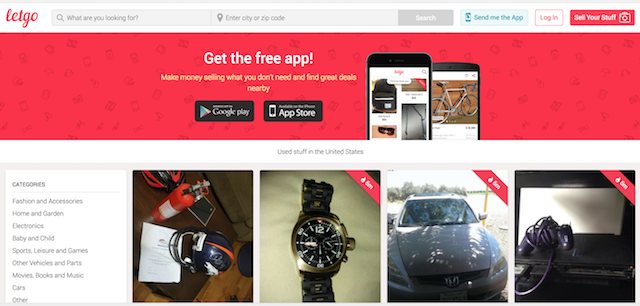 Letgo is the young upstart of the group, but made this shortlist because of their easily browsable website, which is sort of like Pinterest for secondhand goods. The site is free to both buyers and sellers, so it's a great place to start (or double-up with Facebook Marketplace) if you're trying to sell locally. Letgo lets you mark prices as "negotiable," so you can vie for the best offer when trying to sell electronics online.
To delve a bit deeper into online marketplaces and their functionalities, check out this article by Cio.
Looking to sell new or used electronics as a side gig? Online marketplaces alone might not be enough.
If you're trying to make a vocation out of selling, you'll want to look into creating your own eCommerce website. With your own website you'll have more control over all aspects of the sale. You won't have to pay seller's fees and buyers will have more opportunities to find your products. In case creating your own web store seems like a daunting prospect, here's a quick list of the steps to take to get started.
1. Get a domain name
To sell electronics online the first thing you'll need is a domain name. GoDaddy.com is a domain name, for example — so is Pinterest.com. Both of these use the .com extension but you don't have to.
To add customer interest, try searching for a name you like with one of the new domain extensions such as .digital or .buzz. They work the same way as .com, but they say more about what buyers can expect to find in your web store.
Give it a whirl:
2. Build a website with eCommerce capabilities
Regardless of your goals — sell DVDs online or unload last year's gadgets — to actually sell things online, you'll need the following:
Payment gateways to accept payment
An SSL certificate to protect credit card info
A shipping system
Although there are many ways to build an online store, one of the easiest is GoDaddy's new GoCentral Online Store. GoCentral comes with everything you need — from Facebook and Twitter feeds to PayPal services — so you can seamlessly build your web store in one place. Templates made for electronics sellers help you start building fast.
3. Add photos/text to your website
Next, you'll fill out your website with photos and content. Great photos will make all the difference to your sales, whether you want to sell DVDs online or brand new electronics. So make sure to enlist someone who's good with a camera to create the best images for your site. You can also find good free photos through stock sites.
If you're not quick with a turn-of-phrase, enlist a writer to create compelling product descriptions via websites like Fiverr or Remote.
Add products one by one, filling in the product's name, price, condition and multiple photos of each piece (including damage or wear). In addition to items for sale, you'll also need these in your store as well:
A home page that draws readers in with large photos and featured products.
An About Us section. Write a couple of paragraphs telling how you decided to sell electronics online.
A Contact Us form. Give customers instructions on how to reach you with returns, questions or comments.
It's also a good idea to add an email signup form to your home page if possible.
4. Bring gadget hounds to your new store
Now that you're loaded up with products you're ready to start promoting your business! Whether you opt to sell electronics online via marketplaces like eBay or with your own website — or both — promotion is the key to success. Share your stuff via social outlets like Facebook and encourage your friends to do the same. You'll be reaping the profits of all of your hard work in no time. Happy selling!
[advertisement id="25753″]