August 2019: What's new in Websites + Marketing
The GoDaddy product information in this article is outdated and currently under review for accuracy. For the latest up-to-date product information please visit godaddy.com
It's the end of August, the month of the Perseid meteor showers, back to school sales, American pre-season football and the return of tailgating parties! Through it all, our Websites + Marketing (formerly known as GoCentral) and Online Store teams released some really cool things for this month's "What's new" roundup.
How-To courses launched!
There's more to being an entrepreneur to just setting up a website, so we've designed courses to help you in every stage of your journey. Our first 9 courses include topics such as SEO, website security, setting up email, adding an online store and building your website (either in our website builder or with WordPress). Each course has multiple lessons with both videos and transcripts, taught by our GoDaddy Guides.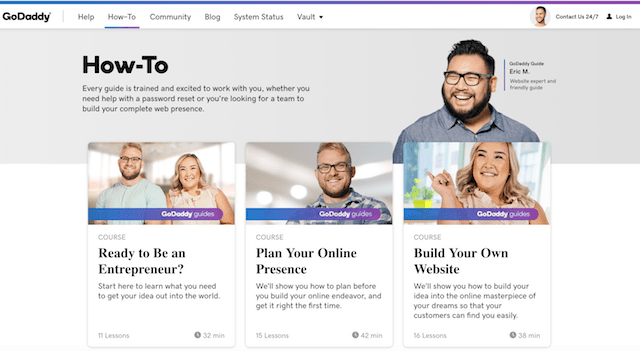 Just go to www.godaddy.com/how-to and click on any course to begin. We never stop learning, and love to share what we know.
Going global
We may have humble beginnings in the desert of the American Southwest, but entrepreneurship knows no boundaries. Our mission is to empower entrepreneurs everywhere, no matter where in the world they might be.
New markets for Online Appointments and Online Store
Online Stores have expanded to France, Italy and Spain, bringing the total to about 20 countries able to use the Online Store.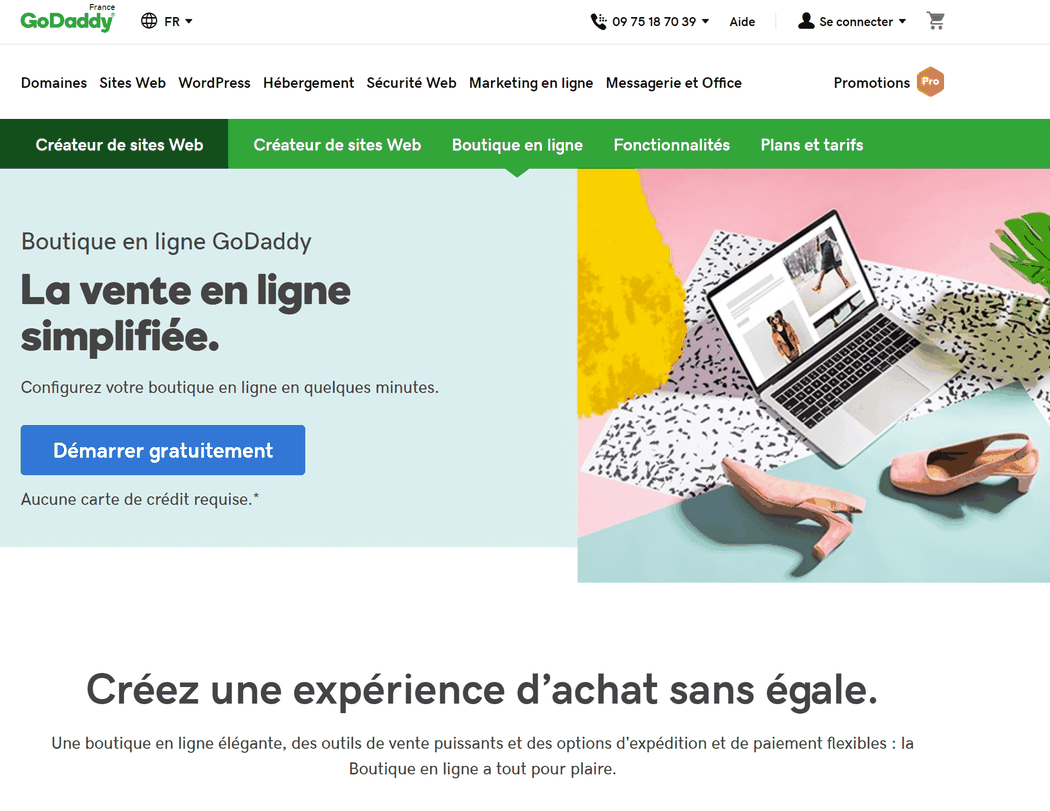 Online Appointments have expanded to Italy and Germany, our first non-English markets.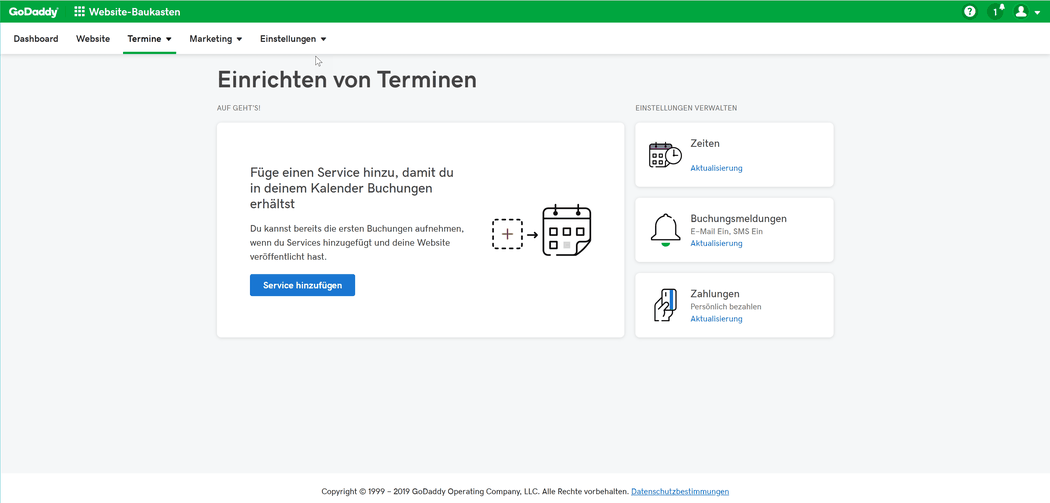 If you are in any of those regions, look for Online Appointments if you have the Premium/Business Plus plan or higher, and Online Store if you have the Ecommerce/Online Store plan.
WhatsApp integration
You want your customers to be able to reach you, but a phone call isn't always convenient and you might not want to enable SMS or text messages. The perfect alternative, What'sApp, can now be added to your Contact Us widget. When enabled, people can send you a message and you can reply at your convenience.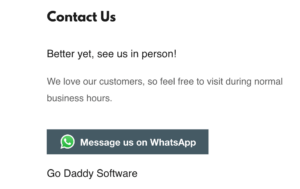 In your website builder open (or add) a Contact Us widget. Right below the areas to customize the layout and accent colors, expand the arrow to access your WhatsApp controls. Toggle WhatsApp on and off, set your phone number, and customize the button label words.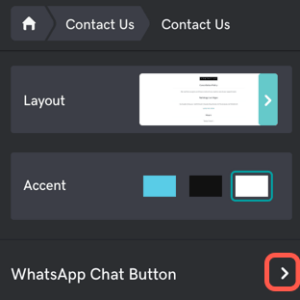 Logos and images
Our customers and their businesses come in all sizes, and so do their logos and images.
Tall logos
It used to be that tall logos created an awkward amount of space in the header, like the first image below. Now once the logo reaches a certain height, the header will overhang the navigation bar like the second image below. Modern, slate, dawn, dusk, urban and element themes can now accommodate logos up to 200 pixels tall.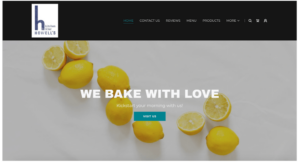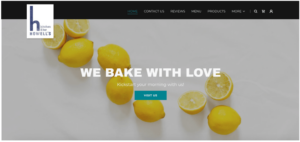 To manage your logo in your website builder, navigate to your Home page and then select the Header section in the right navigation. You'll see the Logo section in the next screen that appears. Upload a new logo image, or use text as your logo. Visit our Help article, Add logo to my website header, for more information.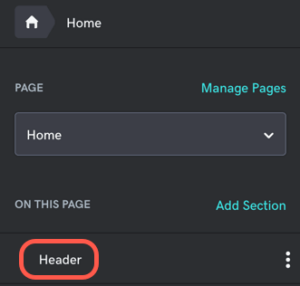 New vertical photo gallery layouts
It's often said that a picture is worth a thousand words, and we get how important images are to your site. You now have two new vertical photo gallery layouts, which are great for tall images. We also updated the first gallery option to be variable width–which means it can handle tall images alongside wide images.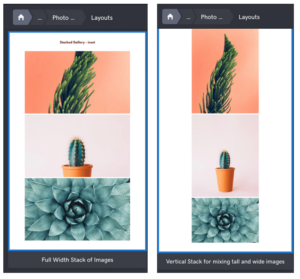 If you'd like to try this yourself, go to any page while in your website builder and Add Section. Choose the Photo Gallery widget and scroll down until you see the two vertical galleries. One vertical gallery will zoom in on tall pictures to create a consistent size in landscape layout, and the other will keep the width the same while allowing for various image heights. Once you Add the gallery you want, customize the words, images, order, accent colors, or even choose another layout.
Our Help article, Add or change photo gallery, adds more details if you'd like to learn more.
Add image alt tags from search engine optimization (SEO) menu
Alt tags not only increase accessibility for people with disabilities or slow-loading pages, they also improve your search engine optimization (SEO) and the likelihood of your page showing up in search results.
And as Melissa Schneider, VP of Global Marketing recently said in an interview, using our built-in search engine optimization tools can result in a 2.5x increase in traffic to your site.
You might be familiar with adding alt text directly to an image as described in the Help article, Add or replace photo. But thanks to our developers, now you can add alt text directly from your SEO dashboard.
From your site dashboard, select Marketing and then SEO.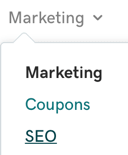 If you haven't done any SEO on your site yet, you may be prompted to go through an initial SEO set-up. But after that, you have an option to Optimize Images. So optimize away!

Website Builder editor
We are always testing our design, and looking for ways to make it even better.
Moveable sections
We wanted to make it even more intuitive what section you were working with, and how to move it around. If you hover over any section in your site, you'll see a line dividing it and the next section. (You may have to scroll up or down.) At the top of a section, you'll see an up arrow, a down arrow, and a trash can. Now you can move (or delete) sections right in the page.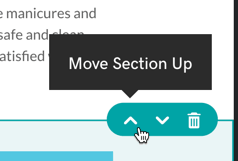 Google AdSense app-ads.txt file
Our GoDaddy Community had a few very active conversations about Google's new requirements to add a text file to the root directory of your site if you have advertisements on your site. Since the whole purpose of a website building is to make it easy to build a website without technical knowledge, we added a way for you to take care of the app-ads.txt file yourself.
From your Dashboard, select your Website and then Edit Site. In the right navigation menu, select Settings and then Display Ads (down at the bottom).
The next navigation screen contains everything you need to connect to your Google AdSense account, including the ability to toggle and edit ads.txt and app-ads.txt files.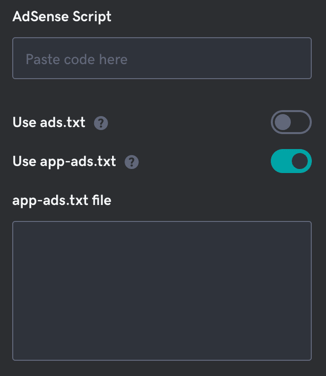 (Our Help article Add Google AdSense to my website can also help if you're just starting up.)
Website Builder Help resources
If you have questions, check out these Website Builder resources. And remember — we offer 24/7 phone support. Call us!
Note: If you don't already have a Website Builder account, you can start a free trial today.
Need help with social media? The GoDaddy Social team can help with that.
Image by: Amber Kissner; Icons of our Tribe in Sao Paulo, Brazil