Back-to-school shopping insights for online marketers & retailers [infographic]
While the temperatures outside may still be flirting with that 100-degree mark, fall is most definitely in the air. Ahh yes, as soon as those final fireworks explode on the Fourth of July, it begins. I'm talking, of course, about the infamous back-to-school shopping season.
Back-to-school shopping is big business in the U.S. It's the second largest retail holiday here following the "winter holidays," when holly jolly gift giving dominates consumer spending patterns.
This year, shoppers are expected to spend a whopping $828.8 billion dollars on everything from electronics and notebooks to backpacks and new clothes to send their kids back to school.
Lots of kids + spend-happy parents = massive back-to-school retail sales
For most people, $828 billion is a tough number to really wrap your head around, so let's break it down. For families with grade school-aged kids, that works out to about $606. So when you pair those numbers with the estimated 50 million kids attending a public elementary or secondary school, you can see how this season becomes major contender in the world of retail sales.
Online marketing influences back-to-school buying
OK, so "online" is a pretty generic term these days that encompasses a lot of space. As illustrated in the infographic above, there are several ways a strong digital presence can impact your sales.
eCommerce is growing
This year eCommerce is expected to account for roughly 7.9 percent of back-to-school retail sales. That's 15-percent growth from the previous year. And while 7.9 percent sounds quite measly at first, keep in mind, that's 7.9 percent of $828 billion — meaning it's still a roughly $65 billion opportunity.
"Ecommerce is in the midst of a remarkable run of growth," said eMarketer retail analyst Yory Wurmser. "The pace of commerce moving online is actually increasing, and that should be apparent this back-to-school season even for some sectors of retail that traditionally have remained primarily offline, such as home goods and school supplies."
Webrooming rules
Webrooming is the opposite of showrooming. These days about two-thirds of back-to-school shoppers are researching and previewing what they want to buy online first before going to a brick-and-mortar retail store to make the actual purchase.
Digital interactions count
About 36 cents of every dollar spent in a store was influenced by a customer's interaction with the brand online. By 2018, it's estimated that the web will account for about 60 percent of retail purchases.
Smartphones are powerful shopping tools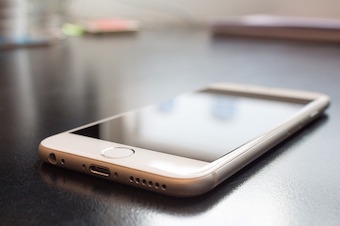 Many parents will look for coupons on their phones while shopping inside a retail store. About 42 percent of women say they do this while back-to-school shopping in stores. The practice is less common among dads, though, with just 27 percent of them admitting to running similar searches.
Social media is king
Whether parents are organizing their shopping list or just looking for inspiration, social media will likely play a large role in the process. Twenty-five percent of parents say they'll be turning to Pinterest for snack and meal ideas for their kids. And even more (about 27 percent) will plan their whole shopping list on the site. When it comes to the latest fashions, though, about a quarter of parents say they'll be turning to Facebook.
Read more about back-to-school shopping and online marketing in this post.
Image by: chez_sugi via VisualHunt / CC BY-SA