Builders: It's easier than you think to make your own website
The GoDaddy product information in this article is outdated and currently under review for accuracy. For the latest up-to-date product information please visit godaddy.com
Builders and contractors are great tradesmen and craftsmen. While they are experts in building in a traditional sense, many get intimidated when they think about building a website. Luckily, making your own website is easier than ever thanks to the great tools available online.
To make your own website, ask yourself these questions first:
As a builder, what kind of customers am I looking for?
What kind of information do people need to choose a builder?
What information can I provide prospective customers that will help convince them to give me a call?
With this info, you'll be able to make your own website without hiring external assistance.
Building the foundation: Make the big decisions first
One of the first things to decide is what kind of content management system (CMS) you want to use. We recommend WordPress to most people because it is incredibly easy to use, highly customizable and loaded with many low-cost and free templates, which helps keep costs down. For this reason, WordPress is currently used on about 27 percent of all websites.
Additionally, WordPress sites offer "responsive design," which means the website will automatically resize itself to fit tablet and mobile device screens without any extra work on your part.
Automatic resizing is critical as mobile adoption rates continue to soar.
WordPress offers another standout advantage: If you decide to change your website's look, you can change your website's whole template, but leave your content and all the pages you've built in place. Upgrading your site in the future will be a lot easier.
But WordPress isn't the only option. There are many great sites that can help you make your own website in a flash — without any coding knowledge. Some popular options include GoDaddy's Website Builder, Squarespace and Wix.
These websites often offer a one-stop shop to buy a domain name, build the look of the website and purchase hosting (the monthly or yearly fee charged for the server that hosts your website and keeps it available to anyone, 24/7). By simplifying the site creation process, these companies can get you up and running in minutes.
Getting the right address
Builders know that, in real estate, an address is everything. When you make your own website, choose a web address that both reflects your business and is easy to spell. To acquire your own web address, or URL, you'll have to purchase a domain. Companies like GoDaddy will let you enter potential web addresses to determine if the name is available to buy. Check out this article on choosing a great domain name for more advice on what to consider in the process.
The fun part: Building your online home
Builders have a great sense of what needs to be done on a big project; making your own website is no different. Just remember, part of the foundation is making sure your website acts as your online billboard or business card. It should let people know who you are, how to get in contact with you and why they should choose your business over the builder down the street. It's also an excellent opportunity to showcase the quality of your work.
One of the best ways to get ideas for your own website is to visit other builders' websites in your area to see what you like about their sites and what you don't. Then you can copy some of their best ideas, and avoid the things that drive you crazy!
We looked up builders in Pennsylvania, for example, and found one with a great website. Garman Builders has a simple, easy-to-spell web address that states who they are. They have their name on the top of the page and a bright Contact Us button that opens up a new window with all their contact information. The photos of their projects are not only look great, but communicate the high quality of their work. They have a simple explanation of their company and its philosophy on the front page, which lets viewers know where they are located and what areas they service.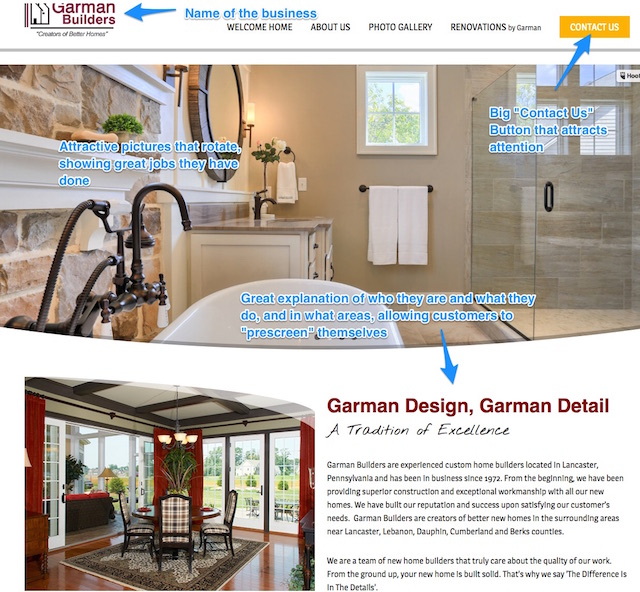 On the bottom half of the page, a variety of photos lead to separate pages with details about their current projects and currently available homes.
The clean website design is basic — nothing all that fancy or hard to build on your own. What makes this a great website for a builder is its simple, straightforward call to action (CTA) buttons that direct and push viewers to the information they are seeking as quickly as possible. Establishing clear, visible CTAs should be one of your main goals when you make your own website.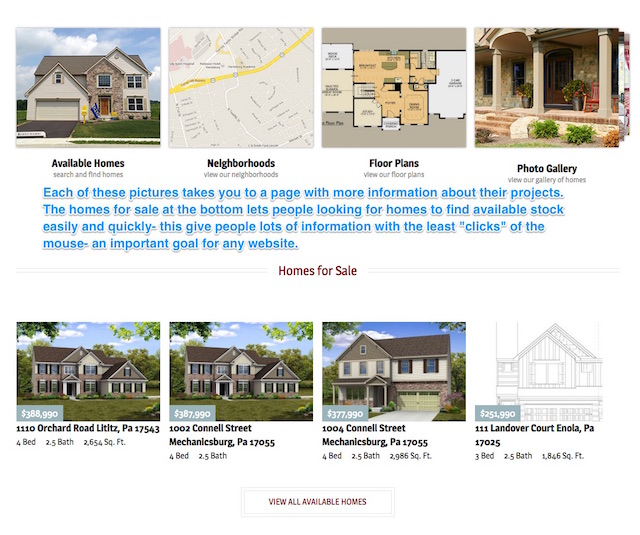 As a builder, you may be nervous about making your own website. But we hope the tools we've outlined above will inspire you to consider the option. The process is much easier than you think, and if you keep it simple, it will also be easier to maintain and upgrade in the future. Give it a try today!
[advertisement id="14434″]
Image by: blondinrikard Flickr via Compfight cc