Showcasing classic LA architecture with Preservation of Style
You know that feeling — you pass by an old, beautiful building and think, Wow, that's cool. On her daily walks to and from law school in LA, as she strolled along the lanes of Miracle Mile, Hancock Park and Koreatown, Alexandra Gargiulo grew fascinated with the city's whimsical, Gatsby-goes-west architecture. That fascination awoke her inner entrepreneur, and the result is a coffee table book, Preservation of Style, which honors these design marvels.
"Even the most rundown apartment buildings from the 1920s still ooze style," she says. "And that's what makes them cool."
Of course, you don't make a coffee table book on inspiration alone. "To get the project started," she recalls, "I spent almost every day of the summer of 2017 walking around my favorite neighborhoods in LA taking Polaroids." After visiting the city records to learn about the permitting process of the time, she narrowed her focus. "I condensed the subject matter to just apartment buildings from the 20's and 30's."
On a lovely summer day, Alex took us on a walking tour of these neighborhoods and pointed out her faves, including a three-story from 1934 called the Mauretania. It's named after one of the most illustrious ocean liners of the 20th Century and, according to the building plaque, is where JFK once logged time. "The curves and modern edges," she points out, "reflect the idea that the automobile and planes were coming into culture that were about speed."
There's also a social commentary in her curatorial choices. "By focusing on two neighborhoods that have historical preservation and one that doesn't, I wanted to see what happens when we don't preserve and what happens when we do."
Research done and Polaroids shook, Alex hired two professionals to properly photograph her selected buildings, then culled through their work and prepared the book. Now it was time to handle what felt like the most daunting task — making a website. She took the leap with Websites + Marketing.
"I built my website myself," she says, "and I can barely use Instagram. It was so easy, and it looks clean, classic and stylish. I saved a lot of money and time."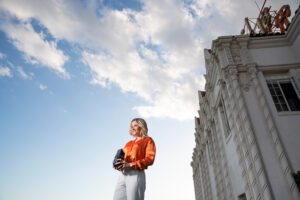 When Preservation of Style was fit to print, the Online Store provided an ecommerce platform to advertise the book, as well as fulfillment and customization tools. "By setting up two products," she says, "I was able to have two cover options. Plus, I could keep track of each version, and the store automatically updated the two inventories with each sale."
To amplify the book's release, Alex used newsletters and email marketing to get the word out to family and friends. "One of the best feelings for me was that within fifteen seconds of getting this email that my best friend from high school had already purchased two copies. She smiles. "I quickly sold out my first 100 copies."
Having experienced the process of concepting and executing her first large-scale creative project, Alex has a lot of new entrepreneurial skills under her belt. One that stands out for her is tenacity — even if it means finding yourself in an absurd situation.
"There were moments where I just had to figure it out. Like today shooting for the re-print, I had to crawl on top of a fence to keep it in place so my photographer could climb up a building to get the shot we needed."
Currently, Alex is embarking on a new coffee table book focused on the architecture of Frank Lloyd Wright, and she wants to amplify the efforts of other LA artists and entrepreneurs with a podcast about local projects off the beaten path. "Style is different from the cultural obsession with beauty that has developed. It's about being unapologetic and true. Follow your gut and don't give up."