Designing email templates (themes)
At GoDaddy, we refer to email templates as "themes." That's because themes — made up of modules and color schemes — are imminently customizable and not a set, static template that everything has to fit into. Designing email templates is key to creating a unique and eye-catching form of communication.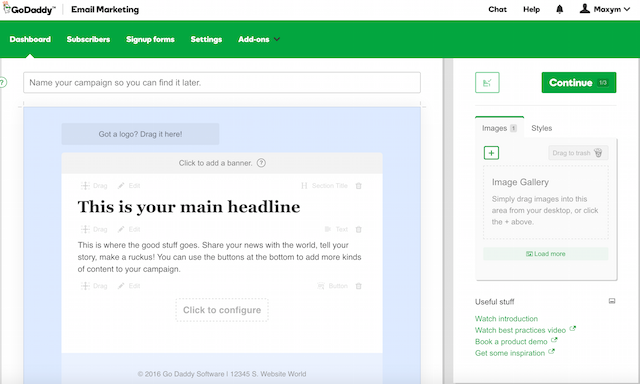 Designing email templates (themes)
In The Simple Guide to Email Marketing, Dean tackles designing email templates in several simple steps. The best place to start is by understanding a tiny bit about the importance of your email template design:
"The theme is one of those things that feels less important than it really is. Don't neglect it! A stylish, well-thought-out color scheme ties everything together and plays a huge role in subtly emphasizing important links…Your theme colors can often set the vibe…when in doubt, keep it simple." At their best, email themes add to your message.
Rules of thumb for customizing email templates (themes)
A lovely place to start with email theme design is to establish a color scheme, so take a look at your website and banner image. It's a simple design choice to use your website's background color as your email newsletter background color, heading colors from your site as headings in your email newsletter, etc. This will make sense to your readers.
To match colors precisely, use hexadecimal color codes. Your email design can also start with your banner image.
From there, you can follow these rules of thumb :
Find Your Boldest Color – Use this for your 'Section titles' and links.
Keep it Readable – The color behind your text should be white or a light color.
Set a Neutral Outer Background – This allows your content to be the focus.
Use a Strong Dark Border – A dark border will highlight the space readers' eyes should focus on.
Experiment with Heading Colors – Use one from your website or go with blacks and grays, because these work with lots of other colors.
Keep it Common – The font color of body text should be the traditional black or gray.
Readability is always the rule, so when it doubt, keep it simple to enhance ease-of-reading. There are fantastic examples and inspiration on our Gallery page and Pinterest.
For more tips and detail on designing your email templates, have a look at The Simple Guide to Email Marketing e-book.
Image by: creepyhalloweenimages via Compfight cc