Drive non-branded traffic with a resource center
Are you bored with your blog? Do you need fresh content to entice visitors to come to your site and stay a while? Are you trying to get people to find your site through non-branded keywords? If so, the answer just might be a resource center.
A resource center provides a simplified view of all the content on your website, organizing diverse formats in a searchable and simple way to generate more traffic and high-quality leads.
A resource center conveys the authority and expertise of your brand: your site is where visitors can go for solutions to industry problems.
Some sites might just need to reorganize their content to create a useful resource center, while others might need to invest more time in creating and polishing content into valuable resources that are optimized for non-branded search terms. The steps below will guide you in establishing an effective resource center, regardless of your starting point.
But first …
Why create a resource center?
You might be wondering exactly how a resource center is different from a blog. Isn't all content the same?
Nope — not all content is created equal.
There might be some overlap between topics covered on a blog and topics included in a resource center, but overall they are distinct entities. Blogs are typically updated on a regular schedule, with topics covering industry news and trends or seasonal topics. They might focus on more branded or company-specific issues. While some blog posts may become reference points for a long period of time, most have a fairly short shelf life as new content is created and replaces the old content.
Resource centers, on the other hand, should host non-branded information that is unlikely to need frequent updating.
Visitors should be able to refer back to the resource center again and again to find information.
This doesn't mean resource center content is never updated — in fact, it should be the highest priority in the wake of a major industry change — but it is typically thorough and evergreen information that can be cited as a reference in blog posts, whether on your site or an external one.
For example, compare this blog post from CorpNet with this infographic from TransUnion's Hiring Resource Center. While both discuss the importance of employment screening, CorpNet's blog post offers an overview of why such screening might be helpful, while the TransUnion infographic offers statistics and steps for establishing a policy. The infographic is more in-depth and could be used to support some of the content in the blog post.
Editor's note: Need a blog? Check out GoDaddy's Managed WordPress, which features a Quick Start Wizard to get your blog up and running fast.
3 steps to establishing a resource center
Now that we've clarified what content is appropriate for a blog and a resource center, respectively, let's take a look at some necessary steps in establishing a resource center on your site.
Brainstorm content categories.

Inventory existing content.

Organize and update existing content.
Ready? Let's go!
1. Brainstorm content categories
Resource centers establish your company's area of expertise, so take some time to identify the subjects on which you and your team are truly experts.
These should be broad and continually relevant topics and categories that will provide a plethora of resource topics, templates and tools.
For example, the OpenView Resource Center has categories in marketing, sales and customer success: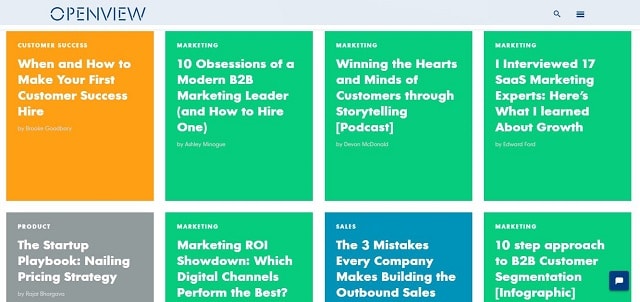 2. Inventory existing content
You might already have valuable resources living on your blog or other pages on your website. Take a thorough inventory to see what content already exists, and pull the resource content from those pages into the resource center.
Pro tip: When pulling content from one section of your site to another, be sure to remove the content from its first home to avoid duplicate content on your site. Alternatively, add the "noindex" tag to the content's old home to ensure Google follows your new resource center rather than the old blog post.
While looking through your blog content, pay special attention to the following kinds of content:
How-to guides and tutorials
How-to guides and tutorials are some of the most sought after resources, especially if your company offers a particular software or service for which customers might need particular guidance. Other guides may instruct readers how to use openly available tools like Google Analytics, or provide a list of resources to accomplish certain tasks.
Infographics
Infographics are possibly the best way to convey a lot of information quickly and easily.
Since they are a visual medium, they are often shared on social channels and can be used as a reference or addition to an existing post on other sites.
If you've invested in infographic creation, round them up for re-categorization on the resource center.
Podcasts, videos and webinars
Audio and video content like podcasts and webinars can be incorporated into a blog's regular posting schedule, but hosting them separately make it easier for people to find. Compile the resources mentioned or utilized in the audio/visual content, and create transcripts for them if you have not already done so.
Hosting the recording, transcript and any accompanying slides or images together packages the information in an easily digestible and valuable format for readers — and also helps with search engine optimization (SEO).
ClearVoice, shown below, is a great example of integrating a webinar transcript with the accompanying slides for easy following: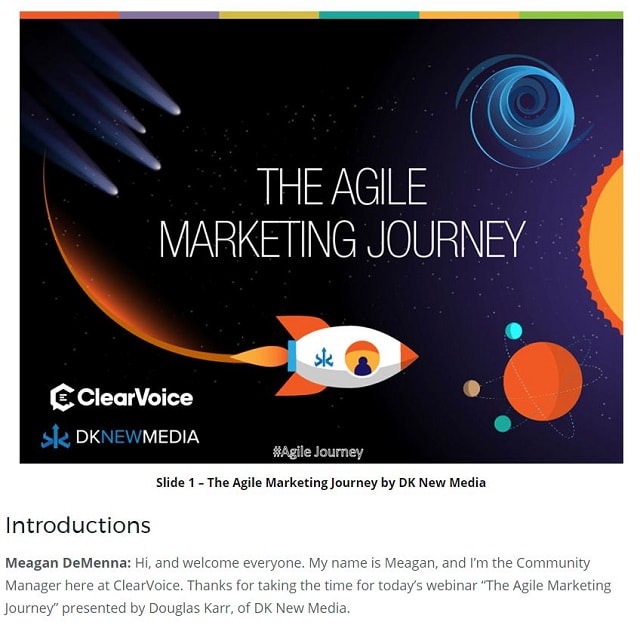 Downloadable content
Worksheets, templates or other tools that you've created can be made available for visitors to download and use offline. Since these are high-value resources that don't require visitors to stay on your site, it might be wise to offer downloads in exchange for a visitor's email address. This helps generate leads. But use with caution — too many of these can deter visitors and make your resource center less valuable overall.
Pro tip: Always add a watermark of your website to keep it copyright protected from competitors.
3. Organize and update existing content
Take the list of existing resources and sort it into the categories of expertise you already decided on. If you have multiple resources that fit into a new category, create a new one or modify an existing one.
If some content doesn't seem to fit anywhere, decide if this is a category that is worth expanding, or if that content is better left on the blog instead.
Notice which categories need more content to round them out, and which pieces need to be updated, expanded or adapted before going live on the new resource center. Ensure that all statistics and references are as recent and relevant as possible — data that is older than five years will be less trusted.
Adapt content that originally went live as a blog post into a new format. While a how-to guide may still exist as a simple web page, make sure that it is clear and easy to follow, with clear steps, headings and images, if appropriate. Hubspot has a great list of tools to aid in creating and updating content.
To maximize your non-branded traffic, be sure content is optimized for non-branded keywords. Research keywords to determine what your content has a greater chance of ranking for, and make edits or updates if needed. For existing content, update the title tags and meta data to reflect the keywords you are targeting, and make any necessary minor revisions to ensure the target keyword is present in an appropriate density. When creating new content, focus on new, reachable keywords with a high search volume.
Publishing the resource center
Evaluating and updating current content to create a resource center can be a lengthy process, but have the patience to wait until it is complete to have it go live.
Users who click excitedly on your resource center only to find one or two resources are unlikely to return, so be sure that your content is up to date and ready to go before going live.
Investing in creating a resource center will provide valuable content to your readers and visitors and establishes your company as an industry leader. These factors will generate more leads and conversions and improve your business overall.
Need more resource center inspiration? Check out the GoDaddy Pro Resource Library, 99 Designs Small Business Resource Center, Zenefits HR & Hiring Resources, and Content Marketing Resources from Velocity Partners.