Envision, believe and obtain — meet author Gabe Smith
Few of us have had to overcome adversity like Gabe Smith. Growing up in Washington DC, Gabe had to claw his way out of misfortune — and that's exactly what he did. "I was homeless," he recalls, "but I envisioned how I wanted my life to be and I started to believe that, you know, I'm gonna obtain that."
He channeled the hard-earned wisdom gained from living on the streets into a book, The Definition, that, as he puts it, "shows you how I freed myself from the chains of chaos in three steps: envision, believe, and obtain." Nowadays, he's a motivational speaker and life coach in his community, often with younger folks who need it most.
Energetic, effusive, and radiating with gratitude, Gabe took us on a walk around his LA neighborhood and discussed the ideas central to The Definition.
"Envisioning," he says, "is seeing the end result that you want to see. After you envision, you gotta believe that you deserve that end result. You have every tool you need to make it."
When we arrive at Lafayette Park, he recounts living on the street and finding that spark to envision a way out. "When I was homeless, this is where I came to clear my mind. Writing is a great tool because you could still get it out and it's a sense of keeping it to yourself but still releasing what you're feeling." With little in the way of resources and no workspace to speak of, he wrote the entire first draft of the book on the Memos app of his iPhone.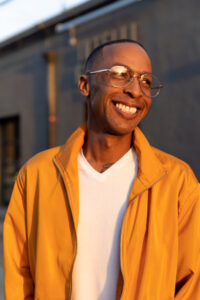 When it came time to get the book out into the world, Gabe turned to GoDaddy and found simple, effective tools to get online and showcase his work. "I purchased my domain via GoDaddy but what came after changed my life! GoDaddy has single handily changed my life! They've literally bought my dreams to reality and showed me I made the right decision to just do it!"
In addition to Websites + Marketing, he also uses the GoDaddy SmartLine app, giving him a second line on his existing phone. "These tools have made a huge difference in customers, readers and fans feeling confident in me as an individual and business overall."
These days, Gabe works with organizations like Volunteers of America, a nationwide advocate for low-income individuals, to advise those who are in the precarious position he was in not long ago. "I met countless individuals who needed simple advice. As human beings and as men, I never looked down on them, and the experience really boosted my sense of who I am as an individual and my career as a motivational speaker and life coach."
Gabe is expanding his vision to help others into the realm of performance with plans for a one-man show, "From the Streets to the Cell." As he works to make the most of these opportunities — created against all odds — he offers the same advice to budding entrepreneurs that he offers to himself:  "Not everyone will share your vision or believe in you. Some may even envy your ambition and the blessings you receive. Cut off anything and anyone not contributing to your progression."