Everything you need to know before you get on Periscope
Just when you thought you were up to speed on all of the hottest, trendiest social media apps, Periscope hit the market.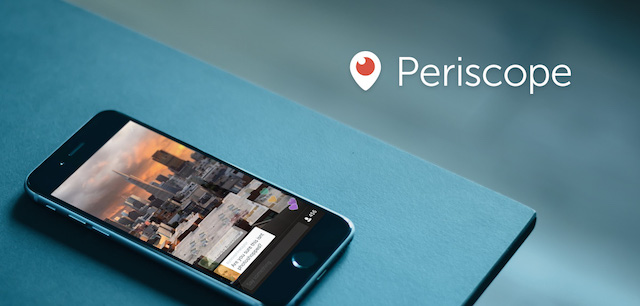 The mobile app that allows users to stream live video feeds to viewers around the world hit the market in March 2015 and already has carved out a noticeable place in the social media space. Some 10 million users have registered with the platform, and that number is growing fast. Another amazing number? After just five months, Periscope reported that iOS and Android users were watching more than 40 years of video (the aggregate amount of time spent watching live broadcasts) per day. Wow.

As users flock to Periscope and its engagement rates climb, so does its value to marketers. If you are thinking about using Periscope as a new way to market your business and connect with your audience, here is what you need to know.
How to start using Periscope
Periscope is a relatively easy app to navigate, but it helps to have an understanding of the basics as you plan your first broadcast.
Set up an account with your Twitter account.
Part of Periscope's success is due to its connection with Twitter. Owned by the same company, the two apps integrate on multiple levels. You can create your Periscope account through your Twitter account, find users through their Twitter handles, and automatically send a Tweet anytime you start a broadcast.
Plan to engage with your audience.
When you livestream, your audience can directly engage with you. You will see notifications when they tune into the broadcast or write a comment (viewers also see these notifications on their screen). Be prepared to react to their engagement by occasionally welcoming new guests and responding to comments and questions.
Know that hearts are a positive thing.
Users can also engage with your stream by tapping on the screen and sending you hearts. You will see the hearts flutter across your screen when this happens. Hearts are a good thing as it shows that the audience is enjoying what you are sharing. Your total number of hearts also shows on your Periscope profile, which adds to its authority.
Remember to save your broadcasts.
Recordings of your broadcasts only remain on Periscope for 24 hours. But you can save your broadcasts directly to your camera roll or by using the Katch.me app to save them in the cloud.
Once you understand the basics of Periscope, you can start coming up with ideas for your broadcasts.
How to come up with Periscope broadcast ideas
There are endless ways to use Periscope to promote your business. Get creative with your concepts, but always focus on creating the type of content that will best fit your business and serve your audience.
Start with a plan, then adjust based on the engagement you get from your followers. Give them more of what they like, less of what they don't.
Here are a few ideas to get you started:
Repurpose old content
Sharing valuable, useful and interesting content as a way to engage current audiences and attract new audiences isn't anything new. But Periscope provides a new platform for delivering that content. Look back at content that you've created for other platforms and see how you can repurpose and share that content through this new delivery method.
Content Idea: Format your content delivery by coming up with a concept for a "show." Give the show a name and create a hashtag around the title. Stream your show at a set time and day so that viewers know when to tune in.
Show your human side
Part of the allure of Periscope is that it's raw. There is no editing, no fancy intros, graphics or musical intros.
Periscope is a stripped-down look at a person, brand or business.
So don't focus on perfection or treat your live streams like a stuffy presentation. Show your human side. Be authentic and real.
Content Idea: Give viewers a backstage pass to see what it's really like at your company by streaming clips from around the office, during meetings, or at company outings.
Host live events
You don't always need to be the star of the show. You can turn the camera on other presenters, bring on guests, or even get your viewers involved. Broadcast from live events or host mini events just for Periscope. Get your audience involved by asking them questions and responding to their questions or comments.
Content Idea: Host live Q&A sessions or focus groups with your audience. Show them new products, ask for their feedback, and involve them in brainstorming sessions. This will show your customers that you care about their opinions while making them feel like an influential part of your business.
Hype up and reward your audience
Audiences love to receive special treatment and be recognized for taking action. So you can increase engagement and get more followers by rewarding users who follow you. Give them exclusive content and access to events, and host Periscope-only contests and special offers.
Content Idea: Use your other platforms to promote a Periscope-only contest, and host a live event where you announce the winner. Require contestants to be live for the announcement to encourage fans of your other platforms to find you on Periscope as well.
How to get more Periscope viewers
While Periscope is growing fast, it's still a relatively unsaturated market when compared to other mega social media platforms like Facebook and Twitter.
You have a better chance of getting discovered on Periscope because there is less competition for attention.
So jump on the opportunity and use these tips to make sure new viewers can find you.
Create descriptive and interesting titles for your live streams.
Share your location so that users can also find you on the map search function. (Periscope will not share your exact location to prevent safety concerns.)
Ask viewers to follow you. When new viewers join your broadcast, encourage them to follow you so that they receive updates for your next broadcasts.
The Periscope space is growing and growing fast. You don't want to miss this opportunity to get in the game early, stake your claim, and build your following on this new and exciting platform.
How are you planning to use Periscope to market your business? Let us know in the comments below.
[advertisement id="14428″]
Image by: eduard lefler via Compfight cc