Expat in Shanghai shares observations and inspirations from a thriving city
Before I came to Shanghai (or did any Googling of the city) it was hard to imagine what being an expat in Shanghai would be like. Although China (and Shanghai specifically) is growing at the speed of light, the country is still partially hidden behind a web of censorship. How do you imagine a place like that?
Now that I've been here for about 10 months, I'm realizing all the enticing opportunities that this rapid pace of change has created. Read on if you want to learn more about the business and social benefits of being an expat in Shanghai.
Culture shock
Nothing amuses me more than trying to describe Shanghai to friends and family back home in California. There's really nothing like getting an inquiring message from a relative all but asking if the women in Shanghai still wear the qipao (traditional Chinese dress). Looking around at the high-fashion icons — Prada, Gucci and Louis Vuitton — that sprinkle Shanghai's downtown shopping district, it occurs to me that this particular relative would have a hard time imagining the kind of luxury and modernity that Shanghai offers. I have to cut her some slack, though.
China's rich, ancient history is much more prevalent in the global mind than China's rise to the current world stage; it's easy to still imagine tea ceremonies and ancestor-worship. Heck, even Shanghai's spectacular skyline — a sprawling city block of flashy skyscrapers along the Huangpu River — is only 20 years old.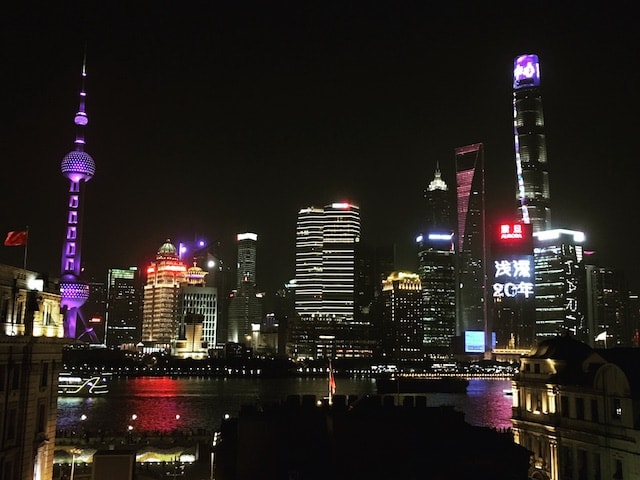 The thing is that China has developed so mind-blowingly quickly, traces of the old world are still highly evident (and very much out of place) among the brightly-lit skyscrapers that now dominate the city. However, these relics are disappearing just as quickly as the economy is growing.
Expats in Shanghai who have been here for five years or more will tell you that finding a cup of coffee in Shanghai was a near-impossible task when they arrived. Now there's a Starbucks on every corner.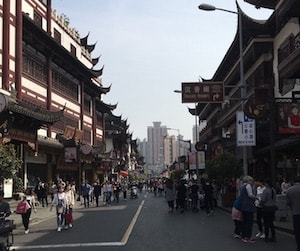 Every now and then you can still see an old neighborhood that has somehow survived the tidal wave of modernity. But, even in many of these traditional "lane house" neighborhoods, landlords have gotten wise to the needs of well-paid foreigners and have begun to renovate these traditional hovels (I happen to live in a lovely renovated lane house with traditional Chinese windows and exposed beams). Or take the famous Jing'an temple that seems to have survived only by reinventing itself as a tourist attraction (and, as rumor has it, has been moved back 15 feet to make way for a shopping mall parking lot).
In a city whose gross domestic product grew by double-digits every year for more than 20 consecutive years, sometimes the results can be shocking.
In fact, I'm still delighted by the strange yet intoxicating crossover of Old World and New World when I purchase fruit from a street vendor with my phone. How much more radical can you get than that?
It's no surprise that this climate of rapid change and spectacular growth is attracting some of the world's biggest movers and shakers, adventure-seekers and innovators.
In fact, to me it looks like the American dream has packed up and moved east.
4 reasons to consider setting up shop in Shanghai
Besides the outright excitement in living in such a city, there are many reasons for foreigners to consider moving to Shanghai, and even setting up shop.
Government support for innovation.
A growing consumer market.
Changing regulations.
Perks for foreigners.
As an expat in Shanghai, these are just some of my key takeaways.
Related: 5 international business practices to adopt in America
1. Government support for innovation
China is a sly minx — straddling a fine line between communist ideals and a more capitalist reality. This economic reality is asserting itself more and more, and entrepreneurs — both foreign and local — are seeing the benefits.
Firstly, the government sets aside plenty of moolah for entrepreneurship and innovation in the form of incubators and subsidies. More recently — in May 2018, in fact — the Chinese government began granting new "business startup visas" for foreign entrepreneurs and newly graduated students.
The visas allow foreign investments and businesses to operate, even before a business is established.
Investors and staff are permitted to live in Shanghai in order to conduct market research, perform business development, recruit staff, search leasing opportunities and more. If you were thinking about starting a business in Shanghai, there really has been no better time.
2. A growing consumer market
Combined with heightened opportunities for foreign investors and entrepreneurs is the growing consumer class.
Years of investment and export-related development have resulted in massive GDP growth and a widening middle class that is now clambering to spend their income. In fact, global management firm A.T. Kearney reports that since 2000, annual real GDP growth per capita has averaged an impressive 8.9 percent while real personal disposable income has risen 9.2 percent on average.
Because of this, Pew Research estimates that 203 million people entered the golden land of middle class from 2001 to 2011.
China's share of worldwide private consumption is now forecast to rise to 8 percent in 2021.
While it's true that the new spending power of China's citizens is affecting the global economy, it is also true that the Chinese are held economically captive in many ways; for the most part their product options are "Made in China."
Instead of Amazon, Chinese citizens use Taobao. Rather than Uber, the Chinese order a DiDi. Their social media and digital chat options seem to be limited to WeChat. Want to watch Netflix? No chance, unless you have a decent VPN.
So, as a foreigner with a Chinese business visa, you have your feet in both worlds, which leaves your business potentially open to the massive Chinese market as well as the global market.
Related: Is your business equipped to handle global expansion?
Editor's note: Taking your business oversees? Consider using the .international domain extension for an online name with global game.
3. Changing regulations
Life as an expat in Shanghai means many things, and one of them is the headache of constantly changing regulations. One day your work visa is fine, and the next your employers are asking you for more documents to keep up with the finicky laws.
While this may be worrisome to some, Dr. Mark Greeven, associate professor at the Innovation, Entrepreneurship and Strategy Department of Zhejiang University — School of Management also reminds us that this kind of business climate, if you can keep up with it, is perfect for experimentation.
There really is no other place in the world with the same combination of business opportunity and shifting regulations in industries like internet finance, digital health and cross-border eCommerce where businesses can fully test out their business ideas as they get started.
4. Foreigner perks
Even if you're not planning on starting your own business in China, but are still thinking about trying for gainful employment here, there are tons of benefits for foreign talent.
Take teachers, for example.
In the myriad international schools that are now congesting the Shanghai education system, teachers are not only offered extremely attractive salaries but housing allowances, flight allowances and tax cuts. It might be one of the few cities in the world where teachers can easily afford to open up an investment account with St. James and head to the Westin for a casual (read: world-renowned) Sunday brunch.
Final thoughts on being an expat in Shanghai
Most exciting of all about being an expat in Shanghai is the feeling of vitality and energy. There are countless clubs, organizations and meetups across the city for foreigners and locals to mingle, share ideas and do things.
Because that's really what the buzz of Shanghai is all about — the people in Shanghai, just like the city itself, are never idle. And with all the creative energy flowing here, it's not a stretch to call this a 21st-century renaissance in the east.