In our first article for people who hate Twitter, we covered the basics. What's a tweet? What's a reply? What's my handle going to be?
Now we're gonna take a look at my favorite part: Spying on others.
A lot of people feel like they're supposed to be on Twitter. They hear about it in webinars, their kids are on it, every small business workshop they attend talks about how great social media is and how it can help you be more successful. This feeling extends beyond typical small business owners. Even technology professionals I talk to apologize if they're not on Twitter. The guilt! It's like a secret they've been hiding. Here's what one of my geeky pals said to me last week, as they lowered their gaze to avoid eye contact:
"I know, I know. I'm not on Twitter. I should be. Show me the way. I just don't get it."
Honestly, I don't blame them. There's a lot going on. Twitter can quickly become overwhelming. If you're not careful, you could end up with 300 very loud, very active voices on Twitter, firing their opinions and ideas at you every hour. That's hard to listen to, and there's no way to engage with all of them, even if you had the time. Better to be judicious with this stuff. Pick carefully who you're going to follow and then periodically review and curate your list. Dump the people who aren't helpful and find some others who are worth watching.
[advertisement id="14428″]
Figuring out who to follow
First you need to figure out who to follow. Who are you going to spy on? You may never write a tweet. You may never share a picture of the chicken enchiladas you ate for breakfast. That's OK. You don't have to engage with others for Twitter to help your business. When figuring out who to follow, ask yourself these questions:
Who are my customers? To start, look for people in your area who you already know about. Maybe they're your friends and family. Maybe it's someone you've already done business with. Maybe you got their business card from a local networking event. These are people who are already your customers or people you know could be.
Who is my competition? Chances are good you know who this is. If not, now's as good a time as any to find out. Why follow your competition? For the same reason Apple and Levi's and Rolling Stone magazine watch their competition: to get ideas and see what's working — and what's not working — for them.
Who do I want to be like? There may be a brand out there that you want to emulate, even if it's not directly related to what you do. Take Patagonia, for example. I love them. I watch what they do in social media and how they do it — even though I'm not selling parkas and climbing pants. Not yet…
Who likes what I do? The difference between these people and your customers is subtle. In some cases, they're one in the same. These are people who care about the same stuff you care about, even if they're not a potential customer. Maybe you sell waffles from a food truck in Blackfoot, Idaho, and you find a waffle and pancake expert on Twitter who lives in Cardiff. They're never gonna buy a waffle from you, but they're totally worth following for insights and recipes.
Finding the people you want to follow
OK, so you know the types of people you want to find. Now how do you find them? It's actually pretty easy. You search for them.
Open Twitter. You see that search box in the upper-left corner? It looks a little like this:

That's powerful stuff. Type in some keywords (or a hashtag—a keyword with a number sign on the front of it) that the people you're trying to find might use in their tweets. Heck, you might even find they use those keywords in their Twitter username or description. You'll have a list of people to review in a few seconds.
For example: let's say we're opening up a new vegetarian place in town. We'll call it Happy Hippy Hipsters. We're looking for people who have the hashtag #veganpizza in their tweets. We're looking for potential customers, competition, and people who might love asparagus, olive oil, and roasted peppers as much as we do.
Here's what our search results might look like: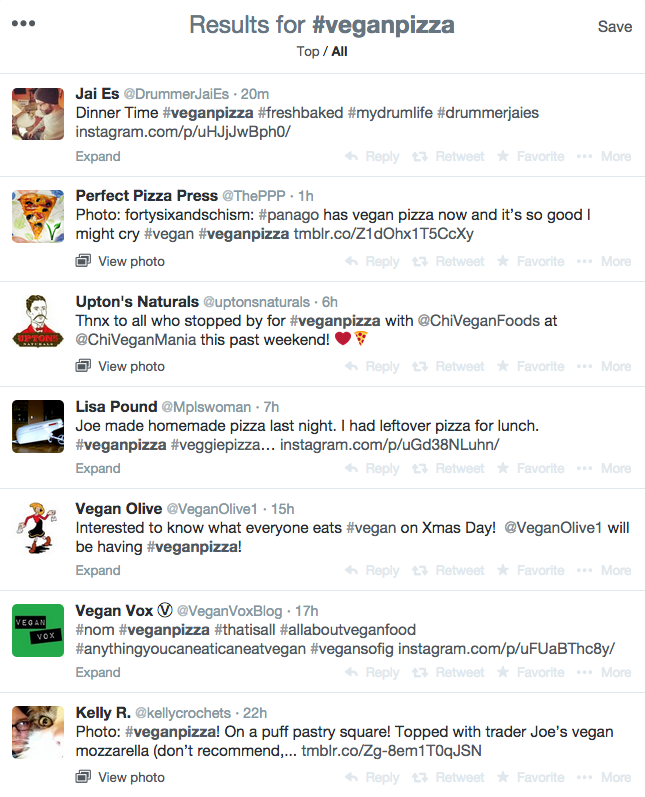 In this example, we have seven new people to look at and possibly follow. To find out more about them, we can click on their picture and view their profile. Was their tweet about #veganpizza just a random flash in the pan? A random night out with friends? Or was it an indicator? A clue that this is someone who likes pizza and vegetarian food and likes to tell people about it? If so, they might be a great account for us to follow.
And what if they're running a restaurant like ours? That's great, too. We can take a closer look at their profile and click through to their website. We can look at their tweets. What do they sell? Who are their customers? Who do they follow on Twitter? How do they market?
Now you have a front-row seat to all of it.
What does all of this following get us? It gets us ideas. If you do it right, a lot of the people who you follow will feel passionately about the same stuff you do. Some of them have websites, some of them write, and some of them use Twitter to find new customers and market their business. Now you have a front-row seat to all of it. You can see what others do. You can see what works and what doesn't. You can find new recipes, new strategies, and new ways of doing business.
All it costs you is a few minutes a day, looking through your Twitter feed.