For the love of reading: How to start a book blog in 5 steps
When I first began blogging, I wrote about music — a very specific type of music. Over time, I gained a loyal following. When I started indie publishing my science fiction and paranormal romance books, I knew it was time I shifted the focus of my blog's content. But I was lost as to how to start a book blog.
I started following other book bloggers and looking at how they wrote, what they chose to post, how they interacted with other fans. I couldn't believe the huge network of dedicated, passionate readers out there. I wanted to be one of them.
If you want to be one of them, too – here's a simple guide to help you get started.
How to start a book blog in 5 steps
Choose a name and web address.

Pick a blog builder.

Decide how often you're going to post.

Create some awesome content.

Get serious about social media.
First let's talk a little about why you should start a book blog, before diving into the how-tos.
Why should I start a book blog?
Whenever anyone asks me how to start a book blog, the first thing I tell them is what makes blogging worth the time. The truth is, there are so many reasons you might want to start a book blog!
If you run a book business, blogging is a great way to increase your audience, sell products and establish yourself as an authority in the book world.
If you're just an avid reader, running a book blog puts you in touch with your favourite authors, as well as an awesome worldwide community of readers. You'll get free books to read, and other awesome book swag.
You may also be able to use your blog as a jumping-off point to earn additional income. Find out all the ways you can earn money as a book blogger.
Parchment Girl has a great post on "10 Excellent Reasons Why You Should Start a Book Blog."
How to start a book blog: The basics
Now that you know why a book blog can be beneficial, let's dive into how to start a book blog in five simple steps.
1. Choose a name and web address
Your new blog needs a name! You want to choose something that's memorable, but that reflects the nature of your blog. If you're writing about a particular genre or movement, it's best to find a way to convey this in the title.
When you have a brilliant idea for a title (or a few), do an online search to make sure there isn't already a blog with the same name. If you're safe, you can then buy your domain. It's always best to buy your blog domain, rather than use a free subdomain supplied by services like WordPress or Blogger. That way, if your blog host goes out of business, you're still good.
There are some unique domain extensions available through GoDaddy that are great options for book bloggers. You can get a .club web address for a book club or .reviews for a review-based blog. Or try .buzz for a fun web address readers won't forget.
2. Pick a blog builder
Back in the mid-90s when blogging began, you pretty much had to be a programmer to have a "web log" — amateurs simply couldn't do it. Lucky for you, this is no longer true. Now there are a number of blog builders (platforms) to choose from, including Blogger, Tumblr, Medium and — everybody's favourite — WordPress.
Whether you opt for a free or paid blog platform, here are a few things you should look for:
Ease of use, even for those with few technical skills.
A customizable layout, so you can make your blog look unlike any other.
The ability to add features and change templates without having to start from scratch.
Reliable hosting with a minimum 99.9-percent uptime (not all blog builders include this).
The capability to sell things if you choose to at any point.
While WordPress is free, keeping it up-to-date and safe from hackers takes time and some skill. If you don't have the time or know-how to do it, you'll want to leave the blog management to someone else. GoDaddy offers Managed WordPress, which gives you all the freedom of WordPress without any technical hassles at all. Hosting's included in Managed WordPress and comes with a 99.9-percent uptime guarantee.
[advertisement id="17440″]
3. Decide how often you're going to post
Whenever I'm working on a new blog project, one of the first things I think about is the time commitment involved. It's important to set yourself a regular posting schedule and stick to it, so that readers know when to expect your latest post.
So when talking with friends about how to start a book blog, I tell them: Whether you're posting once a week or five times a day, set yourself a schedule and stick to it.
Read this great post for tips on creating a blog calendar.
4. Create some awesome content
By now, you probably already have some idea of the theme of your blog. Will you be writing about all things speculative, waxing lyrical about cosies or speaking up about diversity in literature? With your theme in mind, start brainstorming ideas for different types of content you could create, such as:
Book reviews.
These could be in-depth essays, or short and sweet reviews. You could create a unique review concept, such as reviewing books in haiku or creating YouTube vlog reviews.
Essays.
Speak your mind about different literature topics, such as Margaret Atwood's influence on speculative fiction, or compare the book and TV series of "13 Reasons Why."
Themed lists.
Create Top 10 and Top 20 lists on different subjects within your genre, such as my "Top 10 Dark Steampunk Books."
Interviews and guest posts.
Authors love to come along to your blog and talk about their work. Their answers will only be as good as your questions though. Check out "50 Brilliant, Original Questions to Ask an Author"
for ideas.
Interesting genre news and updates.
From the latest releases and bestseller lists through to breaking news, there's always something going on in the book world.
Personal reading challenges.
Many book bloggers participate in book challenges and memes and blog about their experience. This is a great way to network with other book bloggers and start generating a following.
5. Get serious about social media
Social media is an awesome tool book bloggers can use to grow their following and get the word out about awesome books.
There are so many social media sites, it can be hard to figure out where to begin. I recommend choosing one platform you really like, whether that's Twitter or Facebook or Snapchat or something else entirely. Focus on growing your following on that platform and directing readers to your blog. Then when you feel comfortable, you can add another.
Use social media to share your blog posts, discuss books, share other articles and blog posts you enjoyed, ask questions, gather opinions, and share fun book memes. Find bookish hashtags to help get your posts in front of interested readers. Team up with other bloggers to share each other's posts and grow buzz about your work.
If you're a visual person, you can tap into the awesome bookish community on Instagram. Check out The Book Ranter's beautiful book-themed layouts for inspiration.
What makes a successful book blog?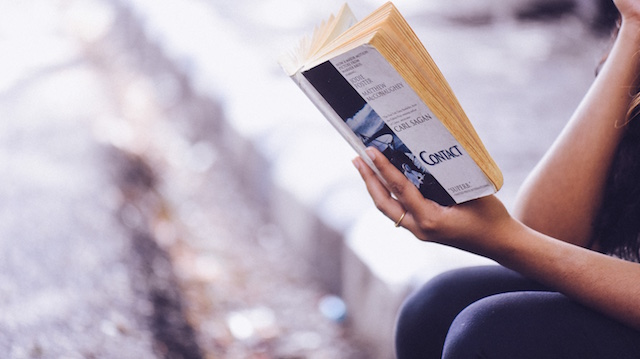 As Amber from The Mile-Long Bookshelf writes in her article, "5 Reasons Why You Shouldn't Start a Book Blog", readers can tell when a blogger is just in it for the free books.
When you're thinking about how to start a book blog, it helps to read other book blogs to see how successful bloggers do it. Look at how they structure their posts, how often they publish, the kind of content they create. Are they funny? Snarky? Serious?
Check out top book blogs like IndieView, Book Riot, Smart Bitches Trashy Books, Read, Breathe, Relax and Electric Literature for inspiration.
Make money from your book blog
Although many book bloggers run their sites purely as a hobby, without any consideration about making additional money, you could potentially use your book blog as an additional income stream.
How? Here are a few ideas:
Affiliate income. Earn a commission when people purchase books from Amazon through your affiliate links.
Freelance writing. Approach magazines and other websites to write book content and reviews for them.
Services for writers. Offer additional marketing services for writers, such as organizing blog tours.
Advertising. Offer ad spots and paid promotion to writers wanting to reach your audience.
Market your own books or products. Promote your own books or other book-related products to your audience.
Start sharing your passion
Blogging about books is a fun, rewarding hobby that can add to your reading and writing enjoyment. Why not get started on that book blog today? Read "How to start a blog in 7 steps (in 2017)" for more in-depth details.