How to be funny on your blog, with help from Mark Twain and George Carlin
Mark Twain's wife Livy once became frustrated with the great author's propensity for profanity. To illustrate what she had to endure, the normally pious-tongued woman cut loose with a blue streak for the ages. There, she told her husband when she was done, "Now you know just how you sound." Sadly, Twain shook his head and said that it pained him to think he sounded like that, because "You got the words right Livy, but you don't know the tune."
We understand what Twain meant, because there's a mountain of difference between pure, organic profanity and profanity that comes out of the mouth of someone for whom it does not come naturally. I once knew a man who effectively had a two-word vocabulary, "F*" and "Mother-F*", and yet armed with these scant tools he could express himself as precisely and as thoughtfully as Faulkner.
Humor writing is like that.
If you handle it well, it is among the most effective of literary voices. Humor is entertaining. It engages the audience. It allows you to broach delicate subjects that cannot be addressed head-on. But used improperly, few things turn off a reader more quickly.
Still, bloggers have a lot to gain by introducing humor into their work. Self-published blogs are obviously a dime a dozen, so if you don't stand out in some way, your words will be relegated to the electronic dustbin of history.
How to be funny on your blog: A few guidelines
So yes, introduce humor into your work, but before you do, understand a few guidelines for how to be funny on your blog.
Don't underestimate humor's potential, regardless of subject matter.
As a blogger, you probably understand the value of a strong voice. This can be mitigated to a degree if you are dealing with fascinating subject matter, solid photography, tutorials or the like. But even here, humor can make the difference in whether you are read or not.
Humor can make the difference in whether you are read or not.
I once needed to fell a large tree, and I had to choose between one how-to video hosted by a forester with safety goggles, guy wires and hardhats, and another video produced by two chainsawing idiots who appeared to be half in the bag, called each other "Bubba," and attacked the tree with an infectious if potentially deadly joie de vivre. It may get me killed one day, but I went with the chuckleheads.
Use humor sparingly.
Everything you write doesn't need to be a side-splitting, David-Foster-Wallace evaluation of the porn industry. A few writers out there such as Dave Barry can conjure up a punchline per paragraph, but that's rare.
Understand that the deck is actually stacked in your favor.
Not without reason, people do not expect writing to be funny. Sadly, reading is too often an assignment or a chore, so a wry comment or even an unexpected pun in an otherwise dusty report can tickle a reader's fancy and hold their interest. George Carlin said it was easier to get a laugh at a funeral, and that goes for writing, for the same reason.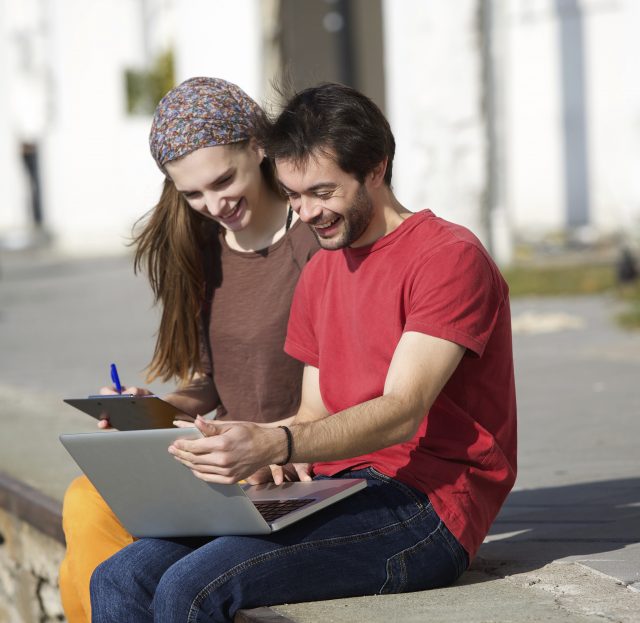 Avoid the raunch.
I know, I know, if today's feature-length comedy films didn't have any filth, they wouldn't be any longer than a commercial for Cheez-Its. But keep in mind, you are at root selling something — be it a product or idea — and a meaningful percentage of customers will be turned off by off-color or politically incorrect screeds.
Remember that humor writing is not standup.
George Carlin did a hilarious schtick on a dog owner trying to get his pet to look at a dog that was on television. Onstage, he could make the lovably clueless doggie face and the frustrated owner face and raise his voice at the appropriate times as the owner fails to interest his dog in the TV dog.
The written word does not offer the luxuries of facial expressions and points of emphasis that go beyond italics.
So be sure your words are precise and descriptive and are capable of producing a funny result. Videos have caused us to think visually, but the written word presents more challenges than simply pointing a cell phone at a cat that's being scared by a squash.
You are painting a scene in the reader's heads.
When someone does something that annoys sports commentator Tony Kornheiser, he says he wants to "hit them in the face with a snow shovel." Why a snow shovel and not a vacuum cleaner? Because it's so easy to picture — long handle, big windup and a wide, flat surface planting itself square in someone's lemon. Classic.
Act as if you are unaware you have written anything funny.
This is a standard rule of comedy. You want the funny line to be an organic extension of your writing so people don't see it coming. And for god's sake, don't use exclamation points. Exclamation points are like laughing at your own jokes. Look at me!! Aren't I funny!?!! No, you're an insipid little shrew.
And finally, take note of things you find funny and autopsy the remarks to determine what makes them funny.
Richard Russo wrote, "His name was Richard, but he wanted to be called Dickie — and most people who knew him came close." You see the extra layer of complexity that makes this line funny. As opposed to the slapstick of the snow shovel, which is visual, this style of humor is more intellectual and complex.
So if you want to learn how to be funny on your blog, read funny writers — Twain, Wallace, Tom Robbins — and study their money lines. Don't just laugh at funny lines, analyze them. Soon you will begin to find your own humorous voice and become confident incorporating it into your work.
Image by: Ryan McGuire