Get elected: What you need to know about campaign websites
To say that the 2016 U.S. presidential election has renewed interest in our democratic institutions is an understatement. With the Electoral College win of Donald Trump, we're seeing an uptick in activism, specifically from those who voted for the other presidential candidate. This renewed participation in our democracy is spurring some to run for office and challenge incumbents. If you're among them, read on to learn about the part campaign websites play in electoral success.
Just like the Tea Party activists who helped to stifle former President Obama's agenda and influence national debate, these new activists are now making their voices heard at all levels of government, watching their elected officials like hawks and reading up on the Emoluments Clause of the U.S. Constitution.
And just like our new U.S. president and some of his closest advisors, the fact that they have no prior government or political experience is not a factor. These candidates are emerging from all backgrounds and many are women.
"We need leaders, not politicians," says Deedra Abboud, a first-time candidate running for the U.S. Senate from Arizona and among just a handful of Muslims running nationwide. The attorney and social justice advocate adds, "You're told that you have to work up the ranks and learn how to play politics. But rather it's about who can solve problems, being ethical and a willingness to stand up to colleagues."
Organizations that recruit and train women to run for office are reporting a surge.
According to Slate, one of those groups is She Should Run. "Normally, between 100 and 200 women sign up for a program or request more information after an election. Since the 2016 election, 6,000 women have contacted She Should Run or been nominated by other folks as potential candidates."
Behind the scenes or in the spotlight?
In addition to seeking out candidate training, anyone considering a run should try on the role of public official for size. You'll quickly discover if you're comfortable in the spotlight or want to remain behind the scenes.
Try one or two of these, for instance:
Make calls or hand out flyers on behalf of an organization or a cause to see how you deal with the public interaction.
Are you ready to talk to the media — which will also hold you accountable? Testify or speak at a public event or meeting, and be prepared with some key messages for reporters.
If you're thinking local or statewide offices, attend meetings of the city council or state legislature, so you have an idea of the scope of job responsibilities and time commitment.
Canvass for a current candidate, which requires you to go door-to-door and effectively communicate their messaging and answer questions face-to-face with voters.
Campaign websites: A candidate's digital hub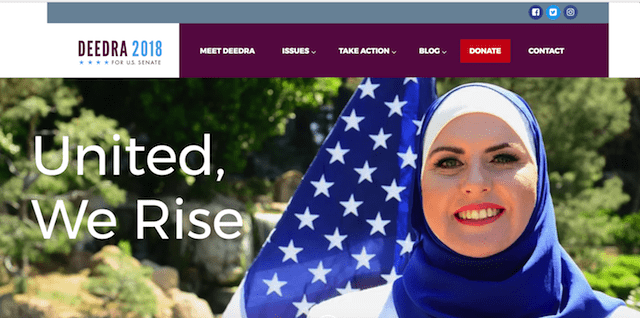 Whether it's the power and perks that appeal to you, or the possibility of creating change in your community, the best way for candidates to connect with voters is through campaign websites. Your website is the central hub of your online efforts as it can:
Present your background and platform (priorities).
Collect donations for your campaign.
Offer a calendar of campaign events.
Recruit volunteers.
Collect email addresses for campaign newsletters and notices.
List endorsements from individuals and groups.
Host an official blog or redirect to a personal blog.
Spotlight your social media posts.
Jennifer Pawlik, who is making a second run for the Arizona Legislature in 2018 after a narrow loss in 2016, says, "You should go live with your website as soon as you file your (candidacy) paperwork with the Secretary of State."
Get a domain, build a website
The first step for those in need of campaign websites is to buy a domain name. Deedra's campaign domain, Deedra2018.com, is registered and hosted through GoDaddy. While Deedra chose the classic domain extension for her website, consider .vote or .voto for your campaign web address. These new domains work the same way as .com but they're specific to political websites.
Once you have a domain name, the next step is to choose a site builder. Jennifer used a NationBuilder template to build her website. Often used by candidates on both sides of the aisle, Jennifer says, NationBuilder offers a free online course designed for first-time candidates and their staff. The service describes itself as a Community Organizing System (COS) that combines both a website and a Customer Relationship Management (CRM) tool.
Jennifer says NationBuilder users can pay monthly or a discounted annual fee. "There was no one-time setup cost; in fact the first 14 days are free. It is relatively easy to create a page and post information. I haven't had any official training, but have managed to figure it out by trial and error, and only had to call the help number once." She adds, "Those who have helped with branding and digital ads (on my campaign) haven't had any issues with linking."
There are other similar website services available to budding politicians — American Majority and Ruck.Us for example. According to its website, nearly every major Democratic campaign in America is powered by NGP VAN.
Deedra chose WordPress for her website and she's in good company. More than a quarter of all the sites on the web were built with WordPress. Why? For one, there are pre-built WordPress themes for everyone — including aspiring politicians. Once your website's set up, it's easy to make updates yourself. And thanks to WordPress plugins (software that adds features like a donation button) campaign websites can be customized with very little effort.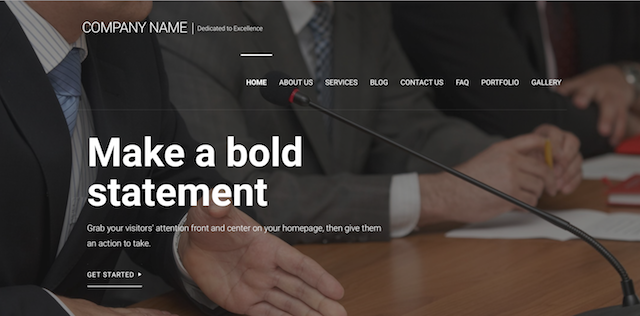 Opt for the free version of WordPress and you (or a staffer) will have to take care of routine updates and security patches. But you do have options. For a truly stress-free WordPress experience, check out GoDaddy's WordPress Websites. Their Quick Start Wizard can help you get your site up fast.
A few campaign best practices
While Deedra is a newcomer, this is Jennifer's second time around. Here's their advice for anyone who's considering running for office.
Do your homework
Read up on all the related election laws and regulations in your area and for the position you're seeking. This will help decide if you're running a traditional campaign made of private donations or a public-funded one, and who can donate and how much, Jennifer says.
Make it easy for supporters to give
Candidates typically include a way to donate on their campaign websites. As part of your fundraising plan, Jennifer suggests you share a link to your website donate page with supporters via Facebook and Twitter. You should also buy online ads that direct supporters to your website.
Be smart about where you spend your money
Deedra says expensive TV ad buys no longer need to be the main focus of a campaign. Her current approach is to focus on her campaign websites and personal blog, keeping the website light on policy copy and using her blog to provide the reasons behind her positions. She says her blog offers more opportunity to have rational conversations than what sometimes can occur on social media. "I don't want to be attacked by trolls — I prefer engagement."
Jennifer enables profanity setting controls on her Facebook and Twitter accounts to block posts that contain strong language.
But be careful — blocking a social media user altogether is under debate. Is the social media profile of a candidate or public official a public forum, and therefore subject to First Amendment rights? Look for upcoming court cases.
Parting words of advice
Decided to run? Deedra offers two final pieces of advice:
Know why you're running.
Have your own definition of success.
"Knowing why you're running will keep you going, even on your bad days," she says, adding, "Winning the seat is the ultimate goal but secondary, is changing the conversation and landscape."
Jennifer, a teacher of 17 years, knows why she's running to become a first-time legislator. "I want to increase public school funding, and that's not changing if I just stay at home and complain. I want to try and make a difference."