Getting started with Blab for your small business
Do you use video content for your small business? If so, Blab.im is the newest kid on the block to add to your video toolkit. And getting started with Blab probably is a lot easier than you think.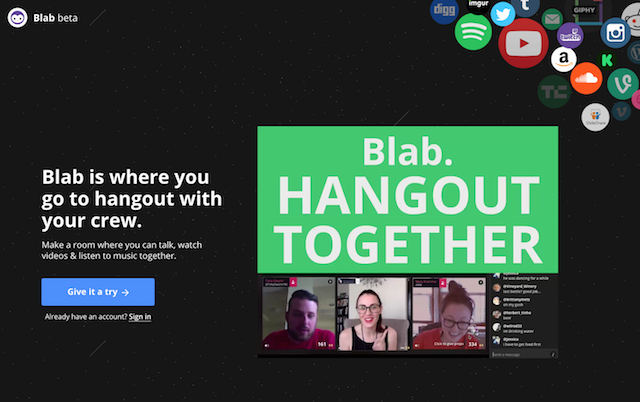 Getting started with Blab: The basics
What's Blab? It's essentially an easier-to-use version of Google Hangouts on Air. Accessible via desktop or mobile, Blab allows you to live video chat with up to four people, and take live comments and live video calls via the audience.
To get started on Blab you only need a few things:
A desktop computer, smartphone or tablet
Twitter or Facebook account to log in
Web camera
Microphone or headset
1. Log into Blab.
Just log in with your Twitter or Facebook (desktop only) account. You can tweak your bio in the Settings menu (the gear icon in your profile picture).
2. Personalize Blab.
Pick at least three interests to get personalized recommendations for who to follow. You also can search by name or Twitter handle to start following people who interest you.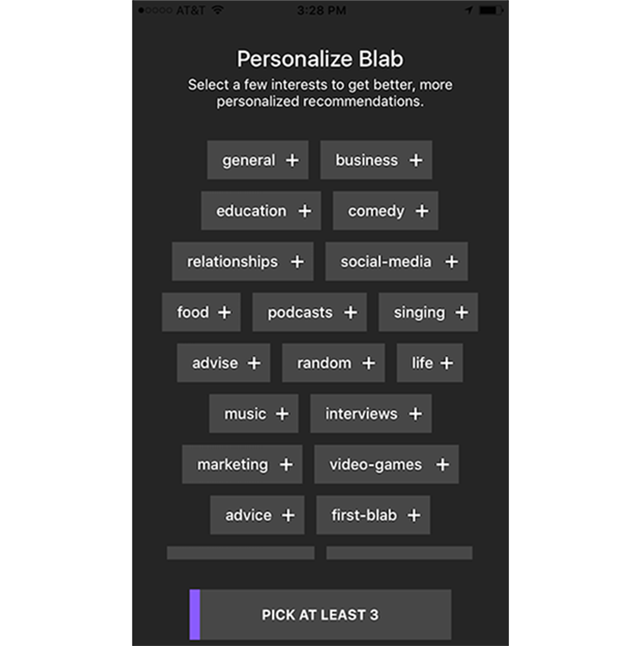 3. Enable notifications.
By doing so, Blab will notify you when people mention your Twitter handle. You can modify notifications, and turn them off if you so choose, in your Settings menu.
4. Start a new blab.
When you're ready to start your first blab, just click the plus sign in the menu bar. Add a title for the Blab; set it up to go live immediately or schedule for a future time; and add tags.
Blab video content ideas
Video content, especially live video content, is great for your small business or personal brand. Blab makes interacting with customers and other people who care about your passions easy.
Some key content plays using Blab are:
Direct product feedback sessions. Hear directly from your end users on what they like, don't like, or just want to see differently.
New product reveals. Target this towards existing and potential customers to show off and reveal an exciting new product or update. Take live questions, give a demo, provide a quick link to purchase. Maybe have that link lead to a special offering for Blab viewers.
Tips, tricks and hacks. This is one of the coolest ideas, which you might turn into a series. Create a show that teaches people how to take advantage of your products in unique ways. If you're a furniture maker, think like a live version of IKEA Hackers. If you're in fashion, show how to use the same dress for multiple events, or offer tips for removing troublesome stains. Foodies could show new twists on traditional menus, or best ways to transform leftovers.
The point is to add value for viewers — to educate and entertain — all while showcasing your expertise and (subtly) marketing your products or services. If you can't come up with a topic you truly believe is valuable to share, don't start a Blab on it. If it's not helping your audience, they won't watch.
The content in the show adds value to others.
Your company story. Get on air and share your mission, vision, company story and personal background. Connecting with people and showing them you are human and what you want to do will make them more invested in your cause.
Customer interviews and testimonials. Invite customers who want to advocate for you brand on air and have them do a testimonial/live interview with you. Field audience questions. This boosts your brand's credibility.
Broadcast from industry events. Going to an amazing trade show or conference? Give your customers and other people in the industry an inside look at what it's like to be there on the ground. Conduct live interviews with event participants and vendors. Introduce your audience to new products and experiences. Make them feel involved.
Tips for better blabbing
I've participated in many live videos, including some Blabs, and I've watched even more. While it's not hard to pull off a Blab, there are things you can do to stand out from others.
Use quality equipment. You'll need a decent mic and camera, and you'll definitely want to use a headset if you're broadcasting from a public space. No one wants to watch 30 minutes of blurry video, listen to choppy audio, or be distracted by background noise. This is the most basic and arguably most important tip for better blabbing.
Have guests and take live calls. Add value to your show by hosting guests. Taking live calls from the audience, or at least live questions via comments, will help your viewers feel more connected. Why do you think QVC takes live customer calls on air to talk about products?
Have an outline, but not a script. Your Blab shouldn't be scripted or feel scripted. It should be a fun, casual show, but one that has an agenda and flow. Keep an outline handy, and make sure guests know it, too. It will add some unscripted structure to the show.
Pause recording. Blab offers a great feature to let you continue live on air, but pause the recording. So if you get off topic or know there is a section you won't want in the post video reply, you can easily hit the Pause Recording button, then Start Recording button to restart when ready.
Clear title. Your blab title should be clear and contain keywords about the show. Also the title is used as the URL for the blab, so it could potentially help SEO results.
Blab commands. Blab has many commands that can be used in the comment sections. Get to know the shortcuts and take advantage of them.
What to do after your Blab
You will have access to a recording of the live show shortly after you finish your Blab. You can link your Blab account to a YouTube channel and export the video to YouTube easily, allowing your recording to live in both channels. You can also embed the video into your blog using an embed code that Blab provides.
Here's what an embedded Blab looks like:

Check out this post for tips on exporting Blab videos to YouTube.
GoDaddy Blabs
Did you know GoDaddy is on Blab? Though we just started, give us a follow and look out for more Blabs to come!