What the new Gmail grid view means for email marketing
UPDATE: Google has pulled the plug on Gmail grid view since this article was published.
Google has definitely been keeping email marketers on their toes. First, it introduced the promotions tab. Next up, the promotions tab grid view. As Marketing Land put it, "It's like Pinterest for your inbox." The new grid view is being compared to Pinterest because it's all about the images.
Here's a preview (right) from Google's announcement about the new feature, which is currently just a field trial.
Chances are good that lots of your subscribers use Gmail. We're working hard to ensure that your emails look fantastic in the new grid view. But here are four things you can do right now to help.
Include at least one image in every email
Gmail has an algorithm that chooses what it thinks is the most important image in the email to feature in the grid view. If you don't include at least one image, your open rates are likely to suffer.
Google has some specific guidelines for the featured image. The image must be at least 580 pixels by 400 pixels.
Sign up for the Gmail Grid View field trial
You can sign up right here with an existing Gmail account. You might not get invited to participate right away, but get yourself on the list so you can see how your own marketing emails look in the grid view (note that you need to have the Promotions tab enabled).
Watch the length of your sender name and subject line
To avoid having your sender name and subject line truncated in grid view, you'll want to keep them to 20 characters and 75 characters, respectively. There are other benefits to pithy copy, so strive for being succinct! With multiple visuals vying for grid view users' attention, subject lines may start to play a lesser role. Time will tell!
Create a verified Google+ page for your brand
If Gmail can't find a verified Google+ page for your brand, your emails will only include a gray initial rather than a branded image.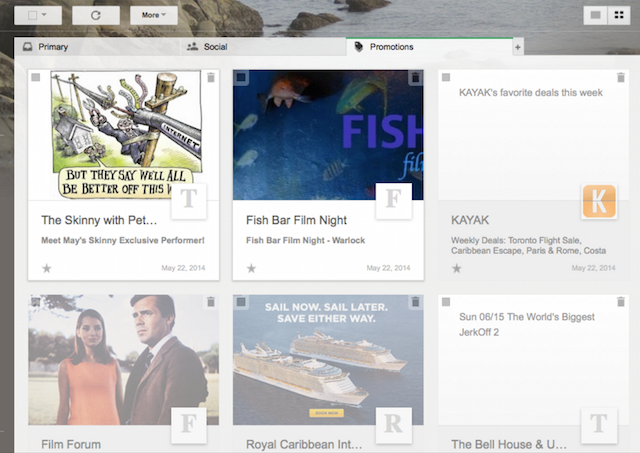 Having a verified Google+ page for your brand can also help with SEO. Here's how to get started with Google+ pages. Note that according to Google, your Google+ image will only show if you:
use a "from" email address with the same domain as the site listed on your Google+ page
send at least 1,000 emails a week from your domain
Stay tuned for more news on how to optimize for the new Gmail grid view! Complete developer resources regarding Gmail grid view can be found here.
[advertisement id="14403″]