Standout tools: GoCentral Yelp Business Listing feature
Small business owners who want to be discovered in their local area know the importance of an online business presence. Consumers increasingly turn to online reviews when using the internet to research local businesses. Many trust online reviews just as much as personal recommendations. (How else do you choose a restaurant while traveling?)
Yelp is a major player in the online review space.
A Yelp listing helps small businesses reach local customers and visitors by providing contact information, as well as a platform to interact with customers who leave reviews.
Related: Resources for local businesses
Introducing the GoDaddy GoCentral Yelp Business Listing feature
We're happy to announce that GoCentral Website Builder now offers an easier way for small business owners to establish and manage their Yelp Business Listing.
Currently, GoCentral is the only website builder tool that allows users to create and manage their Yelp listing at no extra charge and without complicated add-ons.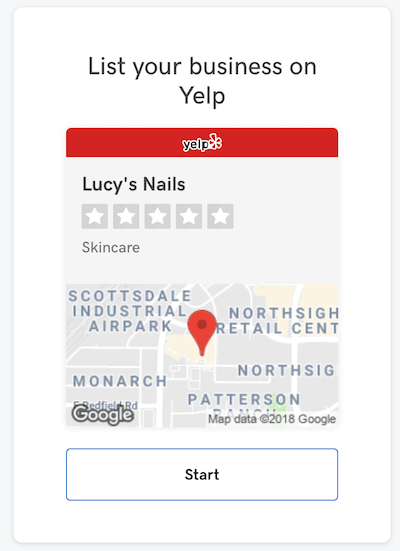 Who's it for?
Whether you're a restaurant owner, an automobile repair technician, or a painter, we know your plate is full (or overflowing). If you're looking for an easy way to get your business name out there and attract new local customers, the GoCentral Yelp Business Listing feature is for you.
It's available now to all GoCentral customers in the U.S. on the Business Plus and Online Store (eCommerce) plans.
What problem does it solve?
We recognize that small business owners are busy, passionate individuals looking to provide their customers with the best possible products, services and experiences. Taking time away from your business operation to set up an online profile might not be your first choice. The prospect of managing yet another platform to monitor and respond to customer feedback may be even more daunting.
GoCentral to the rescue — you can simplify that process.
Launch your GoCentral Yelp Business Listing, read reviews and monitor listing performance, all from the GoCentral dashboard.
Related: How to respond to reviews online
How does it work?
GoCentral uses information from your website to quickly create a business listing and submit it to Yelp. You'll receive an email once your listing is published, allowing you to officially claim your business on Yelp!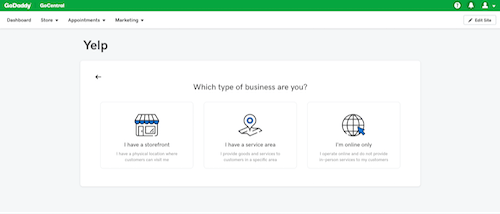 Then you're all set — your GoCentral dashboard will begin showing key insights about how your listing is performing. It's easy to keep tabs on new reviews in GoCentral so you know when to respond to customers.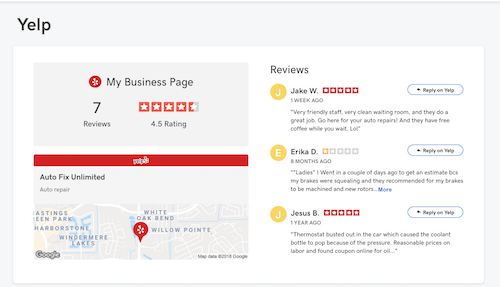 Save time and strengthen customer connections
GoDaddy customers are already taking advantage of this unique GoCentral Yelp Business Listing feature. Meet James Oregon, owner of Auto Fix Unlimited, a family-owned auto shop that offers a variety of repair services for both import and domestic vehicles in Houston, Texas.
James recently set up a Yelp account through GoCentral and has already earned an awesome 4.5-star rating.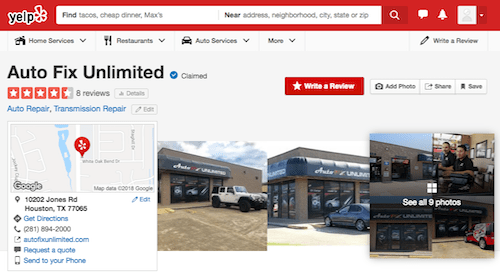 James describes the process as simple and straightforward. He is enthusiastic about being able to manage his Yelp listing right from his GoCentral dashboard:
"It's very important because I like to have everything in one place, so I can have full control from one single window."
Now when customers are looking for local auto repair reviews, or want to learn more about Auto Fix Unlimited, they can get all the information they need in one place, too. With GoCentral, James makes it easy for customers to connect with him on Yelp.
James is not the only customer benefiting from a GoCentral Yelp Business Listing: More than 1,300 GoCentral users have already set up their Yelp Business Listing to get noticed by local customers in their neck of the woods.
Get your business discovered with a GoCentral Yelp Business Listing and get back to doing what you love.