Grace Hopper Celebration 2017 recap
I attended my first Grace Hopper Celebration (GHC) five years ago. Once there, my reaction was, "Why didn't I come earlier?" I have two degrees in computer science, 15+ years of experience in the industry, and I had gotten used to being the only woman on my team. It was a huge motivator to see 8,000 women technologists in one place. The feeling of "you are not alone" was overwhelming, and I have religiously attended ever since. For Grace Hopper Celebration 2017, the crowd has grown to 18,000 attendees, and I am still basking in afterglow.
Grace Hopper Celebration 2017
Just one pass around the career fair at GHC will immediately prove that we do not have a pipeline problem in tech. This theme was clear from the first keynote by Melinda Gates. I loved that she used Bill Gates's likeness to convey that tech today looks like "a sea of white dudes." She asked for us to focus on pathways and not just the pipeline.
"Let's show the world that, for anyone and everyone who has talent and interest in tech, there is a pathway in." ~ Melinda Gates
I was part of a panel on navigating change. We went on the stage at 1:30 p.m., and from then to our second session at 4:30 p.m. — all the way through happy hour at 6 p.m. — women kept coming up to ask questions and share stories. Stories about bad managers and good, about reorgs and role changes due to family issues, about desire to change their career tracks but fear about how it would impact growth.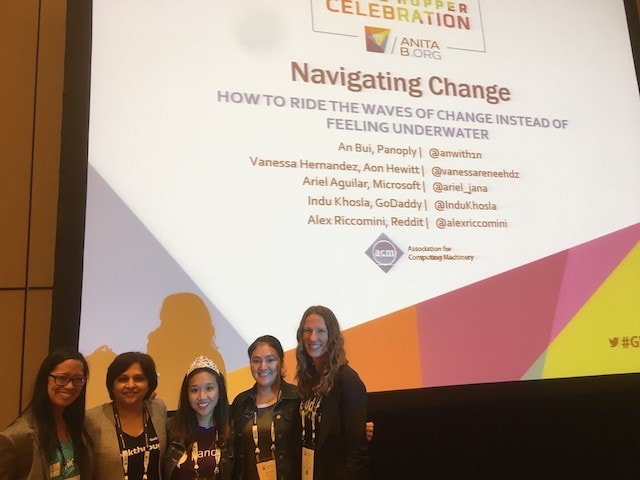 Once again, I was reminded that we all face the same challenges, but often cannot find people to share them with because of the low number of women in every organization.
I go to GHC to find my tribe.
This was the first year the conference had events planned for senior women to do just that — no-pressure sessions where we could learn, network and give back. There was the staple senior women event hosted by AnitaB.org, but many other private ones as well.
GoDaddy hosted a senior women's lounge where I was fortunate enough to meet counterparts from variety of companies and nonprofits, as well as Megan Smith! I attended a brunch by Pinterest where their head of engineering, Li Fan, shared her experience and her wisdom. In another event by Slack, I learned about Motherboard — their channel to support mothers in the company. I feel more and more connected with my tribe every year.
Forward progress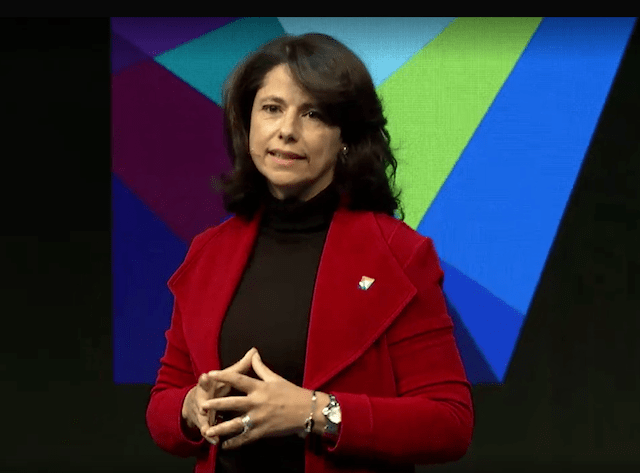 I was encouraged to see so many more women in senior roles than ever, but there is much work still to be done. During the Friday keynotes, Nora Denzel recounted seeing a little girl with a cape running across the hallway at the event. Then she added, "I used to be that girl, until it was repeatedly beaten out of me."
Let's look at GoDaddy's own data. Forty-seven percent of new college grad hires are women, yet the overall number of women in technical roles is 19 percent. We are fixing the entry problem, but we need to continue to stay focused on keeping the ones we hire.
Twenty-seven percent of women who leave technical fields cite family reasons. Women continue to carry the majority of the burden as caregivers, in addition to running households. This is incredibly obvious in this article on productivity tips — the men get up and get to work, the moms, even Melinda Gates, wake up early for some "me" time and then take care of their children.
The deficit starts first thing in the morning. Every day. Yet, our work culture does not often account for it. A field with as much flexibility and technology to enable collaboration must adapt to women's needs. As Dr. Sue Black, ABIE award winner, says:
"If you help a million mothers, you are helping at least two million people because every single mother is caretaker for at least one other person."
The other reason women leave is because of an unsupportive culture, unconscious bias and similar reasons that stunt their career growth.
GoDaddy and Grace Hopper
I love that we, at GoDaddy, have been completely transparent about our numbers and have been actively working on making a dent. We have worked hard on our hiring pipeline, and the numbers show it.
GoDaddy has already leveled the field in terms of pay, and we're already seeing career growth because of an explicit change in how we promote people. We are one of the few companies where senior leaders make it a point to attend Grace Hopper Celebration every year and spend time with current, as well as prospective, employees.
Words don't mean much if actions don't follow. By attending Grace Hopper Celebration 2017 (and beyond), the leaders continue to show their commitment to learning about, and continuously removing, the barriers that will enable all 18,000 women at GHC to do their best work — in the field they choose to be in.