With Grand PooBox, Courtney Karsted creates a 'kitty litter box with purr-puss'
We recently chatted with Courtney Karsted of Portland, Ore., about her experience taking her product, Grand PooBox, from idea to market. Read on for the Q&A below, check out the website, and follow the startup on Facebook, Twitter and YouTube to keep tabs on the growth of Grand PooBox.
Q&A with Courtney Karsted, founder, Grand PooBox
Tell us about your business and what makes it stand apart from the competition.
The Grand PooBox is NOT your average litter box. It's all about modern design and functionality. It keeps the litter inside the box and not out. Most litter boxes are are your typical giant, ugly tub. The Grand PooBox is all about 50-percent less litter AND the addition of an internal grated ramp.
These two elements are key in keeping the litter inside the box and not out. It works as long as you clean your litter box every day (like I do)!
What inspired you to start your own business?
My own experiences with a messy cat and messy litter strewn all over my tiny city condo.
As a cat owner and lover, and an interior designer by trade, I grappled with the daily litter box dilemma: How do I contain the litter mess strewn all over my beautiful floors? I manually filled my kitty litter box with 50-percent less litter, and shoveled the entire amount to the rear to leave the front half litter-free. That simple maneuver reduced the amount of litter scattered on my floors.
Light bulb overhead! What about an internal grated ramp from the rear litter receptacle to the upper lip of the box? And the Grand PooBox was born.
I came up with the idea in March 2013. The first year was more sketches and drawings. I then formed my company in 2014. The second year I worked on my trademark, design patent and other back-end business stuff. I spent the third year trying to raise the funds for the tooling costs — and I'm still trying to raise the capital to launch. The three steel molds required to manufacture the top lid, bottom lid and ramp cost $110,000 — and that does not include any of my other startup costs. But I'm determined. I'll get the money somehow. Stay tuned for Kickstarter Campaign II!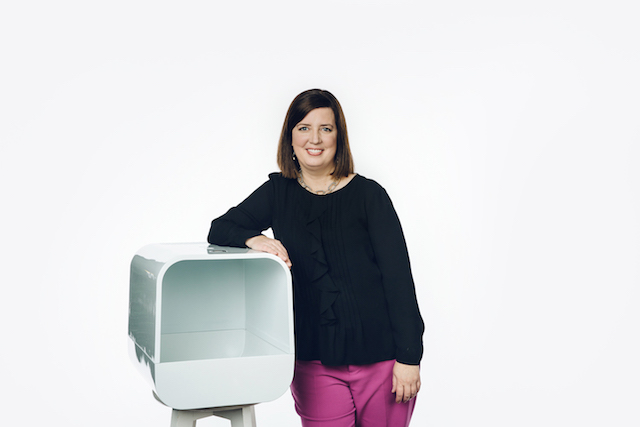 What obstacles did you face as a startup, and how did you overcome them?
Finding the capital for tooling, like we just talked about. And marketing, which is a challenge for most of us startups; it's not a cheap endeavor. I didn't do much marketing-wise and I still got some traction through Kickstarter. I raised about $5,000. I know the Grand PooBox has serious potential and already has a small following of cat lovers — I just need that one lucky break.
It's ALL about meeting the right people and making the right connections.
I joined the Oregon Entrepreneurs Network in Portland. One person pointed me to another person and I ended up getting a spotlight feature about the Grand Poobox on their blog, which was super exciting.
Let's talk a little about marketing. What's worked for you and where have you seen some challenges?
I really need to take it to the next level. With my current website, I'm actually taking preorders. I'm not taking credit card information yet, but I'm trying to raise the capital to then actually manufacture. So I'm trying to get the word out there and make sure that people who are enthusiastic about it sign up. But the goal is to keep the momentum going and not lose the enthusiasm. I'm not sending private emails, but I'm using Facebook and Twitter. I'm trying to actually communicate with everyone to give them updates and say, "Hey, this is where I'm at." People are communicating with me via Facebook and Twitter. And then I'm hearing from random people. Someone just ordered a PooBox from Germany! And I was like, hells! Wow, that's great! The word is getting out.
With GoDaddy GoCentral you can link your website to your Facebook page, Twitter feed and other social media pages with just a few clicks.
What strengths do you bring to the table as an entrepreneur?
The enthusiasm and passion. Plus, as a project manager by day, I'm able to take on multiple tasks in designing and developing a business. It's a one-gal show here and I'm having the time of my life.
What's the most important lesson you've learned since starting the business?
It's all about perseverance.
As the saying goes – It's always two steps forward, one step back. I'm a firm believer when one opportunity goes away, another bigger and better one is just around the corner.
It's blood, sweat and tears, that's for sure.
I haven't wavered in these last three years. I keep pushing forward because I know there's a market for Grand PooBox. I have confidence that my people are out there.
Thanks for taking the time to tell us about your startup, Courtney, and best of luck as you bring Grand PooBox to the masses!