Two crucial tips for great email open rates
We all want better email open rates. But how do you get them to do it? Why would they click your email, when so many others are vying for their attention? It comes down to two things.
Your subject line, a.k.a. your story
Having a great subject line is essential. But what is a great subject line? I'm glad you asked — but the answer is complicated.
There's no "great subject line formula" to ensure your subject line rocks. Sure, it helps to avoid words that trigger spam filters ("free," for example) — but even that's not set in stone.
Instead, think about writing a subject line that tells your story. It should be appropriate to your business and your style — and more important, it should speak to your audience.
Consider the following about your audience:
Who are they?
What are they expecting from you?
What's in it for them?
What words or phrases are likely to grab their attention?
What questions might you be able to answer for them?
Your subject line doesn't have to be super witty. Clarity works just fine. Just be sure to tell your story.
Case in point: Imagine a subject line that says, "Purr For The Alpha is now live!" Would you click that? Maybe, maybe not. But this was exactly the right subject line for a recent email from paranormal romance author Georgette St. Clair. This simple announcement for her new ebook had impressively high open email rates. People clicked it and then interacted with it, far more than they did with the average email newsletter. Why is that?
The subject line obviously worked — for this audience. This doesn't mean it'll work for your audience. Which leads me to …
Your audience, a.k.a. your tribe
Recipients opened Georgette's email and followed her call to action because they were expecting the email. In other words, her audience list is well-qualified — these are true fans waiting to hear the news about her new book.
This is a hugely important point. If you don't know Georgette or her work, the subject line seems almost meaningless. Purr for what? But if you've been expecting this next book, the subject line instantly communicates. It's clear, informative, and exciting — for the right people.
In other words, when someone opens your email in their inbox, it's the end of a feedback loop. It's a form of confirmation for you: "Yes, I want to hear what you have to say." This loop begins with your signup process.
Give your signup form prominent placement on your website. And promote your newsletter all over social media. Make a ruckus. But make sure that when someone signs up, they know what they're signing up for. They know what to expect, and they're truly interested in what you have to say.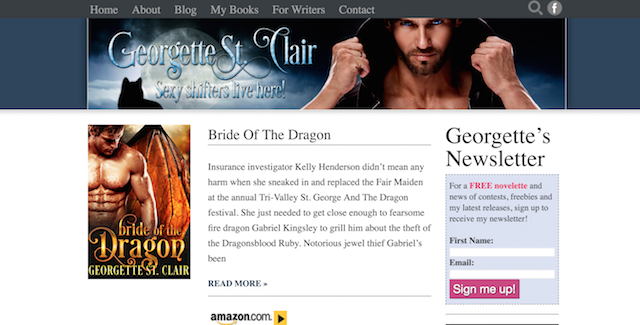 Here's what Georgette had to say about getting subscribers:
"I put links to my newsletter on the upper-right corner of my websites's home page, and at the beginning and end of all my [e]books, and on my Facebook fan page. I offer a free short story to subscribers. To get people to sign up, I just say, 'For news about upcoming releases, freebies, and contests, and for a free short novelette, sign up to my newsletter at (link to newsletter subscription form).' … "This is pretty much just selling to people who are already interested. I find that when readers find an author they like, they are very loyal, and they want to know when new releases are coming out."
What an awesome combination — massive promotion to the right people. And it works.
If you're doing all the "right" things and are still struggling to build a tribe, consider whether your brand is designed to attract a niche audience. Is your brand clearly defined? Do you know whom you're trying to attract?
How are your email open rates?
Are you happy with the email open rates you're getting? If you have any tips to share that helped you boost yours, we'd love to hear them in the comments!
[advertisement id="14403″]
Image by: Moyan_Brenn via Visualhunt.com / CC BY