Hello Face Paint colors kids happy
With a dad in the military, Dianne Nowicki lived in a dozen different countries growing up. But no matter what place she called home, one pastime always made her feel like she was there: drawing. From the banks of the Seine to the shadows of the Hagia Sophia, Dianne doodled her way into adulthood.
After settling in the Greater Phoenix area 11 years ago and earning a degree in fine art from Arizona State University, she decided to start her own business: Frickin' Awesome Face Painting. So why did the talented artist, who could've chosen to focus on any number of mediums, pick the human face as her preferred canvas?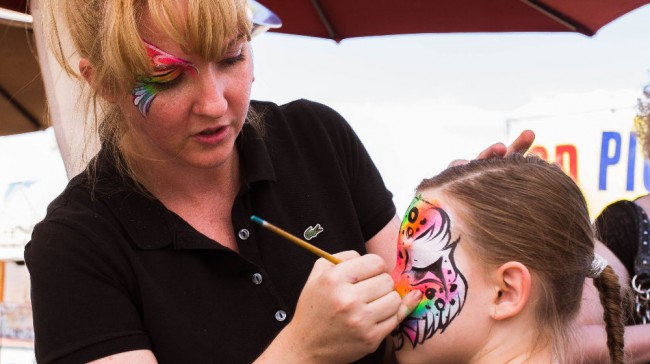 Well, for one, she loves people — especially kids — a good trait to have if you want to make a living painting on them:
"You might be surprised that a lot of face painters are grumpy. You see them working and they look like they'd rather be anywhere else. I'm a happy person. And when I see all those little faces waiting in the line to get painted, vibrating because they're so happy, I want to give them an experience they're going to remember."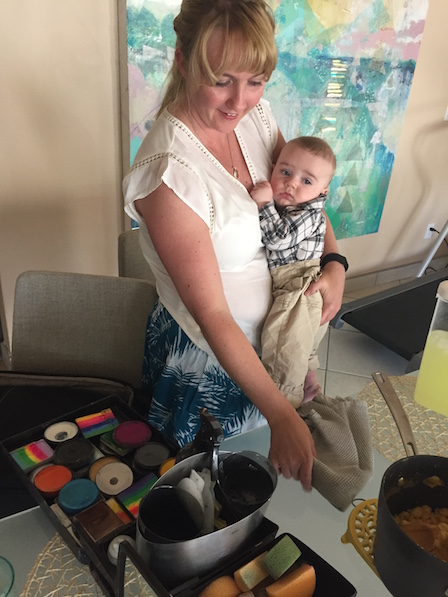 Dianne also appreciates the near-immediate gratification she gets from her chosen profession. "I love to draw and I'm a fast drawer," she says. "It's a satisfying thing because I'm impatient. I actually get paid to draw doodles!"
Word to web
Like many startups, Dianne worked a full-time job while working to get her business off the ground. In 2003, while working at Discount Tire, she shared news of her new business via the company's intranet. And people started calling. They hired her for company picnics and birthday parties, just a few small- to mid-sized gigs here and there, fueled by positive word-of-mouth — until she did something big.
"I got lucky after I made a little website," Dianne remembers.
The folks over at Wells Fargo saw that site, which Dianne designed herself, and she's been hired as a face painter at the banking giant's various grand openings ever since. Dianne attributes the growth of her business — she rarely has an open weekend — to both the referrals she gets from such events and the fact that she devotes time to marketing Hello Face Paint online.
In addition to her own website, Dianne promotes Hello Face Paint on online marketplaces for party vendors and on Facebook.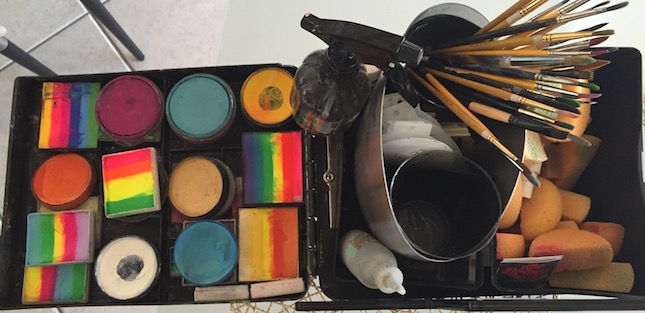 Growing up
As Dianne and her business matured, she made the decision to change the business's name from Frickin' Awesome Face Painting to Hello Face Paint. She was concerned about the effect of the name change on her online marketing efforts until she discovered how easy it was to register a new domain name and redirect it to her website. "It was so easy to change the link," Dianne says. "I just called GoDaddy customer care and they forwarded all of my domains to the new web address, with a smile in their voice!"
Not just for kids
Moving forward, Dianne wants to carve a niche as an exclusive, high-end face painter — enabling her to spend a bit more time on each design and, with her own young son in mind, limit exposure to unhealthy germs. She says she's especially interested in marketing her creative services to groups and individuals with strong family values. "I'm the best you can get with your money — better than Disneyland," she laughs.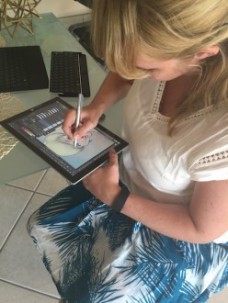 She's also focused on rounding out her artistic offerings by growing Hello Face Paint's sister business, She Draws You. Dianne offers both traditional and digital caricatures — creations she can whip up, amazingly, in about 10 minutes.
Cajoled into posing for her, I tried to keep from oohing and ahhing as I watched Dianne — who taught herself to use Photoshop only last summer — sketch and hand-color my likeness on a Microsoft Surface Pro 3. She used a pressure-sensitive pen that works with full Photoshop. The result — complete with the beach scene I requested for the background — looks like a watercolor illustration. I love it.
"Caricatures are a grown-up but fun thing to do," Dianne says. "If you have a caricature artist at your event, you're going to have people lined up to get their custom caricature done. It's great for drawing people to your booth at a trade show, for weddings, baby showers, retirement gifts and Christmas cards."
To get She Draws You in front of as many potential customers as possible, Dianne recently started using Get Found to make sure her business basics — name, web address, location, etc. — show up in business listings on popular sites like Google, Yelp and YaSabe. A lot of people search for local businesses online using such sites, and Dianne wants to make sure She Draws You pops up when they search for caricature artists in her service area. She also promotes her caricature business on Instagram.
Advice for other entrepreneurs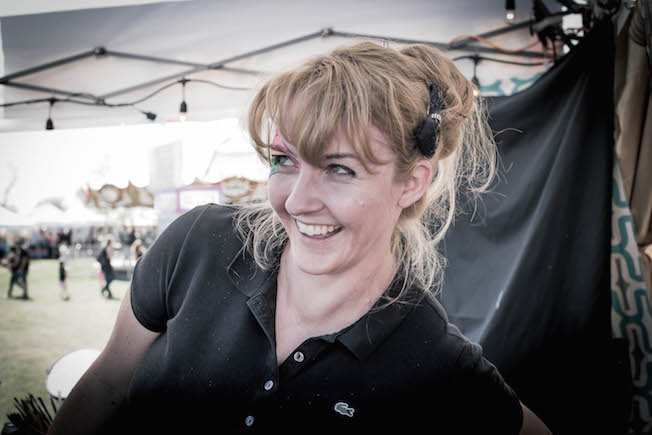 There's not a day — OK, maybe when she's been relegated to an outdoor table at a summer birthday party, but few other times — that Dianne has wished she set out upon another career path. She's truly grateful to make a living doing what she loves, and she encourages other would-be entrepreneurs to follow their dreams … with a few qualifications:
Learn how to do some basic accounting. "I'm an artist, not a bookkeeper — but you have to be that person."
Be good at what you want to do. There's no replacement for talent.
Love what you do. "If you don't enjoy it, no one will have a good time."
You only need to watch her smile as she brushes neon paint onto a child's face, or finds the perfect backdrop for a caricature in her photo library, to know she means it.
Image by: Angelo Villegas