High-fives and highlights from BlogHer16
There are few things I find as exhilarating as connecting with other people, but every opportunity I've been given to connect with the inspirational speakers, volunteers and attendees at BlogHer has completely blown me away. This year's conference, BlogHer16: Experts Among Us, was no exception. It was amazing!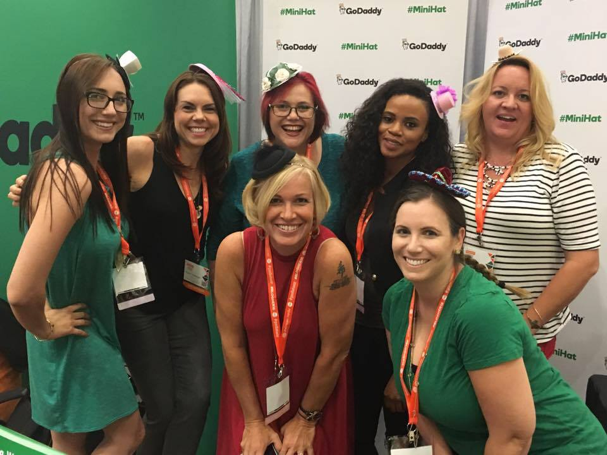 BlogHer16 was held at the JW Marriott in Los Angeles' LA Live district — a hopping area that added to the event's upbeat vibe. And, hey, a quick shout-out to all those SheKnows Media and BlogHer volunteers who kept us safe, sane, and walking in the right direction. Everyone was so polite and friendly that you couldn't help feeling special and appreciated at every turn!
Though the official kickoff to BlogHer16 was the Evening at the Expo (more on that soon), the event really started way before that as attendees connected online in anticipation of the big weekend. We set plenty of plans in motion to meet, greet, eat, rideshare and room-share. The patient, caring and and helpful Melisa Wells kept our online group on-track, providing updates and answers before, during and after the conference. This woman is a superhero!
She's one of the many BlogHer16 participants who make this conference truly memorable. Besides all of the great people at the event, here are some of my highlights:
BlogHer16: Evening at the Expo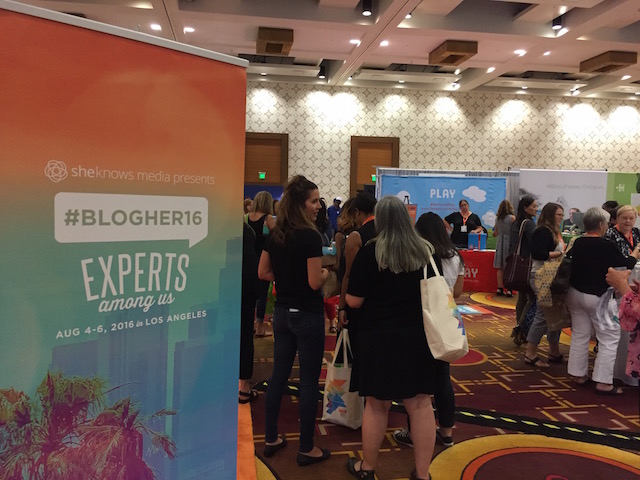 The Evening at the Expo brought together the event's sponsors and attending bloggers to mingle, sample and selfie. We reconnected with friends we hadn't seen since last year, and visited booths representing a wide variety of interests and industries.
In the GoDaddy space, our #minihat photo booth, Conference Survival Kit Contest, and lounge-and-recharge area seemed to be a hit with the bloggers, entrepreneurs, customers and everyone else who stopped by to snap, chat, and take a load off.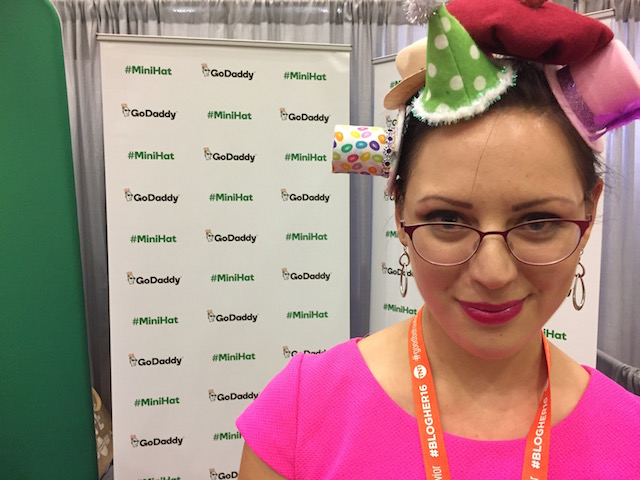 Loved meeting Kathy Kinney & Cindy Ratzlaff of @QueenofOwnLife & @BrandYou at #BlogHer16 #minihat pic.twitter.com/AGmkRoKzzz

— Cj (@CjPhx) August 5, 2016
Kate Volman teamed up with our very own Heather Dopson in and around the GoDaddy booth, taking names and … doing interviews. They were out and about collecting some great video content to share. We also welcomed Nile Flores as an honorary member of the family, bonding over all things WordPress and a few adult beverages.
Voices of the Year
One of my favorite parts of BlogHer year after year is the Voices of the Year presentation. This year did not disappoint. It's so moving to watch bloggers sharing stories that tap into deep emotion. Throw Aisha Tyler into the mix as the emcee and you have a ballroom brimming with awesome.
"If we have a world of women supporting women, how incredible would that be?" @littlelizziev #BlogHer16 #VOTY

— Kait Scalisi, MPH (@PassionbyKait) August 6, 2016
"Fear was my best friend." Genocide refugee @clembihiga who left home at 8 to escape the violence. #VOTY #BlogHer16 pic.twitter.com/4FI6OqydMt

— Amy Underwood Arndt (@theamysituation) August 6, 2016
"We have the power to make the change from #oscarssowhite to #oscarssodiverse" – @aishatyler is tearing it up as #voty host at #BlogHer16

— Julie Ross Godar (@Honeybeast) August 5, 2016
The Pitch
SheKnows Media created The Pitch as a platform and video series that elevates, connects and coaches female entrepreneurs. GoDaddy was a proud sponsor this year, and we were super-stoked to be a part of this event!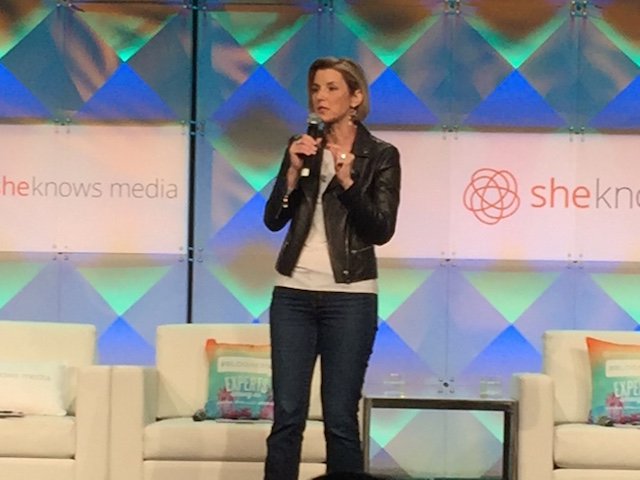 "Being an entrepreneur is harder than running Merrill Lynch — it's also, by far, the most rewarding thing I've done." ~ Sallie Krawcheck, CEO of Ellevest
Former Wall Street heavyweight Sallie Krawcheck, who co-founded and serves as CEO of Ellevest, kicked off The Pitch presentation with a motivational talk that encouraged women to take control of their financial destiny. "If you are not planning for it, you're dreaming it," she said.
Then, in front of a panel of esteemed judges including GoDaddy's Lauren Antonoff, Senior VP of Presence and Commerce, The Pitch's competitors each took the stage. Their ideas were creative, intense, thought-provoking, and as always, inspirational. After the judges and BlogHer attendees cast their votes, later that same day, Zahra Aljabri of Mode-sty was announced the big winner.
You can view all the pitches on the recording of our livestream.
@thePositiveMOM_ #thanks for sharing about connect, have a great Saturday :) ??Grow followers ➪ https://t.co/mpTTwlkdU4 ??

— BENEFICIENCE (@BENEFICIENCE) August 6, 2016
@InfluencerGirl @Skillcrush do it!! You won't regret it!!

— Adda Birnir (@addabjork) August 6, 2016
Choosing to be modest is as much about women owning their power as other choices. @ModeEsty to #ThePitch #BlogHer16 pic.twitter.com/nnlKT7Bj43

— SheKnows Media (@SheKnowsMedia) August 6, 2016
As is always anticipated, BlogHer16 also included a slew of celebrity and keynote speakers. The tweets flew as Sarah Michelle Gellar, Kim Kardashian, Sheryl Crow, Mayim Bialik and other notables took to the main stage to share a wealth of experiences, insights and advice.
Sarah Michelle Gellar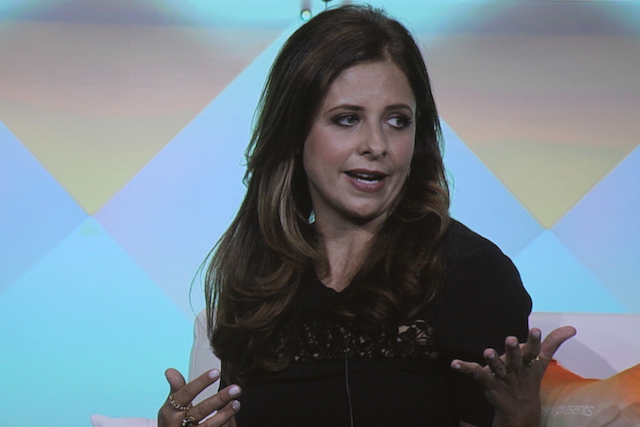 Known for her breakout role in TV's hit series, Buffy the Vampire Slayer, Sarah Michelle Gellar took to the stage to talk about her latest venture — foodstirs.com.
"I love the idea of creating something from an idea into something tactile … something you can see on a shelf," Sarah said. Foodstirs specializes in kid-friendly food-crafting kits and signature baking mixes made with better-for-you ingredients.
Sarah admits that she was blessed to play Buffy at an early stage in her life. She achieved and exceeded her own expectations, and even paved the way for her future success. And while she appreciated her time on the show, she's quick to acknowledge that there's more to life than worrying over your image:
"If you spend your life worrying about your legacy and what people think about you, then you're going to miss the moments."
Moments with family. Moments with friends. Moments that propel your life forward. Those are the things Sarah touched on during her keynote speech. And, as someone who enjoys the thrill of a good challenge, she used her past experiences to reach new audiences and take Foodstirs from a personal dream to a full-fledged business.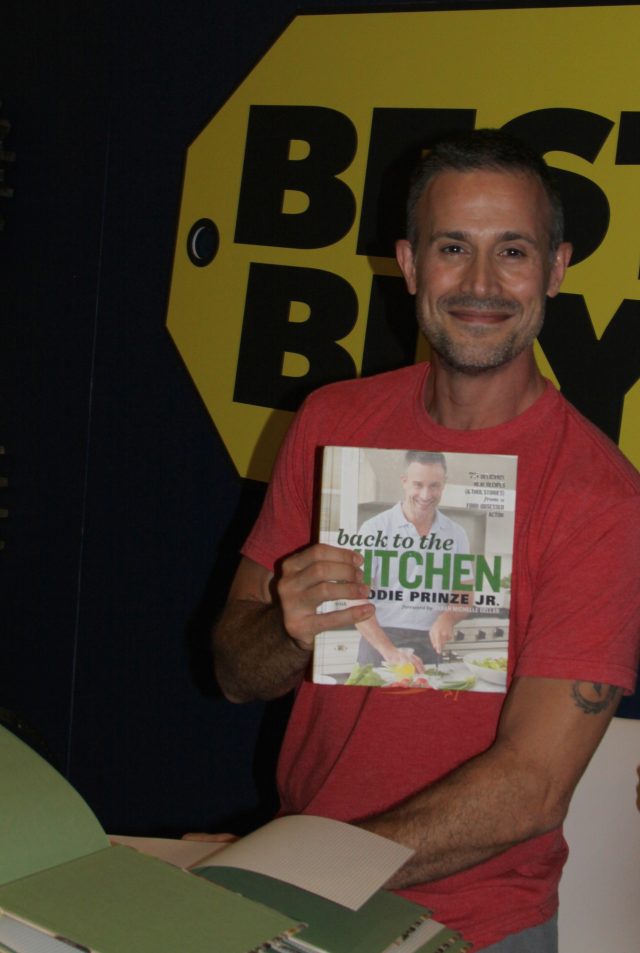 @WhollyART @SarahMGellar @ElisaC We couldn't agree more, sistah! #GirlPower How have you been enjoying #BlogHer16?

— Change the Cycle (@ChangetheCycle) August 5, 2016
.@SarahMGellar on two working parents: "We can work at the same time and be incredibly present in our kids' lives." #BeUnderstood #BlogHer16

— Understood (@UnderstoodOrg) August 5, 2016
"Failure works your success muscles into shape" – @SarahMGellar ?? #BlogHer16

— Stefany Banda (@stefanybanda) August 5, 2016
Sheryl Crow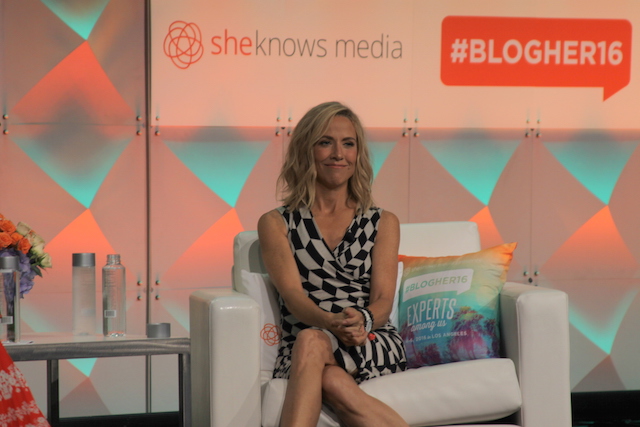 "I think we really have to learn as women that it's OK to be strong AND feminine." ~ Sheryl Crow
Musician, mom and breast cancer survivor Sheryl Crow advocated for women's wellness — both physical and emotional. She talked about taking a step back from the spotlight to raise her sons, her experience with breast cancer (early detection is key to survival), and the importance of nurturing ourselves as much as we nurture those around us. "You're constantly nourishing and the last person you nourish in your life is you," she said. "For us to have peace in the world, we have to manifest peace in ourselves."
"Being empowered means knowing that life is made up of circumstances that remind us who we are." @SherylCrow at #BlogHer16

— Heather Hall (@heatherhall3) August 5, 2016
"It's ok to put your own oxygen mask on." @SherylCrow #BlogHer16 #ShesASurvivor #GoodAdvice

— Crystal Prater (@awordchef) August 5, 2016
"You guys are in the position where you can impart wisdom and instill hope and empower people." –@SherylCrow on influencers #BlogHer16

— Megan Shuffleton (@mshuffleton) August 5, 2016
Kim Kardashian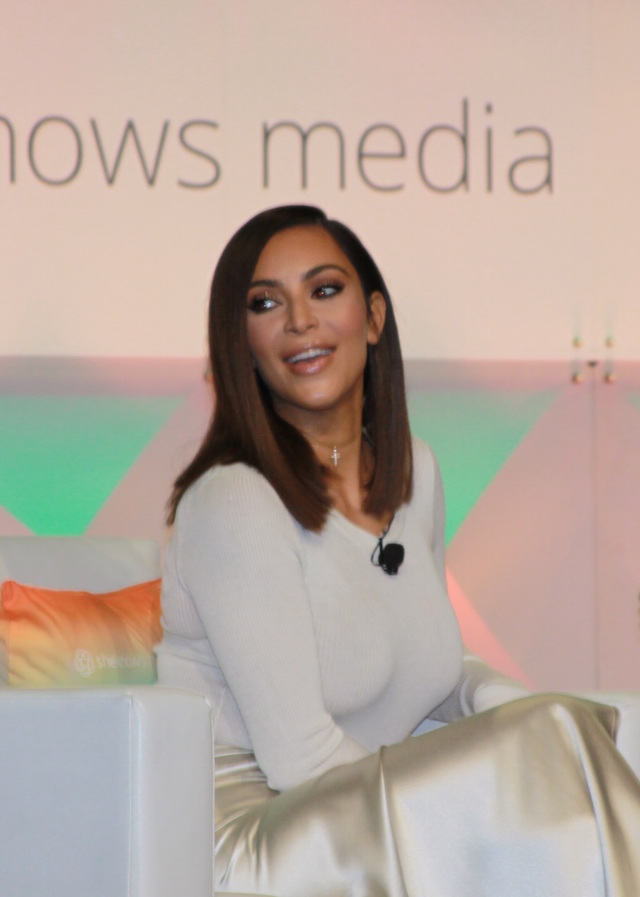 Kim Kardashian is no stranger to haters, but that's never stopped her. Elisa Camahort Page, Chief Community Officer of SheKnows Media and BlogHer Co-Founder, interviewed Kim about her "unapologetic" life.
"Do something because you genuinely like it. Don't look to the reaction for validation," Kim said. As a pop-culture icon constantly in the public eye, she's learned how to shape her social media sphere and block out digital negativity. She draws lines where she needs to — primarily keeping her children and private life with Kanye out of the spotlight — but admits to sharing approximately 80 percent of her life with us online.
In this world, if you don't post something it doesn't exist." ~ Kim Kardashian
With her eye on the future, Kim has even started her own line of emojis called KIMOJI. Ever comfortable with her own body and image, she wasn't afraid to push the limits with her creation. It seems that, with her cool disposition and popularity, any business venture is within the realm of possibility.
Over her career, she has indeed proved people wrong and been unapologetically yourself, have to admire that @KimKardashian #BlogHer16

— SHANNA TYLER (@shanna_tyler_) August 6, 2016
"If you underestimate me, I would love to have a conversation with you. I love to prove people wrong." – @KimKardashian at #BlogHer16

— Princess Baby Diary (@PrincessBdairy) August 6, 2016
"I do what makes me feel comfortable. You do what makes you comfortable and happy." Wonderful and inspirational @KimKardashian on #BlogHer16

— Lucie (@Only_Lucie) August 5, 2016
"I don't have to push my views on other people; if that's not you, it's okay. All love." ~@KimKardashian #BlogHer16 pic.twitter.com/OyLgq7Vdmx

— BlogHer (@BlogHer) August 5, 2016
Mayim Bialik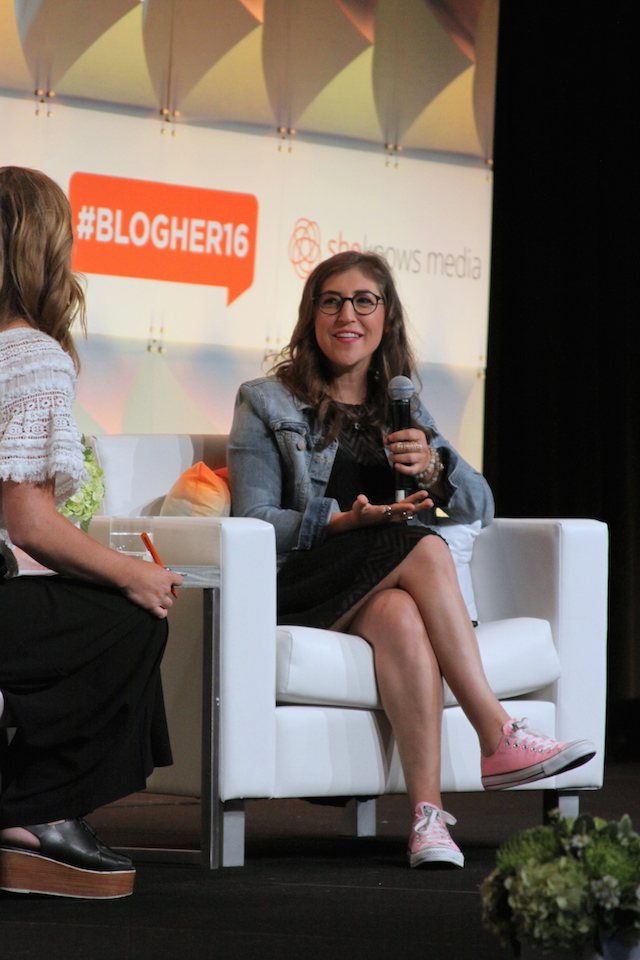 Most of us know her as either child-star, "Blossom," or as Amy Farrah Fowler from "The Big Bang Theory," but those of us at Mayim Bialik's BlogHer16 keynote now know (and love) her for so much more! She's a mom, she's a writer, she's an advocate for STEM careers for girls and she's the creator of Grok Nation.
Oh, and if that isn't enough, she's also a neuroscientist.
As a self-proclaimed mom-nerd myself, I admit I'm a huge fan of all that Mayim represents. Her personality on stage was magnetic, and she had everyone in the audience nodding their heads while laughter scaled from giggling to uproarious.
"The idea is not to make science sexy, but to make science for everyone." ~ Mayim Bialik #Blogher16 #STEM

— Melanie Edwards (@modernmami) August 6, 2016
"If you like my human, you might like my site." @missmayim #BlogHer16 I'm a human blogger too Mayim! #humanblogger

— sally (@lovestalgia) August 6, 2016
"I went from being an awkward child to an awkward teenager to an awkward public adult." – Mayim Bialik #BlogHer16 @missmayim

— CarriageB4Marriage (@Cb4M) August 6, 2016
BlogHer16: That's a wrap
BlogHer16 was a fantastic journey into a variety of topics, trends and learning (I didn't even get into all the awesome breakout sessions and workshops). Above all else, though, it was about the people — the attendees, organizers, sponsors and volunteers who make this conference great each year.
My third year at the conference felt like a warm reunion with old friends, some of whom I've spent time with before and well, some who are completely new to me. Old and new, full of differing opinions and passions, we all connected, inspired and learned together and from one another.
As Aisha Tyler stated so well, "We are the people who are making the change in the world we want to see."