How naming your website might actually get you more plumbing work
You may already know that the best way to get more plumbing work is through word-of-mouth and online listings like Google My Business. You may also know that having a website helps you by putting your business in front of people looking for your services online. But did you know that how you name your website could actually help you get more customers?
A domain name is a little like a street address — except it's your address on the internet.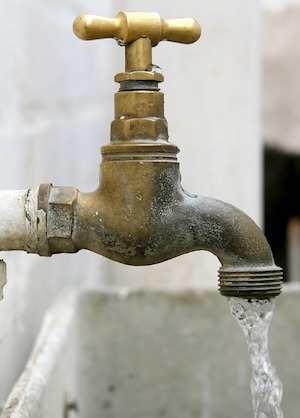 So, back to the Google My Business thing. If you know exactly what's in your Google business listing and are careful to update it whenever your phone number or hours change, high five! This is one of the best and simplest ways to get more plumbing work for your contracting business.
Why? Because the minute the garbage disposal backs up, your future customers will pull out their smartphones and type "plumber + your town" into Google. By keeping your Google business listing up-to-date, you make it easy for them to find you fast. Because they're already on their phones, calling you is as easy as tapping your number. This is where you want to be: Just a tap away.
What's in a web address?
If you've never given much thought to how websites are named, let me explain. The idea of domain names came about because real words are easier for people to remember and type into Google than numbers. For example "GoDaddy.com" is much easier for our customers to remember than "2001:db8:0:1234:0:567:8:1."
Plus, you can't have a website or professional email address, like Ed@EdsPlumbing.com, without a domain name.
Unless you're willing to settle for having your business name on the end of someone else's web address (e.g., www.facebook.com/ed.marlow.5), you'll need your own domain name to launch a website or get an email with your business name in it. Want to see what names you have to choose from? Follow these steps.
1. Search for the plumbing work web address you want
Go to GoDaddy.com and type the name you'd like to use for your website into the bar at the top of the page. Then click "Search Domain."
2. Strike out? It's not over yet.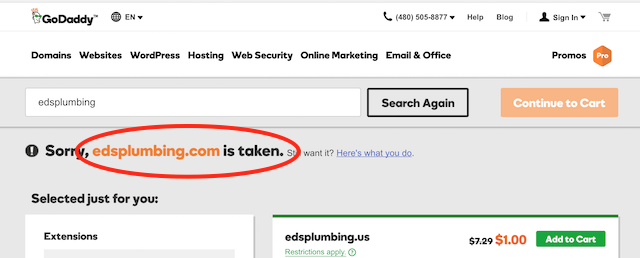 When you get a result like this, it means someone else has already registered this exact domain name. As long as it's registered in their name, no one else can use it for a website or email.
If you look down the results page on the right, you'll notice there's a list of similar domain names that are available to you. Like one? Terrific! Click on it to register it.
3. Change the words or the order
Still not satisfied with your options? Go back to the search box, delete "EdsPlumbing" and search again. A few ideas to try for this example:
EdMarlowsPlumbing
MarlowsPlumbing
EdsPlumbingMiami
4. Still no luck?
Any time you search for a domain name on GoDaddy.com, but don't specify the extension (.com, .net, etc), our system will think you want .com.
Now, .com has been around for 30+ years, and in that time, a lot of .com domain names have been claimed. So if you've tried searching all the your best plumbing names in .com with no luck, go back to the search bar and try typing one of these in (substituting your business name of course):
Eds.plumbing
EdMarlows.plumbing
Marlows.plumbing
Miamiplumbing.guru

If you can find something you like in .plumbing, buy it! You'll have a web address that tells people exactly what you do. Whether it's painted on the side of your truck or printed on refrigerator magnets you leave behind, it will be instantly understood by everyone who sees it. As long as you own this domain name, no one else on earth may use it online.
Think like your customers
Picture this: Your friend is standing in his laundry room watching as water gushes out of the back of his washing machine. What's his first thought? Unless he's handy with a wrench, it's probably "I need a plumber." The next thing he'll do is pull out his phone and type in "plumber" or "plumbing" + "his city."
When this happens, search engines like Google spring into action. Google's system is designed to find the website that most-closely matches the search term your friend just typed in. By registering a .plumbing domain name for your web address, you increase the chances that Google will respond to your friend's request with a list of nearby plumbers that includes you.
A few other things to keep in mind when searching for a domain name that will get you more plumbing work:
Include all or part of your business name.
Add your neighborhood, city or region (if you service customers in multiple states).
Keep it as short as possible.
Make it easy to remember and type.
Don't use numbers or dashes in your domain name.
Make sure it's spelled right — once you buy it, it's yours.
Don't let the one get away
Not ready to build a website yet? If you've found a domain name that fits your plumbing business perfectly, my advice is to buy it. Unless you've picked out a Premium domain name, the cost is minimal. A lot of small businesses register their domain names — even if they don't plan to use them immediately — because:
They want to use the domain name to send customers to their business Facebook page.
They'd like an email address with their business name in it. A service receipt or coupon from ed@edsplumbing.com impresses far more than one from edmarlow77656@gmail.com.
It keeps anyone else from registering it.
It guarantees that your domain name will be there to use if/when you decide to build a website or create a custom email address.
Domain names are awarded on a first-come, first-served basis. So if the domain name you want to represent your plumbing work is available, get it. It may be gone by tomorrow.