How to convert Flash to HTML5 with Swiffy
Last month, Google Chrome ended support for Flash ads. Additionally, many mobile devices, most famously Apple's iPads and iPhones, do not directly support Flash. It only makes sense, then, if you find yourself doing maintenance on a site with an extensive backlog of Flash content, you'll perhaps need to consider converting that content to HTML5 — the web's current standard for content display.
It's worthwhile to note that HTML5 is a target format with its own challenges.
For example, older desktop browsers support only subsets of HTML5 and several common Flash effects may be infeasible with HTML5. Given the complex nature of the relationship between Flash and HTML5, you might need to convert your SWF files individually.
Swiffy is one choice for doing this. Swiffy is a free web application with a straightforward premise: upload a .swf file and get a corresponding HTML5 file in return. Swiffy is an actively maintained service and can run either on a local desktop or as a hosted web application.
To convert an existing .swf file using the Swiffy site, visit the site and go through the upload process.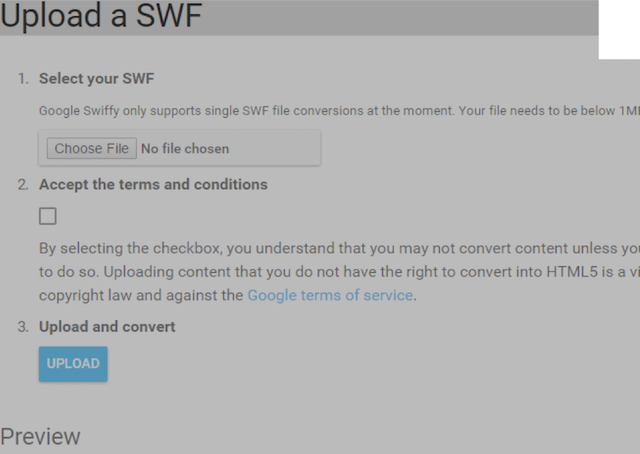 Once Swiffy does its conversion, you can use the converted application in an iframe such as:
It is important to note that Swiffy has limits. As of this writing, the free converter only accepts inputs up to one megabyte in size. If this limitation causes a problem, another option is Flash Professional CC, a commercial application which offers more robust support for HTML5 conversion. As trends and technologies evolve, there will always be inflection points where incumbent technologies will be overtaken by new ones. While these transitions are sometimes difficult, having the right tools available to ease the transitions can help.
Image by: bilderheld via Compfight cc