How to create and use a Facebook chatbot for your business
The word "bot" seems to have a negative connotation in the business world. SPAM bot. Automation. Annoying. Not human. Bad. But it's time to reframe this word in your mind to understand that it's not the technology that's typically a nuisance, it's the marketer wielding it. And if you can embrace the relatively simple Facebook chatbot, you could unlock some great potential for your business.
Why would you need Facebook chatbot?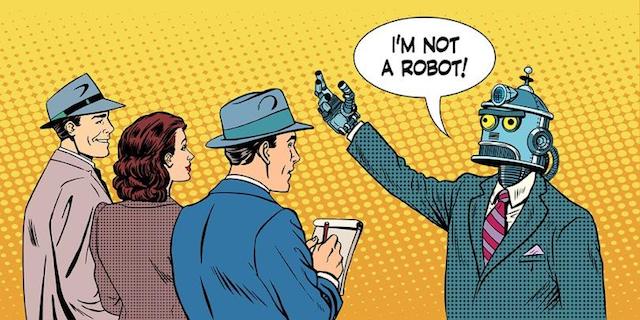 Let me tell you a story. A client of mine was getting a lot of engagement on their Facebook page and at least five messages a day. These messages were frequently about product orders. They included questions like, "Will this product work for me?" and "Do you have any free samples?" My client has one of their team members constantly sending responses to these customer service questions. Every. Single. Day. But there had to be a better way.
Introducing the Facebook messenger chatbot.
Now, with just a few very simple setup instructions, we are sending people a link to check their order status, access to the client's "Does it work for me?" page, and an auto-response message stating, "We no longer offer free samples, but we do have a 100-percent satisfaction guarantee."
So, why would you need Facebook chatbot?
If you're getting at least two to three messages a day on a consistent basis (maybe you're running a lot of Facebook ads) and you keep getting the same questions over and over, a Facebook chatbot is a great idea. Frequent, repetitive messaging is the number one reason to invest in a chatbot, but here are a few others:
Revenue. It's possible to earn more income and sell a product through an eCommerce site with the help of a Facebook chatbot.
Leads. You can collect email leads and integrate them into your CRM through a chatbot. This might even be cheaper than using Facebook Lead Ads (still testing this, and it depends on the situation).
Mobile marketing. Using a chatbot allows you to send broadcast emails to everyone that has messaged your page or commented on a post. Yes, you can now send them a Facebook message, which, for most people, will typically ping their phone and result in a higher open rate. Basically, this is the new email.
Customer service and support. You've got people looking for answers on Facebook and you need to provide them in a timely fashion — or else. Facebook Messenger bots make this easy.
Interactive branded experiences. You can use a chatbot to tell a story, play a game or give a discount/coupon code. Why would you want to do this? Because it helps strengthen your brand's relationship with your customer (also, see above — you can send them messages straight to their phone!).
Take a look at what Facebook says about Messenger bots and where it sees this massive platform going in the next five years.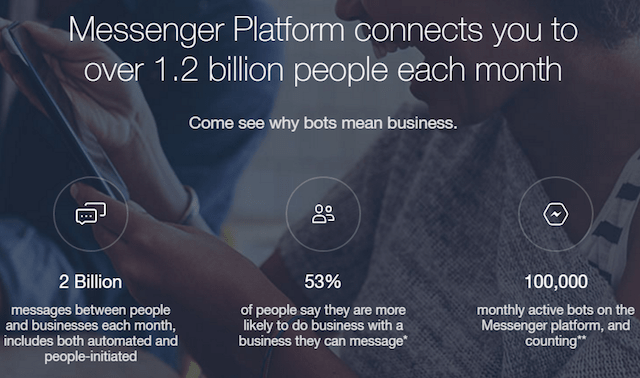 The Facebook chatbot industry is changing so fast that by the time you finish this article, there will be another player in the market and another cool thing you can do to connect with your audience and customers.
If you're starting to see the power in this, great. If your business isn't quite ready for it, that's OK too — because it will be, soon.
What does a Facebook Messenger bot look like in action?
Here's a real-world example that you can replicate for your own business. We did a video launch and partnership for a client recently and wanted to get as much awareness and attention to the video as possible. Here's the video:
It was critical to make sure as many people as possible took the next step after commenting, which was learning more about the story on the blog post page. So, every time someone commented, we used a Facebook chatbot to send them this message automatically:
A few things about this auto message you should keep in mind when creating your own:
It's hyper-relevant.
It's timely.
It's not selling anything.
It got about a 20 percent click-through rate.
Keep these things in mind when crafting your own Facebook chatbot, and be prepared to measure both your open rates and your click-throughs.
Use a Facebook Messenger bot to drive conversations
Another similar way to consider using a messenger bot would be to create a post that says, "Comment below to get my eBook," or "Comment below to get a special 15-percent off coupon code."
In both cases, you can set up a similar message to respond to any commenters and give them what you promised. Then, you can send a follow-up message asking them to opt-in to your Facebook messenger newsletter (which you can create with the platform) for more information on blog posts and product releases. If they say yes, you now have another channel you can use to stay in touch with your contacts, and it won't be as cluttered as trying to send to their inbox.
And remember, when people comment on Facebook, your post is seen by more people, thus starting a positive feedback loop.
How much is a Facebook Messenger bot going to cost me?
Well, it depends. You can start using most tools for free. The one I prefer, ManyChat, has a pro version for a small price tag. If it saves my team even one hour of customer service management every month, it's a win!
Some other platforms worth looking at are:
Test out a few and go with your favorite. You won't regret it.
Final thoughts
Chatbots today are like social media was five years ago. It wasn't mandatory to have social media accounts back then, but if you jumped on the bandwagon before everyone else, you won. And here we are several years down the road where social media is a mandatory part of every business's strategy. Just like chatbots will likely be in just a few years.
I spend a good portion of my work hours looking for cutting-edge solutions for myself and my clients, and I can tell you that without a doubt, chatbots, especially on Facebook Messenger, will change how business is done within the next few years.
Jump in now and reap the benefits as an early adopter. The Facebook chatbot tech is about as complicated as using email marketing automation or a CRM. You can do it!
Editor's note: And don't forget to make sure your business website is up to snuff. GoDaddy GoCentral lets you link your website to your tribe directly on your Facebook page and other social media, with just a few clicks.
Image by: Janitors via Visual hunt / CC BY