How to decorate your eCommerce shop for the winter holidays
Why might you want to decorate your eCommerce shop for the winter holidays? Google seems to like and reward websites that refresh their content regularly, according to "10 Illustrations of How Fresh Content May Influence Google Rankings" on the Moz blog:
"The goal here shouldn't be to update your site simply for the sake of updating it and hoping for better ranking. If this is your practice, you'll likely be frustrated with a lack of results. Instead, your goal should be to update your site in a timely manner that benefits users, with an aim of increasing clicks, user engagement, and fresh links. These are the clearest signals you can pass to Google to show that your site is fresh and deserving of high rankings."
I'm not an SEO expert, and no one really knows all the ins and outs of Google's algorithm. However, it makes sense that seasonal changes and holidays are prime times to update eCommerce sites with fresh content. And you can do just that by decorating your eCommerce shop in time for winter holiday shoppers.
Consider making some new pages or sections on your site to house holiday deals at the same time that you take the steps below to pretty things up. A boost in traffic is always a good thing!
Related: 11 steps to get your online store ready for holiday sales
Surprise and delight your customers
There's a long-standing tradition in brick-and-mortar shops to decorate shop front windows for the holidays. Take a cruise through 100+ Years of Tradition: Vintage Retail Holiday Window Displays Through the Years and tell me you don't feel charmed!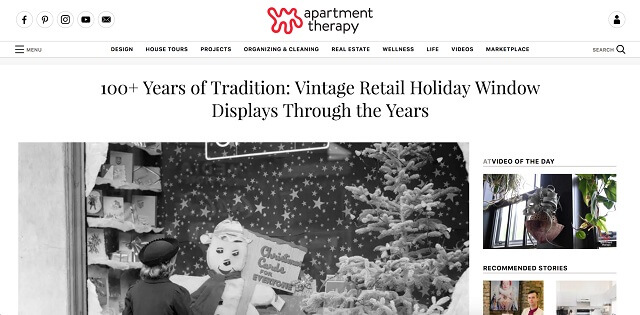 Who doesn't love strolling along at the mall and peeking into miniature winter wonderlands that stores have created in their front windows to draw in shoppers?
It's magical, and bringing that magical experience to the internet version of your shop makes total sense.
Not all sites get a lot of repeat traffic, but many eCommerce sites do. So when your loyal customers visit your shop often, they are going to get a little tired if things always look exactly the same. If you take the time to decorate your eCommerce shop for the winter holidays AND the other holidays throughout the year, they will look forward to seeing the latest site design and filling their cart with new purchases.
Related: 10 things you can do now to prep for the upcoming holidays
Feature products tied closely to holidays
If you sell products that are seasonal, then decorating for the winter holidays is a no-brainer. When you shoot the photos of your winter items, they naturally lend themselves to the holiday and you can add props to push the winter season theme even further.
Drinkware sellers will start promoting their mugs or flasks for the fall and winter holidays, not items like water bottles, which are more suited to summer or spring. Clothing stores will be pushing sales of sweaters, boots and coats — not bikinis and flip-flops.
Editor's note: Want an easy-to-build online store that already has all the bells and whistles? Look into GoDaddy's GoCentral Online Store. Multiple payment methods, clean design, easy checkout — everything your customer could want and more.
Areas of your eCommerce shop that are easy to decorate
There are three areas of your website that can be refreshed with holiday decor, making redecoration as easy as one, two, three:
Banners.

Sidebar.

Website background.
Let's take a closer look at how to decorate your eCommerce shop in each of these three areas of your site.
1. Banners
The banners on your website are the easiest things to update at a moment's notice. These are large photos, usually rectangular, at the top of a web page. They are used as ad space, a way to display a message for your customers, and sometimes just as decoration. You can typically find banners on your:
It's a snap to go in and create a new winter holiday banner and toss it up on your site. So if you do nothing else to decorate your eCommerce shop for the winter holidays, at least create some banners.
Pro tip: For reference, here's a tutorial on how to use stock photos to make free website banners.
2. Sidebar
The sidebar is the area to the side of your normal site content, usually on the right side of the screen. You can change the color of the background of this sidebar area or add decorative graphic elements to it. Or include winter holiday-themed advertisements or product imagery.
3. Website background
Changing the website background depends on how your site is designed. Some sites are created in a way that makes it easy to update the background, but still have clear and easy to read text and photos. So before you start designing a fun new background, make sure your eCommerce site is set up to be able to accommodate this kind of decorative adjustment without hurting the readability of your text and products.
You can change the background color, or add some texture to it that hints at the winter season. Or even add a photo to the background, like a pretty winter scene.
You can even add an animated background with falling snow effects, or subtle snowflake shimmers surrounding your content. This article, "5 modern snow effects for your website" features five Codepen falling snow effects that you can use on your site.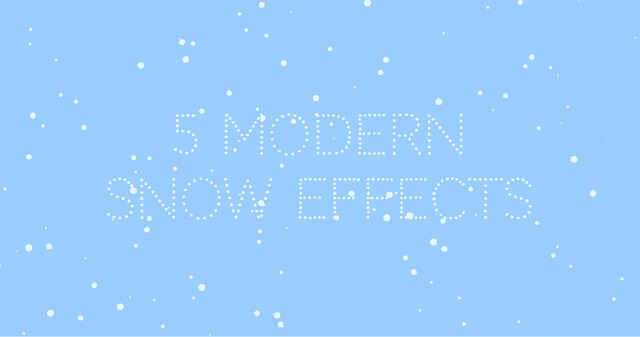 How to decorate product images in your eCommerce shop
Now let's cover some strategies for making sure the product images in your eCommerce shop are decorated for the holiday season.
Showcase your seasonal products as-is
The easiest first step is to simply bring out the products that suit the season. Like I mentioned above, you can hide the swimsuits and showcase the cold weather gear instead. These products say "winter holidays" all on their own without even adding any additional decoration. But you can take it a step further for more fun decorating, too …
Use holiday props in your photo shoots
This requires some planning ahead of time, but if you have a manageable number of products or a staff of photographers and designers to help you, you can do fresh photo shoots of your items for winter. Gather up some seasonal props like ornaments and greenery for Christmas, or menorahs for Hanukkah. Then you can set up styled scenes with your props and products for winter holiday specific images that really get your customers in the mood to shop.
This Blue Theme Holiday Props file is ideal for creating Hanukkah-themed scenes and photo decor.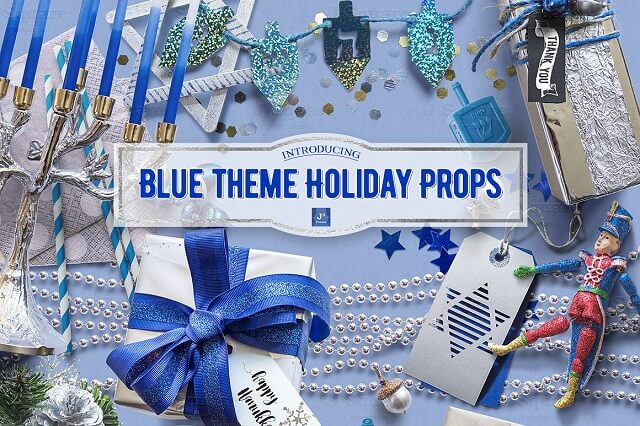 Use holiday props in your digitally created photo mockups
The custom photo shoot route is pretty time intensive and requires planning up front. So if you're looking for ways to decorate your eCommerce shop for winter at the last minute, then mockups are your best friend.
There are three kinds of mockups you can use to decorate your shop for the winter holidays:
1. Use holiday-themed mockup backgrounds.
You can purchase mockups of backgrounds to put cutout images of your products in front of. This does require you to cut your products out of their original photos. This way, you can make them into graphic versions that can be placed on a background image.
This Background Scene Creator Christmas Edition file allows you to make your own backgrounds by dropping a floor photo and wall/room photo into a Photoshop file for an instant image that looks like a photo of a real room, with a spot to place your product on top of the wood table. It also has an ornament accessory prop that you can add to your scene. And you can purchase additional props to transform this even more.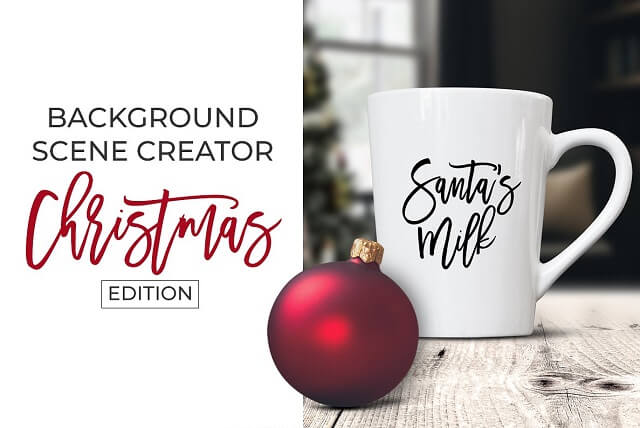 This Christmas Scene Creator has 33 moveable objects and seven backgrounds. So, much like the file above, you can simply add a digital version of your product in front of the background, and accessorize to your heart's content.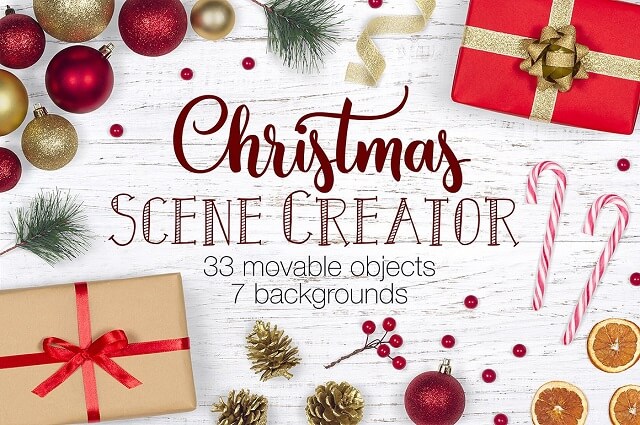 2. Add winter graphics to your photos.
If you snag some digital props, like graphic png versions of ornaments, greenery or fake snow, you can easily add those on top of photos of your products for an instant winter feel.
This Christmas Scenes file has 32 isolated graphic objects so you can simply snag the ones you like and place them on top of your own photos.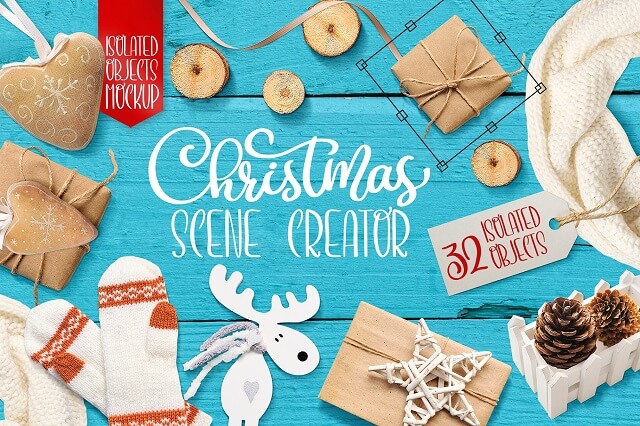 And in this Christmas Digital Styling Props file, you'll find even more graphic items, but in more of a silver color palette. Depending on your branding, this might be the look you're going for.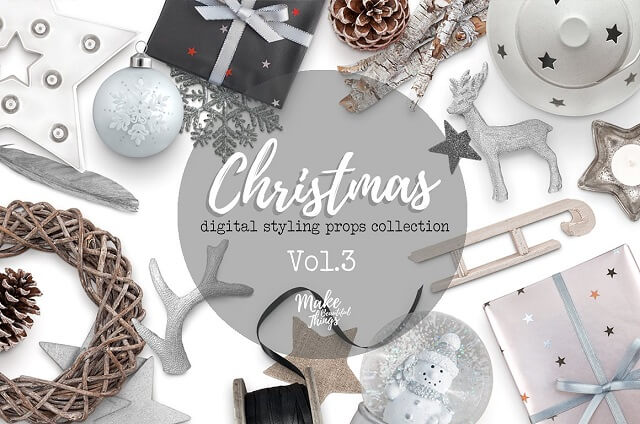 3. Use Photoshop mockup scene creators to digitally build your winter holiday styled photos without a photo shoot.
You can buy or create your own mockup scene creator from scratch. Photoshop mockup scene creators allow you to arrange different images (props, backgrounds, product shots) into a scene, all from the comfort of your laptop.
The Sweet Holidays Scene Creator has all sorts of isolated props and objects that you can use to add some winter holiday flair to your eCommerce site.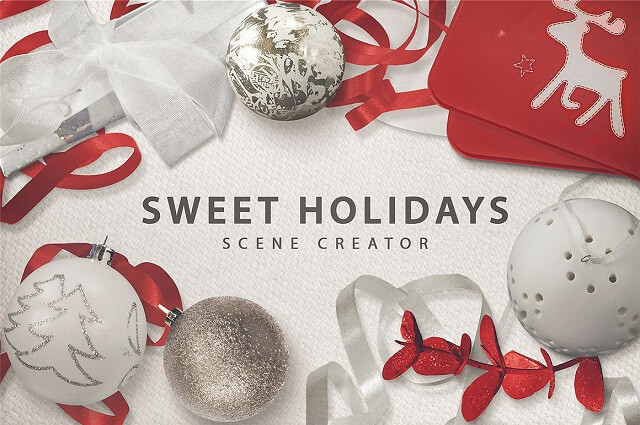 This Winter Scene Creator shows how great your clothing flat-lay graphics will look when added to a scene. If you sell mittens and hats, this one is perfect. Just use your own clothing items alongside hot cocoa, strings of lights and pinecones and place on top of a rustic wood floor.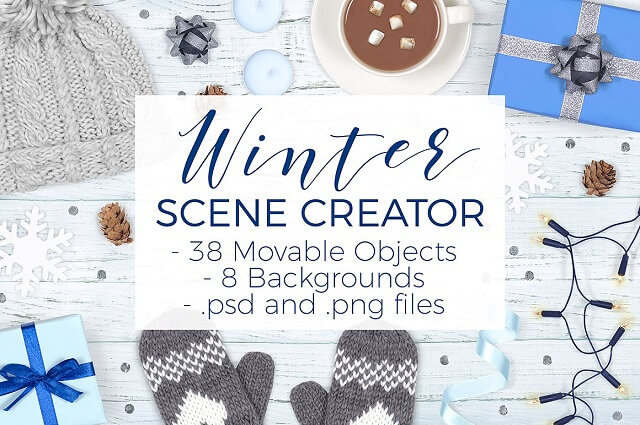 See how easy it can be to decorate your eCommerce shop for the winter holidays? Snap up some scene creators, props and backgrounds, and have fun decorating … and raking in sales!
Related: eCommerce website design tips for do-it-yourselfers