How to get email subscribers out of web visitors
Ever wonder how to get email subscribers out of web visitors?
It's one of the top questions small business owners, online retailers, and bloggers ask, and it's an excellent question! Email marketing remains the best way to reach your audience. And the new Justuno can help GoDaddy users like you increase your email opt-ins by more than 300% with on-site promotions, attention-grabbing opt-in forms, and traffic segmentation. So if you're wondering how to get email subscribers, read on!
Incentivize visitors with on-site promotions
People love discounts, and even more people love free stuff. We've found that the #1 way to get email subscribers is to offer an incentive. Justuno has lots of tools to create and manage on-site promotions. Here are a few examples:
Coupon Code or Discount. The bread and butter for e-commerce sites! Offer visitors a small discount on their purchase if they subscribe to your mailing list. You're not only building your email list, but also converting sales. With Justuno, your promotion appears on-site and visitors never have to leave the page.
Product Giveaway. For bloggers, offer a free ebook, course, video, or access to exclusive content. For businesses, offer a free lanyard, hat, or other promotional item unique to your company. Visitors claim their giveaway by completing your email opt-in box. Customer Example: Boulder Bands
Sweepstakes or Contest. Offer visitors the opportunity to win a big-ticket item by entering their email address. They key here is to pick an item that aligns perfectly with your brand because you want to market to customers who see value in what you're selling. Customer Example: Tower Paddle Boards
Hit them with your brand
Every aspect of your website should reflect your brand. You're already doing it with your emails, so ditch the generic email opt-in form and create something that screams your brand. Creative opt-in forms grab attention, get laughs, and — most important — get people to opt in. Justuno allows you to fully customize your email opt-in tabs and pop-ups. Here are a few of our favorites.
Rock.com shreds their prices with this custom tab: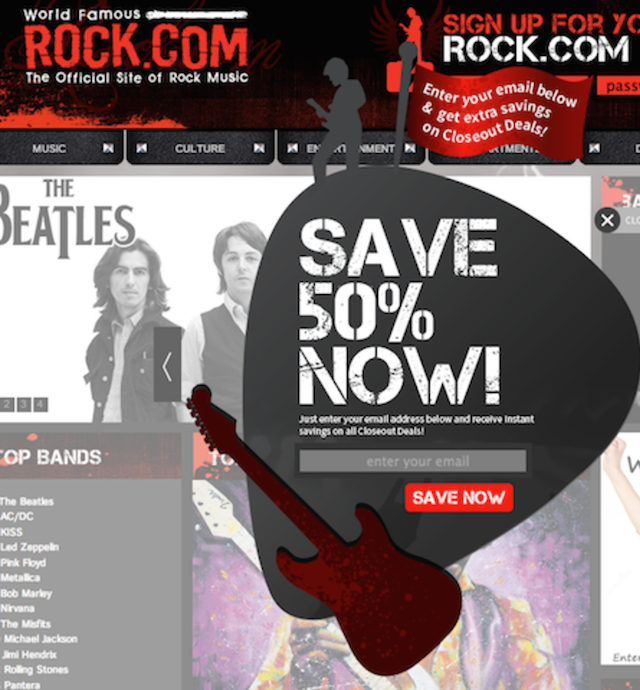 Every visitor is unique. Treat them that way!
One of the most challenging aspects of marketing is connecting with visitors as individuals. GoDaddy lets you manage multiple lists, segment subscribers, and track results, which all help create a personalized experience for your subscribers. Justuno lets you run multiple promotions with targeting rules and segmentation. In other words, you decide when your promotions appear and who gets to see them.
Image by: PhotosNormandie Flickr via Compfight cc