How to get verified on Twitter (and why it's advantageous)
If you are an active social media user, you more than likely have wanted to know how to get verified on Twitter. The elusive "blue tick" was first rolled out internally to high-profile accounts, helping the public quickly identify celebrities and public figures.
Several years ago, Twitter verification was extremely difficult to obtain. My profile was verified in the early days, and I used to receive several emails daily asking me how to get verified on Twitter.
Aside from the ego boost, being verified on Twitter makes your profile stand out, and you will attract more attention if it's verified. That little blue tick acts as a magnet, drawing people who could potentially convert to followers or customers.
According to Jake Braun, co-founder of Kapok Marketing, "We have had several clients approach us to help them get verified on Twitter, and while it doesn't have a direct impact on engagement, being verified does help to build a higher level of consumer trust, which can then trigger more engagement."
Well, now anyone can apply to be Twitter verified. I'm going to walk you through the steps.
How to get verified on Twitter in 4 steps
It's a very simple process to submit your account for consideration. The easiest way to learn how to get verified on Twitter is following this five-step process.
Thoroughly complete your profile.

Confirm your information.

Make sure your account is public.

Complete the verification submission form.
It's important to understand that most people won't be candidates for verification, as Twitter still only verifies individuals they consider to be public figures and well-known brands. This language from Twitter's Help Center explains what types of accounts they verify:
"An account may be verified if it is determined to be an account of public interest. Typically this includes accounts maintained by users in music, acting, fashion, government, politics, religion, journalism, media, sports, business, and other key interest areas."
Without further ado, let's move through the steps for how to get verified on Twitter.
1. Thoroughly complete your profile
There are three main components of a Twitter profile: your bio, profile photo, and a header image. Your bio needs to make what you do and who you are very clear. Keep it simple and concise (but don't be afraid to boast a little) while maintaining a human element. Opt for a professional headshot for your profile image and use your header image to highlight additional information.
You will also want to include a relevant link in your bio — a personal blog of your company's website works well for the initial submission.
If you look at the image above, you will see my bio is pretty straightforward while also throwing a little human element in at the end. My header image features the Miami skyline with some logos of the media outlets I write for.
2. Confirm your information
It's important you link a business email to your Twitter account. If you own a business or hold a high-profile position, you need to use your work email — not a Gmail, Yahoo, AOL or other personal email service. Make sure you confirm your email address by clicking the link in the email that is automatically sent to you, which looks like this: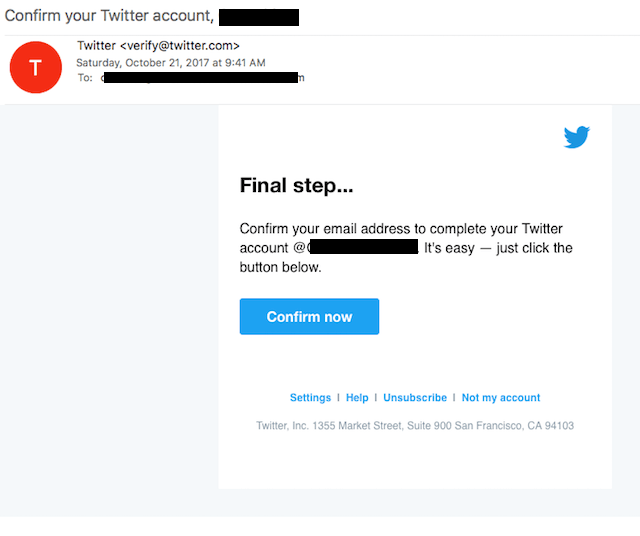 Add your mobile phone number to your account. Once you do this, you will receive a text message with a confirmation number to use to verify your number. I would also suggest enabling two-factor authentication, as well, to help secure your account. Oh, and make sure your birthday is filled out in your settings — it's required to submit for verification.
3. Make sure your account is public
In order to be considered for verification, your profile must be public. Profiles that are set to private are not eligible. From Settings and privacy, go to Privacy and safety, and then make sure the Protect your Tweets box is unchecked:

If you do get verified, you need to leave your profile public. Switching it to private will cause you to lose the badge, as will changing your handle. Your website link, bio and profile picture can be changed at any time, however.

4. Complete the verification submission form
You can access the submission form here while logged into your Twitter account on a desktop or laptop (you must be logged in to access the form).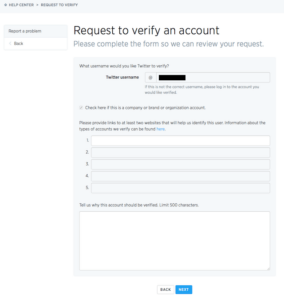 This is one of the easiest parts of figuring out how to get verified on Twitter. It's a very simple submission form, asking for two to five links to information that helps explain who you are and why your account should be verified.
While Twitter only requires two, I would suggest giving them five to really help build your case. This is your chance to provide Twitter with rock-solid proof and examples of why your profile should receive the coveted verification badge.
In additional to the links, you will need to tell them, in 500 characters or less, why your Twitter account should be verified. Try highlighting your expertise, accomplishments and any other prominent information that helps to paint the picture that you are a public figure or your brand is notable. Don't be shy and keep it short and to the point, because space is limited.
I would also suggest being very active on Twitter for a few weeks prior to submitting the form, as they will undoubtedly look at your previous activity. If you haven't tweeted in awhile it gives them little to no reason to consider your request.
The benefits of being verified on Twitter
There are several benefits of learning how to get verified on Twitter. From a personal branding standpoint, it helps people find you and adds an additional element of authority. For a brand, it can help stand out in a sea of competition.
"Twitter was the first social media network to offer verification, making it highly desirable from a personal branding standpoint," explains James Goodnow of Lamber Goodnow, who is verified on Twitter.
Now that Twitter has opened verification requests to the public, it has caused many business owners to consider it. Dana Vandecar, CEO of Traditionally Extracted Herbs is one of those business owners, stating, "Being verified is just another tool to use in order to position your brand as an industry leader, and it's definitely something we are actively pursuing."
Image by: kkirugi via VisualHunt / CC BY