How to make a difference with your small business this Earth Day and every day
Even though the earth is essential to support us year round, we only dedicate one day to reflect on how we're treating our planet. This Earth Day, as we brace ourselves for another year of extreme weather and wildfires exacerbated by climate change, we can't afford to ignore our predicament.
If you're not yet motivated to take action, perhaps the plight of snowmen will inspire you:
Snowmen are not the only ones impacted by increased carbon in the atmosphere. Small business expert and author Rhonda Abrahms writes in USA Today that effects could include higher insurance rates, loss of business or tourist dollars, resource constraints and higher taxes. She says she can "no longer be silent on climate change."
In the aftermath of two huge hurricanes and more than 100 immense wildfires in the western U.S., none of us can afford to ignore the issue.
Nearly everything we do produces the carbon dioxide that leads to climate change. While denying our impact is tempting, this Earth Day every person and business can be part of the solution. Doing so eases the deluge of frightening environmental news. It might even be the inspiration for your next business. What follows is a list of ways you can make a difference this Earth Day — and every day.
Simple daily actions help us stay connected to the issue. Start there and work up to the others when you're ready.
Grab some headphones and turn on the Spotify playlist Earth Day Blues while you read. It's a curated mix of music to inspire you to care for the planet.
1. Spend Earth Day outside and connect with the planet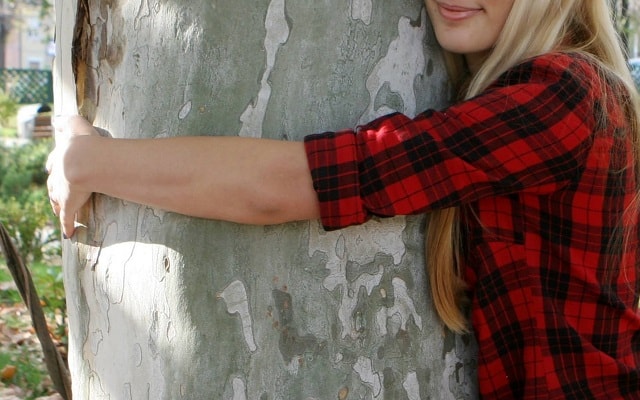 The easiest way to increase your connection to the planet is to see, smell, taste and touch it — literally. Go outside to appreciate plants, trees, flowers and animals on a regular basis. Studies show that even short "green breaks" benefit productivity and reduce attention deficits. Long ago, I learned from a college professor of deep ecology about the value of daily walks to the same location. Observing changes the seasons bring to one place gave me a sense of wonder and reverence for the miracles in nature. It's a great alternative to sitting meditation for people who work indoors most of the day. Make time and space for yourself, employees and kids to get some air. Build time into schedules for breaks or days off to enjoy nature.
2. Start (and encourage) recycling
Reduce the environmental footprint of your business. Recycling is important, but reducing your use of resources is more efficient.
Simple actions add up.
I found that building on small consistent actions feels better than taking on too much at once. For more than a decade, I've carried my own coffee cup and shopping bags. I refused plastic straws and bags whenever possible.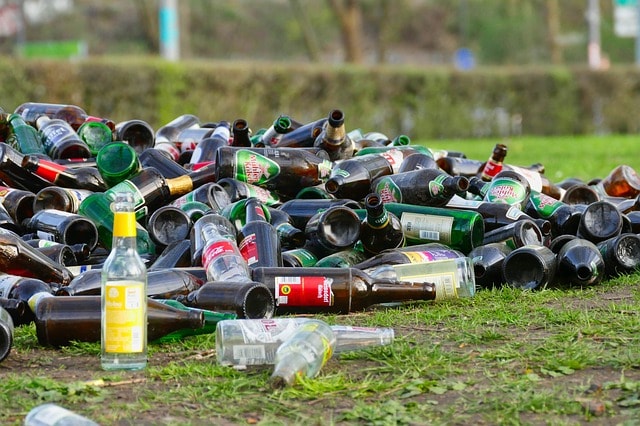 I've saved thousands of disposables from landfills by doing this. I appreciate businesses that offer easy ways to avoid unnecessary waste, and there are many consumers like me who will notice, if you do, too. Do what you can, and don't stress.
Become aware of your own carbon footprint and reduce your impact.
California offers a small business carbon footprint calculator that makes it easy. The state even offers a Funding Wizard for financial incentives, grants, and rebates to make upgrades affordable. As we approach this Earth Day, do some research to find out what resources and incentives your state offers to businesses who embrace environmental efforts. Americans emit approximately 17 tons of carbon pollution per year. Commuters, CEOs and others who fly frequently emit the most carbon pollution per person. Compensate for these lifestyle choices by donating to projects that offset carbon emissions (see below for more).
3. Donate to projects that offset your carbon footprint
This Earth Day, think about donating to CoolEffect. It's a nonprofit organization enabling individuals and organizations to support carbon-busting projects across the globe. Contributing to their projects, rooted in real science and tangible actions, is one way to offset your carbon footprint.
Projects range from replacing open, wood-burning cookstoves with a more efficient alternative in Honduras, to protecting rainforests in Peru from deforestation, and funding renewable energy wind turbines in Costa Rica.
The best carbon offset projects protect endangered species and provide social and economic benefits to the local inhabitants. Most Americans can offset their entire year's carbon production for about $70.
4. Invest your profits in socially responsible funds
Socially responsible investing (SRI) and impact investing allow your assets to grow — and benefit society at large in some respect. There's a big step you could take this Earth Day.
Many funds now offer a way to invest in green technologies. Avoiding investments in fossil fuels and other polluting technologies is one way to make a difference.
Ask your financial manager about the environmental impacts of the companies in their portfolio. Consider moving all or part of your assets into one of the socially responsible online investment platforms.
5. Start a social good company
Given the inability of governments to adequately address environmental challenges, many social entrepreneurs build for-profit companies that offer solutions. Eco-friendly small businesses cater to a rapidly growing market of consumers seeking to "vote with their dollars" for products and services that benefit the planet.
Studies show as many as three out of four millenials are willing to pay extra for sustainable offerings.
Consider offering products or services that help to solve environmental problems. Eco-friendly cleaning services, eco-restaurants, bicycle shops and ad-funded blogs that publish information about the environment are on this extensive list of eco-friendly small business ideas. This Earth Day, take a look!