How to organize emails in Outlook
If you're like most professionals, you spend a good chunk of your day dealing with emails — writing them, reading them, and staring at your mess of an inbox, wishing it would clean itself up. Roughly one-third of all your working hours are spent checking email, both in the office and at home. This means that if your inbox is disorganized, you'll not only feel more frustrated, you also could end up spending even more hours on what should be a low-level task. That's why it's time to learn how to organize emails in Outlook.
Many workers recognize the problem, but have no idea how to fix it. Their inbox is already so cluttered, or they receive so many new emails per week, they believe it's practically impossible to get organized in any quick or straightforward way.
Why learn how to organize emails in Outlook? I'm here to tell you that if you use Outlook as part of Microsoft 365, there are ways to get — and stay — organized. And that will save you time over the long run.
Related: What is Microsoft Outlook in Microsoft 365 and how do I use it?
Planning how to organize emails in Outlook
Everything, including how to organize emails in Outlook, has to start with a plan. There's no magic wand to wave to make your inbox less cluttered, nor is it possible to improvise your organization and still come out on top.
There are several key items to consider when choosing your approach:
Your personal preferences.
The importance of consistency.
The current state of your inbox.
Your personal preferences
Not everyone will respond to the same set of organizational systems and tricks. Outlook provides you with the tools necessary to design your own system of organization, not a rigid mode to organize your inbox. Planning how to organize emails in Outlook helps you define your priorities so you can design the perfect system for you.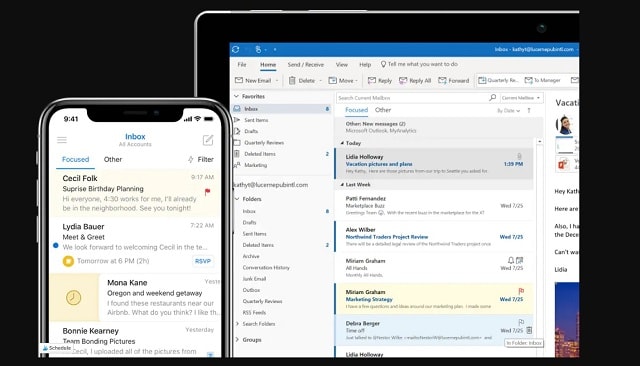 The importance of consistency
Successfully implementing an organizational system beings with consistency. Planning how to organize emails in Outlook will give you a blueprint you can refer to if you're ever in doubt on how to categorize a specific email, or if you need to redefine your methodology.
The current state of your inbox
Planning how to organize emails in Outlook is also about creating a starting point for a new commitment to email organization. Perhaps so far, you've had a lack of momentum driving you forward. However, once a plan's in place, you'll be motivated to put that plan into action.
This doesn't mean that your plan is immutable once it's created, but you should have at least a rough draft of how you're going to organize your inbox before you get started.
Related: 13 hacks to get the most out of your Microsoft 365 subscription
5 Outlook organizational tools
Now let's look at some of the ways you can organize your email system. Some key tools in the Outlook organizational toolbox are:
Folders and subfolders.
The task list.
Automatic rules.
Categories and flags.
The Clean Up function.
Related: How to supercharge productivity using Microsoft 365 tools
1. Folders and subfolders
The main system of organization in Outlook is folders. Your account will come with a handful of default folders — including your inbox, junk email, drafts, sent items and deleted items — and you can create more at any time.
You can also create subfolders within any main folder you create, allowing you to create the perfect subdirectory to categorize and house your most important emails that works for you.
There are many ways to take advantage of folders, such as creating a folder for each of your clients, or a folder for each type of automatic notification you receive. You could also create folders for different responsibilities you face.
It's up to you how you use them, but it's a good idea to take advantage of folders in some way.
2. The task list
As you learn how to organize emails in Outlook, keep in mind that Outlook has a dedicated task list. You can use the task list to stay organized based on the emails that come in.
For example, if you get an email with instructions for a new project, you can drag that email to the Outlook task list icon on the lower left, then add a due date and set a time when you want to receive a reminder.
Once you save that task, it will be available in your task list, which you can access at any time by clicking that same task list icon. You'll also get notifications whenever a task is coming due.
The task list is the perfect way to make sure your emails are properly logged as tasks in your to-do list, and that they never get lost in the shuffle.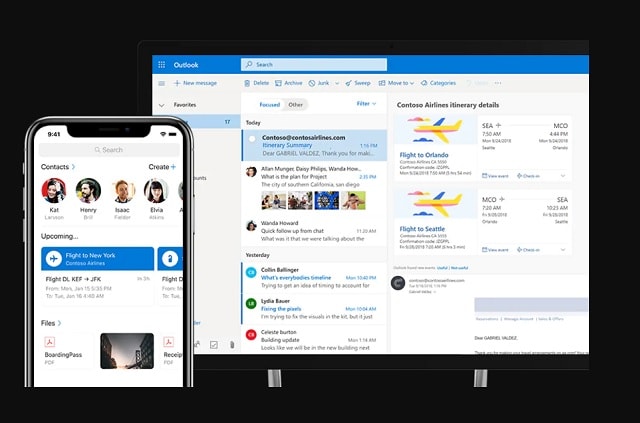 3. Automatic rules
If you get lots of emails that need to be categorized in the same way, you can set up automatic rules to save yourself the repetitive hassle of moving or marking every email by hand.
The easiest way to do create a rule is to right-click an email similar to the type of email you want to manage, hover over Rules, and then click Create Rule.
From there, you'll have an opportunity to define which type of emails will fall under this rule. For example, you can set the rule to trigger when you get an email from a specific sender, when the subject contains a specific word, or when you get an attachment. Then, you choose what happens when the rule triggers; for example, you might move emails that match that rule to a specific folder or subfolder.
4. Categories and flags
If folders and rules aren't enough to help you stay organized, you can also mark emails with categories and flags.
Categories help you sort your emails based on their topic or field, at a high level.
Flags allow you to give visual markers to each email in your inbox.
For example, you could give a particular message a red flag if it's an email you haven't yet responded to, or a blue checkmark if it's an email that's mostly taken care of but still exists in your inbox for your reference.
5. The Clean Up function
Even with the best system (and the best of intentions), your inbox will still occasionally get cluttered. So if you're just now learning how to organize emails in Outlook, don't worry. Even the most foolproof organizational system has some loopholes that allow your email to get messy.
That's where Outlook's Clean Up function comes into play.
Click Clean Up in the upper left, and you'll have the opportunity to scrub your mailbox of emails that are later duplicated in email threads.
So, how are you doing?
It's a good idea to spend some time analyzing your efforts. After all, your organizational system isn't valuable unless it actually saves you time. The best way to do this is with an add-on or tool that lets you measure and review how often you're emailing, how long you spend on email, and how your habits change over time.
For Outlook, an add-in like MyAnalytics might help.
Make sure you stay consistent with your organization plan, track your progress, and test changes to your flow if it doesn't seem to be working the way you want it to.